Actress loses appeal in Rs 7.7 crore case
Read more below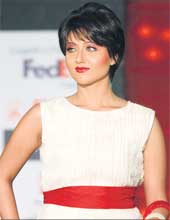 ---
Published 24.04.09, 12:00 AM
|
---
A Calcutta High Court division bench comprising Justice Pinaki Chandra Ghosh and Justice S.P. Mitra on Thursday upheld a trial court order that actress Swastika Mukherjee would go "undefended" in the Rs 7.7-crore damages suit filed by her brother-in-law Pritam Sen.
"It means Swastika will not be represented in the court hearings anymore and her submission will not be registered," said Pritam's lawyer Krishnendu Gooptu.
Legal experts saw this as a body blow to the Tollywood actress, who will now have to cough up the entire amount or push for an out-of-court settlement.
But Swastika is not ready to give up. "We had filed an appeal against the case and it has been rejected. It doesn't mean the final verdict is out. I can't comment further because we are yet to receive a copy of the court order and the matter is sub judice," the actress told Metro.
The damages suit has been dragging on in the trial court since 2005 when Pritam, a Bangalore-based businessman, filed it after he was discharged of a 498A case that Swastika had slapped against him and her husband Pramit in 2000.
Swastika, who separated from Pramit — the youngest of the late Rabindrasangeet singer Sagar Sen's three sons — in 2000 after two years of marriage, had filed the 498A against her in-laws citing "harassment over dowry and misappropriation of property".
"After the brothers were acquitted in 2005, Pritam filed a damages suit of Rs 7.7 crore as he was falsely implicated and publicly maligned. He had also suffered a huge financial loss," said lawyer Gooptu.
The trial court directed Swastika to pay the amount to Pritam in 2007 and she moved the high court against the verdict. "But neither she nor her lawyer turned up for any of the hearings. Justice Maharaja Sinha finally sent summons to Swastika last year. The bailiff reported back that when he reached Swastika's place, her family members refused to receive the summons and even unleashed their dogs on him," said Gooptu.
On the basis of the bailiff's report, the high court issued an arrest warrant against Swastika in January, which prompted the actress to turn up in court, apologise and also pay a fine of Rs 8,500.
The trial court concluded that she would go undefended in the damages suit.
Swastika then appealed to the division bench against Justice Sinha's order, which was dismissed on Thursday.
Swastika and Pramit's divorce case is also pending in the trial court since 2000.
Swastika is among the leading heroines in Tollywood, an industry that has failed to cross the Rs 3-crore budget barrier for a film and is known to pay its actors nothing more than a few lakhs per project.