Accused of hooch trade by husband, woman held
Jagabandhu in his complaint also accuses his wife of physically torturing him because he had dared to raise his voice against her illegal liquor trade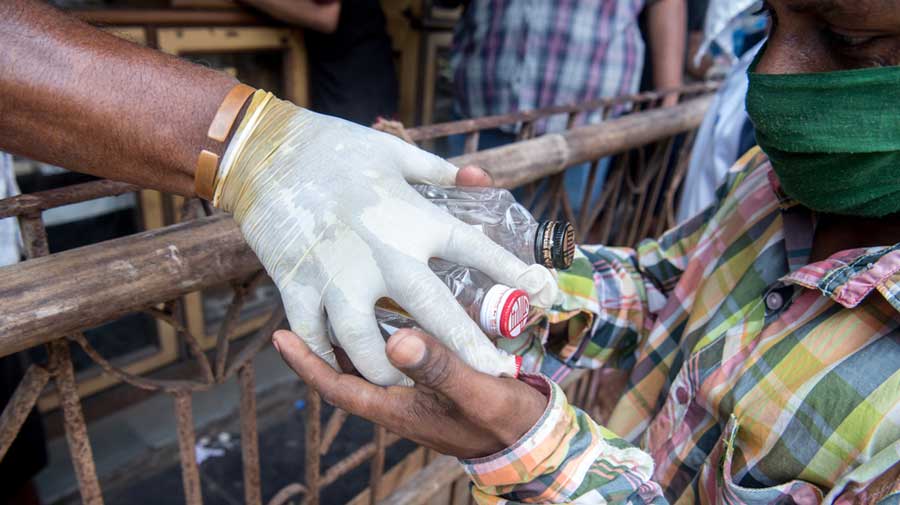 The cops also seized 40 litres of country liquor from her.
Shutterstock
---
Haroa
|
Published 13.09.20, 01:58 AM
|
---
A middle-aged "entrepreneur" was arrested from her home in a North 24-Parganas village on Saturday after her husband filed a complaint with the police alleging that she sold illicit country liquor.
Police sources said the accused Minati Biswas, 50, was arrested from her home in Khasbalanda Bansbati village of Haroa on Saturday morning after her husband Jagabandhu Biswas, 55, lodged a complaint with the police.
The cops also seized 40 litres of country liquor from her.
Minati was produced before the ACJM court in Basirhat on Saturday and remanded to five days' jail custody.
Jagabandhu had in his complaint also accused his wife of physically torturing him because he had dared to raise his voice against her illegal liquor trade.
Jagabandhu, a farmer by profession, said: "It became unbearable for me. I have been trying to discourage her from continuing the illegal trade for a couple of years now. But, she continued to be desperate and did not hesitate to unleash torture on me (for opposing her). I refused to give in to her torture and enjoy her wrongly earned money. It was a painful decision, but I had no option".
Residents have welcomed the arrest and praised Jagabandhu for his "stern action" — not hesitating to lodge a police complaint against his wife.
"The woman had been polluting the social environment in our neighbourhood," a neighbour of the couple said.
"Customers who used to visit the couple's home for liquor often created a nuisance in our locality. We had on a number of occasions requested the woman to stop selling liquor. But, she did not bother to pay any heed to our requests as well as that of her husband who was always vocal against her business," the neighbour added.
The villagers also alleged police inaction against Minati since she has been in the illegal trade for the past couple of years.
"The police were well aware of her business but never bothered to take action. We apprehend she had a close nexus with police and influential people," another neighbour of the couple alleged.
An officer of Basirhat district police praised Jagabandhu's decision of complaining against his wife.
However, the policeman also dismissed the allegations of a nexus between the local police and the accused.
"There was no complaint against her on earlier occasions. We acted with alacrity once the complaint was lodged on Saturday," the officer said.