Abhijit Banerjee: Far from the madding crowd, not quite
The Nobel laureate had to almost run to avoid being mobbed by some airport employees and passengers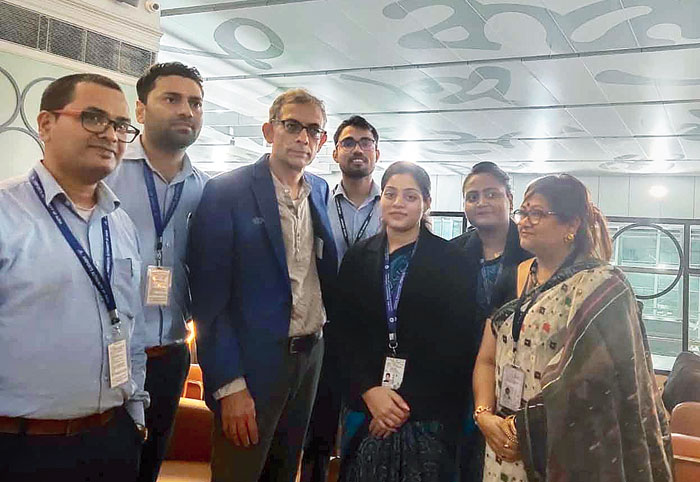 Abhijit Vinayak Banerjee with airport officials and employees at the international business-class lounge of the city airport on Thursday
Telegraph picture
---
Calcutta
|
Published 24.10.19, 08:15 PM
|
---
Abhijit Vinayak Banerjee was mobbed even at the airport, from where he flew out early on Thursday, and finally took refuge in a lounge with restricted access.
The Nobel laureate had to almost run to avoid being mobbed by some airport employees and passengers.
Banerjee reached the airport around 1.40am. He was to take a Qatar Airways flight from Calcutta to Boston via Doha.
Scores of people had gathered outside the terminal and Banerjee had to make his way through the crowd.
"As he hurriedly went inside, there was a big group of airport employees waiting to greet him. They included Airports Authority of India employees and private agency workers," an airport official said.
Banerjee looked tired and officials said he almost kept running to avoid the crowd.
The Central Industrial Security Force (CISF) personnel were escorting him and had collected the boarding pass on his behalf, said sources.
"Banerjee was mobbed by the crowd when the airport manager escorted him to the lounge, where he spent over an hour from 2.15am to 3.30am," said a TFS spokesperson.
Airport officials said they had requested Banerjee to sit in the VIP lounge but he refused. "Banerjee was apprehensive that people would come in. The VIP lounge is not in the restricted area," an official said. He wanted to complete all the formalities and proceed towards the security hold area, which is a restricted zone.
But officials requested Banerjee to wait at the lounge managed and operated by Travel Food Services instead.
"Entry to this lounge is absolutely restricted and even airport employees are not allowed in without a purpose. Banerjee agreed to sit there and seemed relieved. He even agreed to our request for some pictures," said an airport official.
The Travel Food Services staff wanted to attend him, but Banerjee refused and said he would prefer self-service instead, sources said.
"He was sitting alone at a table for the entire time and didn't want to interact with passengers," an official said. He only had a glass of warm water.
Banerjee's flight was delayed by around 40 minutes and took off at 4.11am, officials said. "We had requested Qatar Airways to ensure there is no delay. But it seems the flight from Doha to Calcutta arrived late," said a senior airport official.
Banerjee, who arrived in Calcutta on Tuesday evening, had been flooded with requests for selfies and photographs even before he had boarded the flight from Delhi.