A pregnant woman travels for 9 hours in flood-hit Hooghly
Journey in boat, auto and car to have a baby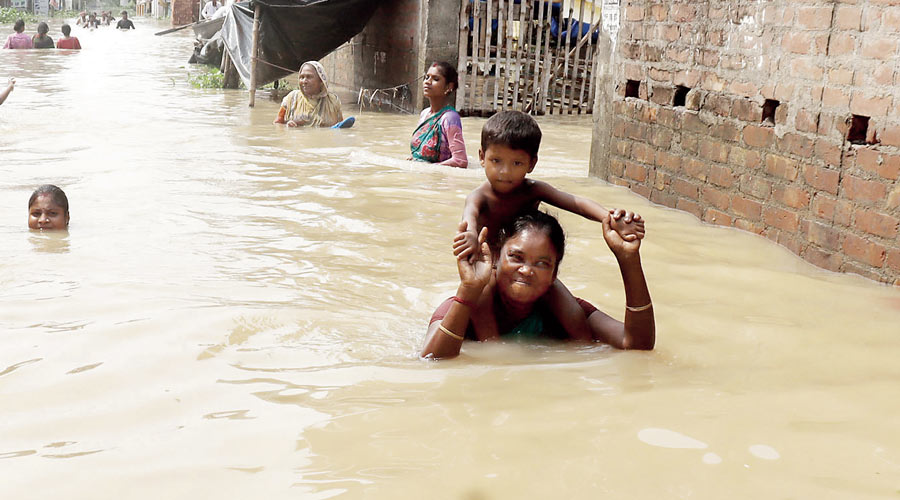 ---
Bolpur(Birbhum)
|
Published 05.10.21, 02:33 AM
|
---
Sabina Begum's newborn son will have quite a story to tell of his birth when he grows up.
The 24-year-old pregnant woman had to travel for over three-and-a-half hours on two boats, an autorickshaw and a battery-run vehicle to reach the nearest hospital in Hooghly's flooded Khanakul, a 6km journey from her village Dharapara that would have normally taken 15 minutes.
Her ordeal that started late on Sunday did not end here.
Sabina reached the block hospital in the small hours of Monday only to find out that she needed a Caesarean-section delivery but the hospital did not have the facility.
It meant another ride of 17km through flooded stretches to a private facility in Howrah's Amta.
On the way, the car in which she was being taken even broke down on a flooded stretch of the road for about 30 minutes. She finally reached Amta at 8am on Monday. Her son was born at 10am.
"My wife was to deliver our first child and the whole process of getting her to a hospital became a challenge for us throughout the night. We started on a boat from our inundated village at around 11.30pm (Sunday) and reached the local block hospital at around 3am (Monday). From there, I had to take my wife to Amta as she needed a Caesarean operation that was not possible at the local hospital. We could not travel to the Arambagh government hospital because the flood has left the area out of bounds," said Rejaul Haque, 32, Sabina's husband and an employee in a private firm in Calcutta.
He thanked the local block medical officers, police and panchayat representatives but added that a "permanent" solution was needed for the yearly floods that plagues lakhs like them.
"They helped arrange a boat for us in the dead of the night. Though the mother and child are doing fine, my wife's plight  proves that we need a permanent solution from yearly floods."
Family members said Sabina's labour pains started at around 11pm on Sunday. Relatives called up the block hospital in Latibpur for help.
The block medical officer of health in Khanakul II block, Raktim Chatterjee, immediately contacted the chief of local Sabalsinghapur gram panchayat Iqbal Khan for help to the family.
"There was no speed boat, so we rowed the tin boat to reach nearest dry land. From there we took an auto-rickshaw and reached Gayeshpur ghat to cross the swollen river Mundeshwari as all roads were completely inundated. Local police arranged a motorised boat to take us to the block hospital in Latibpur," said a family member.
Local health officials said the journey of Sabina, who was writhing in pain and bleeding, was an imperative.
"The to-be mother's condition was critical. We gave her first-aid to stabilise her. Later, she was taken by her family to a private hospital (in Amta by car)," said Chatterjee.
"Sabina is one of many women who face such a crisis during floods every year in low-lying areas of Bengal like Hooghly's Khanakul, Pursurah and West Midnapore's Ghatal. We need a permanent solution as the release of water from dams of the DVC and rain cannot be stopped," said a senior official in Hooghly.