Unusual gift: pile of books greets groom
A member of the bride's family said that nearly 1,000 books worth Rs 1 lakh were gifted to Barik because he loves to read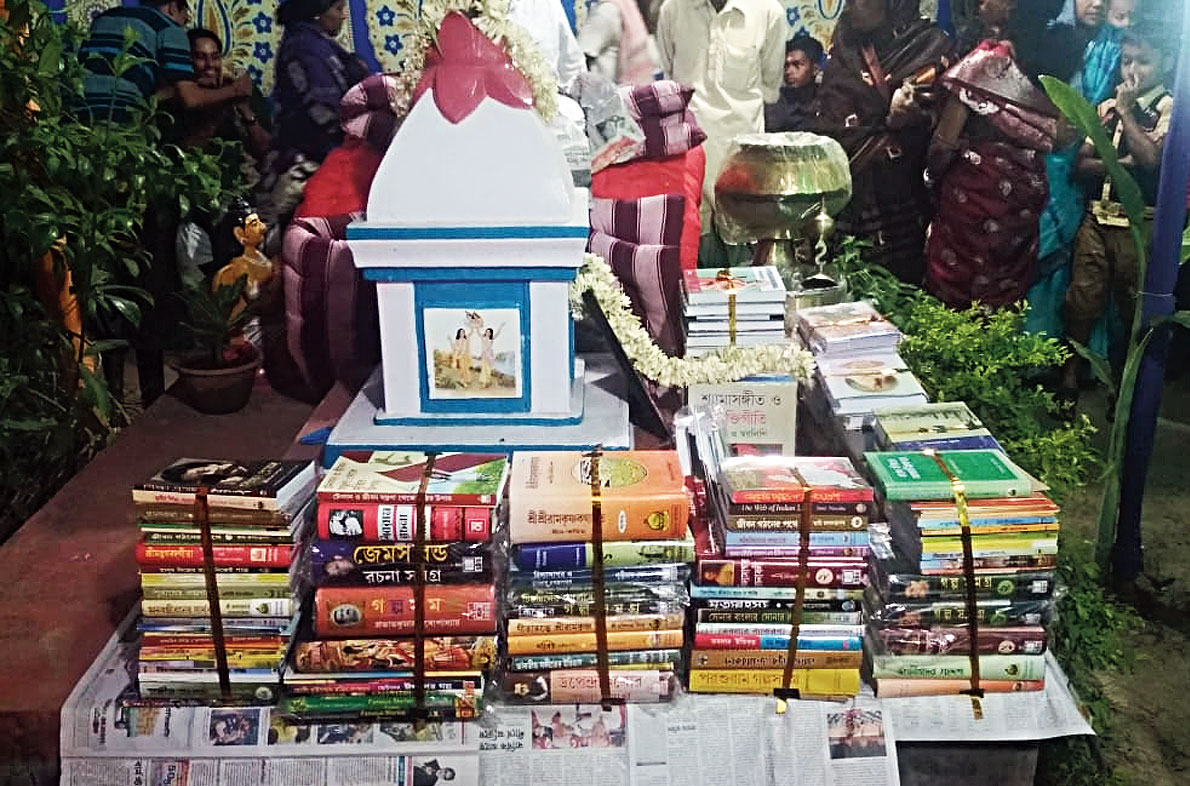 The books gifted to Suryakanta
Telegraph picture
---
Khejuri
|
Published 21.05.19, 06:57 AM
|
---
Suryakanta Barik, 30, an English teacher at a private school in Sonarpur in South 24-Parganas, had told his prospective in-laws well in advance that he would not accept any dowry.
On May 14, when Barik arrived in East Midnapore's Khejuri to marry Priyanka Bej, 21, a final-year student of music at Mugberia College, he was in for a pleasant surprise.
In an unusual break from tradition, the Bej family decided to gift the bridegroom Rs 1 lakh worth of books.
Barik, a resident of East Midnapore's Hirinchi village, said: "I had made it clear that I would not accept any dowry. When I arrived for the wedding, I was pleasantly surprised to find a huge pile of books as gift."
A member of the bride's family said that nearly 1,000 books worth Rs 1 lakh were gifted to Barik because he loves to read.
It's not just Barik, even Priyanka shares his love of reading books.
"My family knew that I don't like the concept of marriages that involve giving or taking dowry. So I am very grateful to have a husband who understands that. My father also knew that I love to read. That's why he gave us this gift," said Priyanka.
Priyanka's father Asit Bej, a music teacher, and maternal uncle, Mahadeb Manna, a high school teacher, had travelled to Calcutta earlier this month to buy the books from College Street shops.
They also visited the Udbodhan Karyalaya, the publishing house of Ramakrishna Math and Ramakrishna Mission, to buy books on Ramakrishna, Sarada Devi, Swami Vivekananda and Sister Nivedita.
The gift included complete works of Rabindranath Tagore, Bankim Chandra Chattopadhyay and Sarat Chandra Chattopadhyay. The collection, which was shipped 150km away to East Midnapore in a truck, also included a few Harry Potter books.
"I had requested relatives and friends not to bring any gifts. If they wished, I told them, they could bring flowers or books," said Manna, uncle of the bride, a resident of West Midnapore's Daspur.
Barik said with so many books that he had received as gifts, he was eager to start his own library.
"I want to build a small library at my home that will be accessible to my neighbours too," he said.
Susanta Das, 45, a relative of Priyanka and resident of Mitrachak village in Khejuri, who attended the wedding and gifted a book to the couple, said it was a welcome gesture.
"People read fewer books these days thanks to Internet. I hope this will encourage people to gift books," said Das, a fishery owner.