A dozen-odd protesters march to Park Circus maidan to show solidarity
Every voice counts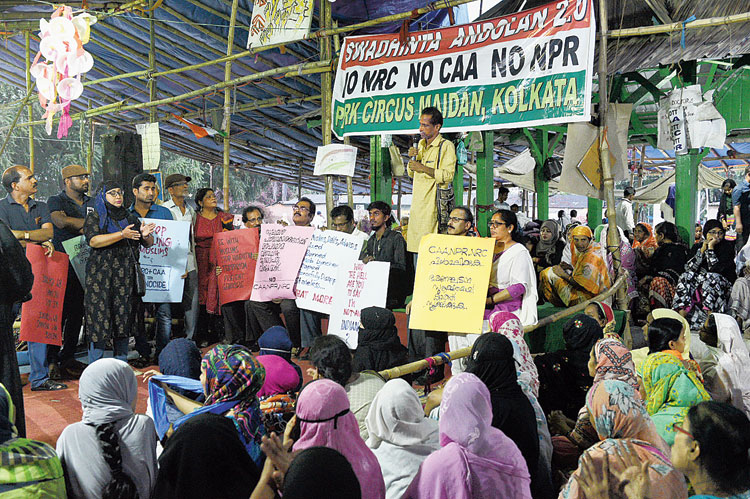 ---
|
Calcutta
|
Published 15.03.20, 07:23 PM
---
It was a gathering of just over a dozen people at Park Circus on Saturday evening, but the presence of every one of them was important, a student who joined the anti-citizenship regime march said.
The group comprising homemakers, students and software professionals sang "We shall overcome" and "Saare jahan se accha" as they walked from Don Bosco School, Park Circus, to Park Circus Maidan, where a women-led vigil against the Citizenship Amendment Act, National Register of Citizens and the National Population Register has been on since January 7.
Purogamana Kala Sahitya Sangham Kolkata, a cultural organisation with its parent body in Kerala, organised the Together We Rise march.
"Even if it's a small protest where a few people have come, it means some people are thinking about it. Even if one person is showing resistance to a discriminatory act, it will put pressure on the government," said Vipin Vijay, a third-year student of SRFTI.
"Many of us have risen to the occasion and come to participate, irrespective of our age. The political power today is trying to make this country a one-religion nation. People need to understand and rise above this," said Jitesh N. K., who works in a software company. "We need to come out and make people who have stopped thinking rationally or are apathetic to what is happening start thinking and reacting."
A 48-year-old woman joined the march because she has always believed in unity. "I have neighbours who are Muslims and I have never seen them differently. I have no caste nor religion," said Ajanta Rajmohan of Taratala.
The homemaker's younger son is a student at Delhi University. After the attack on students there, the mother from Calcutta had told her son: "You must participate and fight for what is right."
"Students have to rise to the occasion, and that is what is happening. All these countrywide protests are being led by women and students," Vijay said.
Saturday's march ended at the protest ground. "When we see people like you coming to show support, we feel the whole country is with us and it gives us strength. It seems everyone understands the pain that we are going through when we have to sit here in cold, rain and now perhaps in the heat," said Farhat Islam, a volunteer at Park Circus.
The march was aimed at making people realise how important it is to stand for yourself and for others.
"The country is standing on a secular fabric and we will not allow anyone to break it. We will resist this division on the basis of religion and we salute you the mothers and sisters who are leading this protest," said C. Narayanan, of the Purogamana Kala Sahitya Sangham Kolkata.