90 new winged species sighted in 4-day fest at Mahananda sanctuary
Among the new birds sighted include the Striated Yuhina, the White-bellied Drongo, the Chestnut-bellied Rock Thrush and Blyth's Leaf Warbler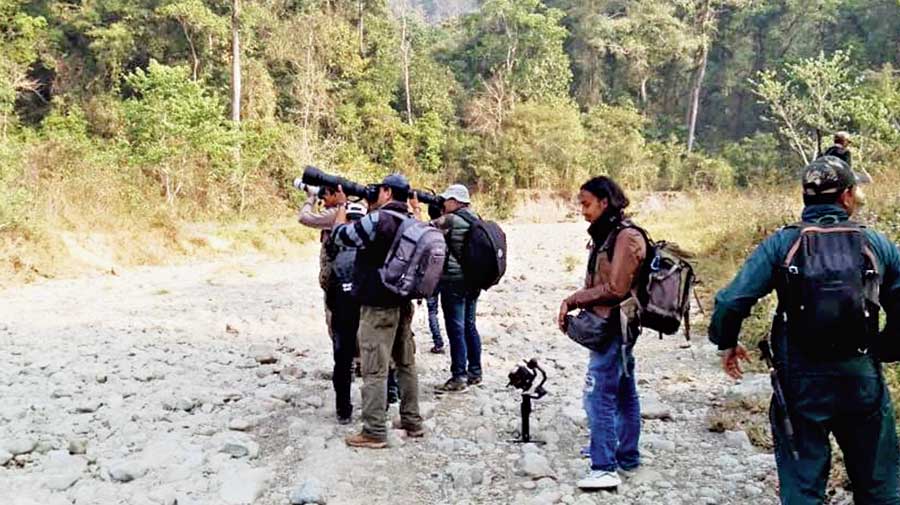 ---
|
Siliguri
|
Published 24.02.21, 12:44 AM
---
Foresters and birders, including ornithologists, have found as many as 90 new species of birds at the Mahananda Wildlife Sanctuary on the outskirts of Siliguri.
The new avian species were spotted during a four-day bird festival that ended at the sanctuary on Tuesday. It was for the first time that the state forest department hosted such a bird fest in the sanctuary.
Among the new species sighted include the Striated Yuhina, the White-bellied Drongo, the Chestnut-bellied Rock Thrush and Blyth's Leaf Warbler.
In all, 16 birdwatchers, eight ornithologists and eight local guides participated at the event, along with foresters. During these four days, they roamed around the sanctuary area, watching birds, clicking pictures and jotting down notes.
Rajendra Jakhar, the chief conservator of forests, (wildlife, north) said the inventory of the avian species of the Mahananda sanctuary that they had was made back in 1997 with 292 species. "But during this four-day event, 90 more new species, including some rare ones, were sighted in Mahananda. It is nice to see that the number of avian species that can be sighted here has increased to 382. This will also help us work for their conservation," Jakhar said.
He said that as a follow-up, the department would publish a report with details of the birds that can be seen in Mahananda. The exercise, he said, would increase the popularity of the sanctuary among birdwatchers and ornithologists.
In these four days, the participants walked down seven jungle trails, covering Latpanchar, Gulma, Rongtong and banks of the Teesta river. Starting from the foothills, they ascended to around 3,500 feet in the hills within the sanctuary area to obtain details of the birds.
Animesh Bose, a wildlife conservationist in Siliguri who had joined the event, said the experience was delightful. "We are delighted that the forest department took the initiative to find out how varied the avian population in the sanctuary is," Bose said.
Later this month, a similar bird watching camp would be held at the Neora Valley National Park in Kalimpong with around 30 participants, said sources.