88-year-old patient's escape with grandson
'I somehow took my grandfather till the landing. Then, out of nowhere, a stranger came to our rescue'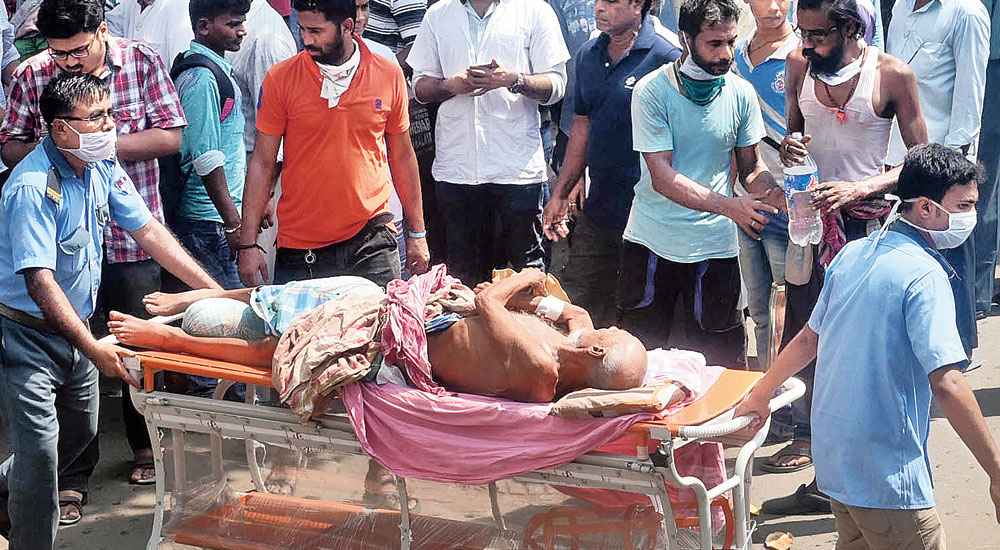 Satyacharan Das on a stretcher outside the hospital building
Telegraph picture
---
Calcutta
|
Published 03.10.18, 10:22 PM
|
---
The fire had started around 7.35am. I had just given Dadu his morning tea. A man came from downstairs and said a fire had broken out. We took the news casually. When smoke started entering the room, the nurses told us not to panic. Some patients had started moving down by then. The lift stopped working. As more smoke entered the ward, it was becoming increasingly difficult to breathe.
I told Dadu that he needed to get down but he said it was impossible for him. There was no trolley or wheelchair nearby. My grandfather was lucky that I was present by his bedside. I don't know how many of the other patients escaped. Atanu Santra had just poured his 88-year-old grandfather Satyacharan Das a cup of tea when someone entered the second-floor ward to announce that a fire had broken out on the ground floor. Atanu didn't give it much thought until he saw wisps of smoke enter the ward. He recounts to Metro how a stranger helped him move his immobile grandfather to safety down the smoke-filled staircase of MCH Building at Calcutta Medical College and Hospital on Wednesday.
I somehow took my Dadu (grandfather) till the landing of the first floor. By then, the entire staircase was filled with smoke. Our eyes were burning and we couldn't stop coughing. I feared we would not be able to get to safety.
Then, out of nowhere, a stranger came to our rescue. To me, he was a godsend. The two of us lifted Dadu and we went down the stairs as fast as we could. Once outside the building, we lowered him to the ground and I almost fell on him out of fatigue.
I will never forget those five minutes.