Seven more homes eroded by Hooghly in Santipur
Local sources said the latest spate of erosion began around 9pm on Monday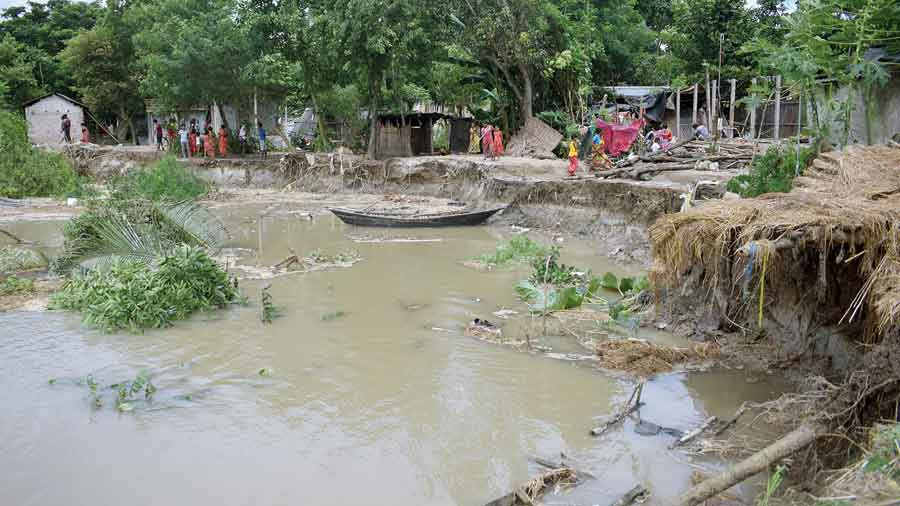 A stretch of the eroded bank of the Hooghly in Nadia's Santipur on Tuesday
Telegraph picture
---
Chakdah
|
Published 18.08.21, 01:35 AM
|
---
Erosion along a stretch of the Hooghly river bank claimed seven more homes in ward 16 of Nadia's Santipur on Monday night, with victims demanding their immediate rehabilitation.
With this, around 25 hous¬es have been lost to the Hooghly river this past one month in Santipur.
Local sources said the latest spate of erosion began around 9pm on Monday.
Raimohan Das, a farmer who lost his house, said: "It was so sudden and rapid that we lost everything before real¬ising the possible danger. We felt a tremor and the river gob¬bled up our houses one by one within a span of 10 minutes."
Erosion victims alleged that over the years both the Centre and the state govern¬ment had been making a moc¬kery of their plight as no per¬manent solution had been of¬fered to lakhs living in the ero¬sionprone district.
"The state government's protective measures have pro¬ved useless. We pay taxes to the government, but it has done al¬most nothing, except offering tarpaulin and dry food. It app¬ears the administration consid¬ers us flood victims. We need proper rehabilitation as we have been forced to shift homes several times in the past few years," Raimohan added.
Panicky over the quick erosion, at least 20 families liv¬ing close to the river bank in the Char Saragar and Gobar Char area of ward 16 disman¬tled their houses on Tuesday to shift to safer places.
Till Tuesday afternoon, 40 families had taken shelter at a local primary school.
On July 18, when five hous¬es and 30 bighas of farmland were lost to erosion, residents had blocked NH12 to protest the lack of protective measur¬es. The administration had th¬en assured them of starting work soon. Nothing has been done, the villagers alleged.
A state irrigation official said: "Continuous rain affect¬ed our efforts. We will start taking temporary steps once it stops raining. Major work will be done after monsoon."