Cooch Behar: Five villages lost one person each in train mishap
Of the nine people killed in the crash, two were from Assam and one from Uttar Pradesh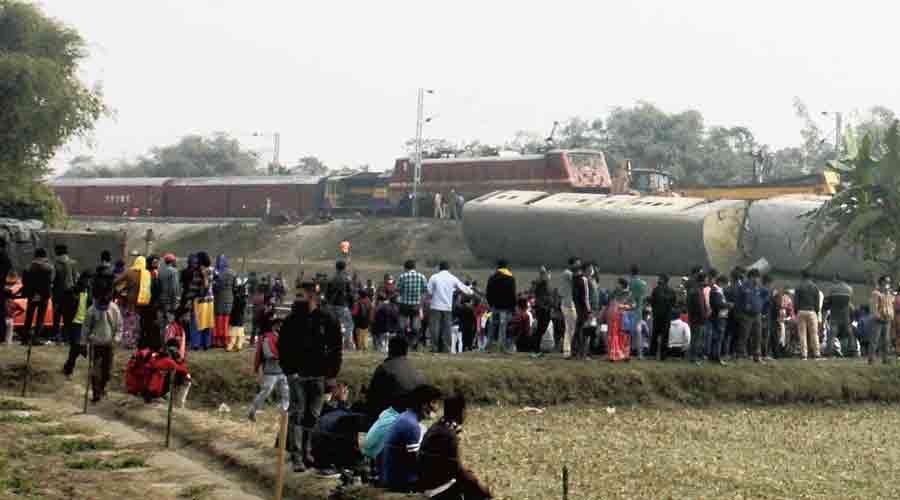 The derailment site on Friday.
Passang Yolmo
---
Cooch Behar
|
Published 15.01.22, 02:12 AM
|
---
Five hamlets in different blocks of Cooch Behar district lost one person each in the derailment of the Guwahati-bound train in Jalpaiguri district on Thursday evening.
Of the nine people killed in the crash, two were from Assam and one from Uttar Pradesh. The ninth deceased person is yet to be identified. The number of injured is 36.
The identified deceased were Ranjit Barman, 42, Mangal Oraon,40, Chiranjit Barman,23, Subhash Roy,38, and Samrat Karjee,17, — all from Cooch Behar — Santadabi Patni,60, and Sahada Khatun,7, both from Assam, and Lalu Kumar, 56, from UP.
Chiranjit, a resident of Chandamari in Cooch Behar 2 block, had gone to Jaipur for construction work three months ago to earn money for a surgery.
"He was advised a cholecystectomy (removal of gallbladder) for which he needed Rs 50,000.... To raise the money, he went to Rajasthan where he used to work in the construction sector. He had managed to accumulate the money and was returning home when the accident claimed his life," said Batu Samanta, one of his neighbours.
A few minutes before the coaches of the 15633 Bikaner-Guwahati Express went off the tracks between New Domohoni and New Maynaguri stations, Chiranjit had spoken to his mother over the phone and assured her that he would reach home by late evening.
"We got information about his death early this morning. He was an affable young man.... Every villager is mourning his death," the neighbour said.
Grief descended on Dewanbosh in Cooch Behar 1 block also. Subhash Roy, who used to work in Jaipur for over 10 years, was returning home to see his three-month-old daughter for the first time.
"He had left for Rajasthan around eight months ago and recently, he was worried over the surge in Covid-19 cases. He had spoken with us a few days ago. We asked him to return, especially because he had not seen his daughter who is three-month old," said Ramani, the bereaved mother.
Around 4pm on Thursday, Subhash had spoken with his mother. When the relatives came to know about the incident after an hour, they started calling his cellphone but there was no reply.
Later in the evening, his brothers, along with some neighbours, went to Maynaguri. There, they learnt that Subhash's body had been extricated from the dismantled washroom of a coach.
Of the 36 injured passengers, 10 are in critical condition. They are under treatment at three hospitals in Jalpaiguri and Darjeeling districts.
"Twenty-three passengers are admitted to the super specialty hospital in Jalpaiguri, six at North Bengal Medical College and Hospital in Siliguri and seven at the rural hospital in Maynaguri. Most of them are from Bengal," said a source in the Northeast Frontier Railway (NFR).