3,000 Bengal civic casual workers demand pay
Trinamul-ruled municipality alleges funds misuse by BJP predecessors, Saffron camp denies charge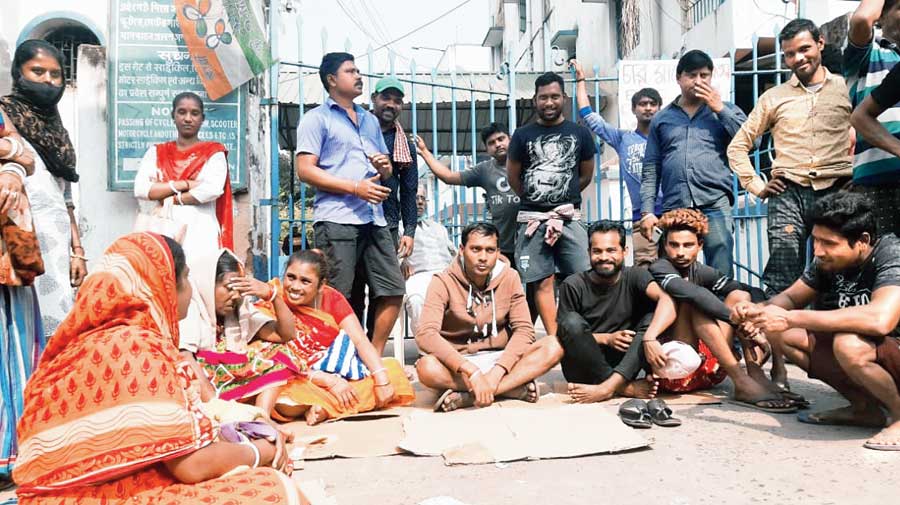 Protesting casual workers of Bhatpara Municipality, North 24-Parganas, on Tuesday.
Tapash Karmakar
---
Bhatpara
|
Published 24.02.21, 01:31 AM
|
---
As many as 3,000 casual workers of the Trinamul-ruled Bhatpara Municipality in North 24-Parganas on Tuesday demonstrated to demand they be paid their wages — four months due — immediately.
Agitating workers locked the entrance to the municipality premises on Tuesday morning, suspending civic services in 35 wards of the town. Sources said the workers vowed to continue the agitation till they were paid in full.
"We are being wronged by the municipality authorities who have only given us vague assurances. We are in a financial crisis, we are struggling for basic needs," said casual worker Bijay Barma, one of the protesters. "We won't stop our agitation till our dues are cleared."
Municipality chairman Arun Banerjee blamed the previous BJP-ruled civic body's "misuse" of funds to favour contractors close to BJP MP of Barrackpore Arjun Singh and his nephew, which Singh rubbished.
Workers said the civic body had some 3,300 workers on "no-work-no pay basis" who were going without wages since October 2020.
"Municipality chairman Arun Banerjee and Trinamul's Bhatpara assembly committee chairman Dharampal Gupta assured us of clearing our dues by February 11. No money has been paid," said a worker.
On Monday, 150 health workers of the Bhatpara Municipality's maternity clinic spearheaded the agitation by stopping work. Health workers alleged that they were appointed under a project jointly funded by the Centre and state, and their not being paid was "new and unexpected".
"This is unusual for us. We provide our best services round the clock in public interest, but civic authorities appear to be least bothered about paying our salaries," a health worker said.
The municipality casual workers' union leader J.L. Barma said the issue had begun fomenting over four months ago. "For months, payment of wages is an irregular affair, each time nothing is paid without some agitation from us," Barma said.
Blaming the preceding BJP-led civic body, municipality administrator Banerjee said: "The previous board is solely responsible for non-payment of dues. The state government had allocated funds for payment of wages but the previous board diverted the funds to pay bills of contractors close to Arjun Singh and his nephew Sourav Singh. This created a backlog of a few months. Nevertheless, we are hopeful of settling the matter soon." He added that he asked the workers for another week.
Rubbishing the allegations, BJP MP Singh said: "The Trinamul-run board reduced the wages of workers after failing to pay them."
Vice chairman Maqsud Alam, however, blamed the Centre for slashing a grant under the urban mission scheme that allegedly caused problems in paying health workers. "The Centre has granted only Rs 5.9 crore against the previous year's Rs 18 crore," Alam said.