1,312 landowners back Deocha-Panchami coal mine project
The government has to acquire 2,267 acres for the project and starting with 600 acres is not bad, an official said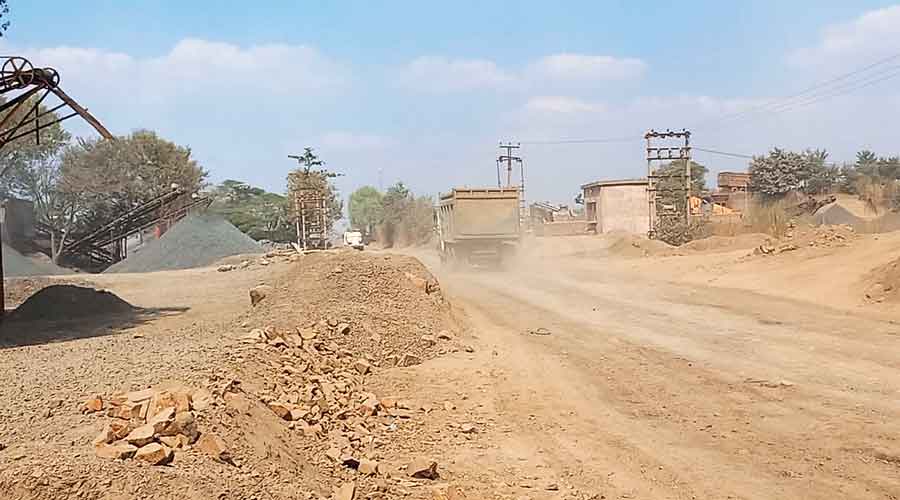 A land parcel of Deocha-Panchami where the coal mine will come up.
File photo
---
Calcutta
|
Published 31.01.22, 02:01 AM
|
---
As many as 1,312 landowners have given their written consent to part with their land for the proposed Deocha-Panchami coal mine project in Birbhum, giving the state government hope that the Rs 10,000 crore rehabilitation package, announced by the Mamata Banerjee government for land-losers, appears to be working on the ground despite some recent protests.
The state government has decided to take over these land parcels after disbursing compensation to the owners — who have given consent by filling up forms that the administration had distributed —  soon after seeking approval of the state cabinet.
 "The issue is likely to be tabled at the state cabinet on Monday for its nod to roll out the process of taking over plots of willing landowners by paying compensation... If the proposal gets cleared on Monday, work for the project could start within a month or so," said a senior government official.
Top officials of the state government deem the consent of 1,312 landowners, who collectively own 600 acres of land, significant, as they feel that starting the process with nearly 30 percent of the total 4,838 landowners will help generate more consent. 
"It is significant that 1,312 landowners out of 4,838 landowners-have given consent to part with their plots. We were sceptical… But now it seems things have fallen in place," said a bureaucrat.
Land acquisition is a thorny subject. A senior bureaucrat said people in Bengal don't have a good experience over acquisition of land. Even if the Singur and Nandigram episode is kept aside, thousands of people did not get proper price for their plots acquired during the Left Front government. Hundreds of people are still fighting legal battles to get price for their plots acquired to build the EM Bypass in Calcutta.
"In such a backdrop, nobody would expect that people would believe any package announced by the state government before it is delivered on the field. It is remarkable that so many people have agreed to part with their plots even before anyone received the package," said the bureaucrat.
The government has to acquire 2,267 acres for the project and starting with 600 acres is not bad, he said.
He also pointed out that once these families receive the promised compensation, more people would come forward to give their plots.
Under the compensation package, persons with land in the area would get around Rs 10 lakh to Rs 13 lakh per bigha along with a total of Rs 5.5 lakh as shifting allowance, maintenance allowance and a 600sqft dwelling unit in a colony for the land losers. One member from each of the affected families would get a government job as junior constable.
Moreover, families who used to work in the stone crushing units in the area would get a maintenance charge of Rs 1.2 lakh. Agricultural labourers in the area would get Rs 50,000 each as maintenance charge in addition to 500 days of work under the MGNREGS.
This is considered to be the most generous compensation package for land acquisition in the country by many. Even the new central land acquisition act does not provide so many facilities. The coal mine project is very crucial for the state as well as the ruling party as it could create nearly 1 lakh direct and indirect employment opportunities.
Moreover, successful take over of land would help the state to take up more infrastructure projects which have been stalled so far due to lack of land.
"If the land can be acquired successfully in Deocha-Panchami, the state can follow the same model in Bhangar in South 24-Parganas to set up the second airport in Calcutta. If people of Deocha-Panchami accept the compensation package, it could show a path as acquisition of land remains a problem across the country," said a source.
A section of the officials said the state government will face a series of hurdles in near future. 
First, a section of stone crushing unit owners in the project area are opposing the coal mine project though the government has announced a separate package for them. These unit owners have strong backing of a section of ruling party leaders.
Second, once the government starts paying compensation under the new package, getting land in other places for infrastructure projects like roads and bridges would be difficult as land-losers can demand similar compensation. Providing the same compensation to land-losers for roads or bridges is next to impossible as those projects would not give the returns that a coal mine project would, a source said.