13 held for Kultali clash
Detainees include 8 Trinamul workers and 5 SUCI workers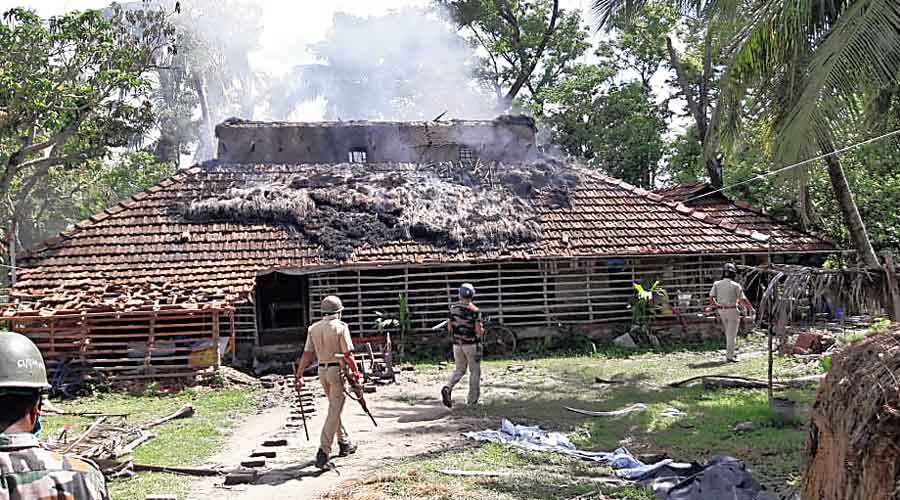 ---
|
Kultali
|
Published 06.07.20, 03:18 AM
---
The SUCI in South 24 Parganas' Kultali has put on hold its ongoing protests against alleged Amphan aid malpractices following the clash on early Saturday morning in Maipith.
Trinamul youth leader Ashwini Manna, 46, was killed and SUCI leader Sudhanshu Jana, 58, was found hanging at his home that was set on fire.
At least 40 houses in that area were ransacked and set on fire in the violence during Saturday afternoon.
The ruling party has since blamed the SUCI for Manna's murder, while the SUCI claimed Manna was lynched by villagers over corruption in Amphan aid distribution.
Trinamul claimed Jana killed himself. SUCI has countered that Jana was murdered.
Police have arrested 13 persons so far, including eight Trinamul workers and five SUCI workers. Trinamul youth leader Pintu Pradhan is among those arrested.
SUCI sources said they had cancelled their scheduled protest events against Amphan aid malpractices. "We had plans to gherao the block development office in Kultali on July 6 with a procession of at least 5,000 people. The violence in Maipith forced us to postpone the programme and we have switched from the issue of Amphan to the murder of our district committee member Sudhanshu Jana. We have called a strike on Monday in place of the Amphan related agitation," said Prakash Maity, SUCI district committee member in Kultali.
"We will launch the movement against Amphan aid graft after this situation gets normal. Many of our party workers' homes were set on fire," Maity added.
CPM leaders said they would not organise protest rallies in and around Maipith but would continue the protest in other blocks. "No question of events in Maipith in the current situation, but our protest (against Amphan aid graft) in other gram panchayats will go on," said Ramsankar Halder, CPM MLA in Kultali.