100 Bengal dropouts migrate to other states for livelihood
These students are from Biramhinkhanda and Rudrakhanda, two villages located under Raiganj Sadar block close to the Bihar border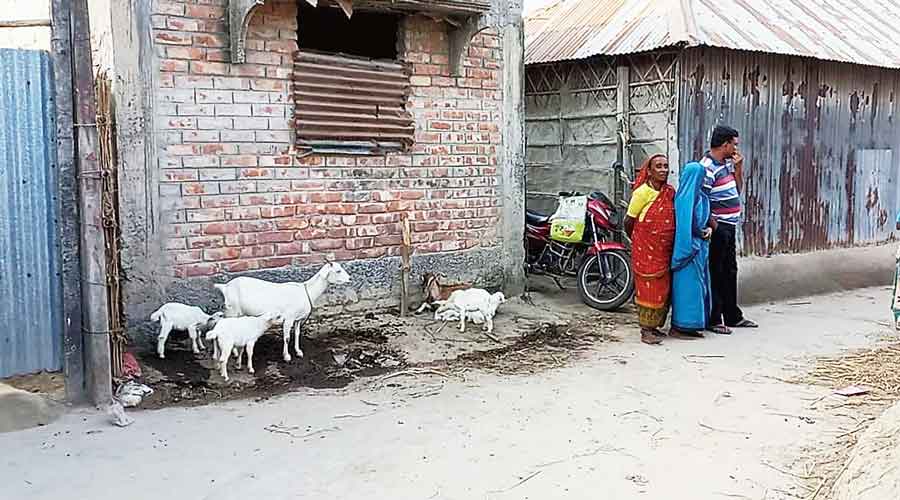 The house of student-turned-labourer Humayan Ali in Birhamkhand near Raiganj town.
Photo: Kousik Sen
---
Raiganj
|
Published 20.11.21, 02:46 AM
|
---
Around 100 students, mostly in higher secondary classes from two villages of North Dinajpur district, have dropped out of the education system, their studies and have migrated to other states to earn during the 20-month Covid-induced closure of schools and colleges.
These students are from Biramhinkhanda and Rudrakhanda, two villages located under Raiganj Sadar block close to the Bihar border.
The matter has come to the notice of the school authorities and officials of the district education department.
The migration of  students has made them draw up a plan to meet their families and to bring the dropouts back to school.
"Because of the Covid-19 pandemic, many people lost their jobs and we have heard about many students, mostly from poor families, engaging in odd jobs to make some money and help out their families. But in these two villages, the situation is entirely different. The students who were in Classes XI and XII, have not got into odd jobs in a temporary manner but have left their homes and are working in other states. There are at least 50 such students of my school who have turned into migrant workers," said Tamin Soren, the teacher-in-charge of Maharaja Jagadishnath High School, a higher secondary school in Raiganj town.
 "My father was a daily-rated worker and lost his job amid the pandemic. I was supposed to appear for my higher secondary examination this year but as the income of my family dried up, I had no other option but to try for a job. I came in contact with some people who helped me to get the job of a construction worker in Hyderabad. I cannot afford to continue with my studies," said Humayan Ali, a resident of Birhaminkhanda, said over phone.
Ali is staying in Hyderabad for around six months now and earns Rs 700 a day.
Similar is the situation of Titun Roy, another youth from the village. Titun's father used to work on contract in a private firm in Raiganj town.
"During the lockdown, I lost my job. We somehow managed to arrange two square meals by farming on our small plot but in the past few months, it was tough to run the family," Swapan, Titun's father, said.
As he is over 50 years old, his son who offered to migrate to Hyderabad.
Titun said he was aware that the schools have opened and he also wants to continue with his studies. "But I cannot leave my job because I am the main earner in my family now. My father makes some earnings but those are irregular," Titun said over the phone. 
The residents of these villages said many others like them have left for far-flung places like Kerala, Delhi, Haryana and Punjab to get a job so that they can run their families.
Soren, the headmaster, said he has started meeting the families of the students who have stopped their studies.
"I understand their situation but then the parents can find some alternatives so that these boys can at least finish their class XII," he said.
Nitai Chandra Das, the district inspector of schools (secondary) of North Dinajpur, said they also had information about these boys.
"We will speak to them and also with their families. The idea is to bring them back to school so that they can continue their studies," he said.