Akhilesh targets UP govt for spraying migrants with 'chemicals'
Bareilly DM admits mistake, child rights body demands action against those responsible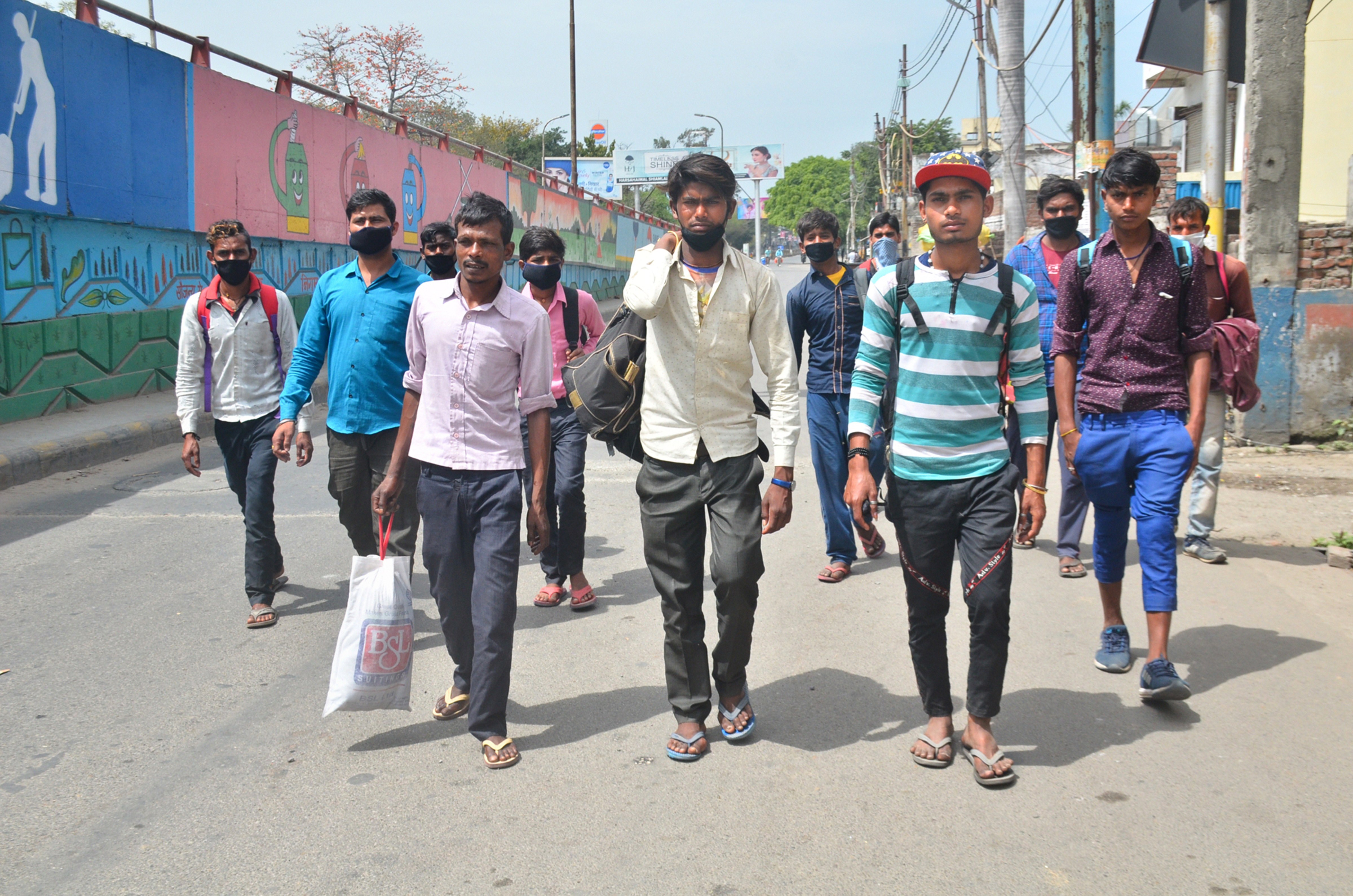 Migrant workers walk towards their home in Bareilly in the absence of any means of transportation, during day-2 of a nationwide lockdown imposed in the wake of coronavirus pandemic, in Moradabad, Thursday, March 26, 2020
PTI
---
Lucknow
|
Published 30.03.20, 11:35 AM
|
---
SP president Akhilesh Yadav on Monday targeted the Yogi Adityanath government over spraying a group of migrants on their back home with 'chemicals' to sanitise them in Bareilly, prompting the district magistrate to admit the 'mistake' and attribute it to the 'over-active' civic bodies personnel.

The SP president attacked the government after a news report, which said the incident occurred in Bareilly where a group of people sitting on the road was sprayed with a liquid which the article claimed was a chemical.
After the incident, several migrants, including women and children, complained of burning sensation in their eyes.
'The spraying of chemicals on migrants to sanitise them has raised some questions. Has the World Health Organisation given any direction in this regard? How do you treat the burning sensation caused by the chemicals? What arrangements are there for people to change out of wet clothes? What alternatives are being provided for the food that gets wet due to the spraying?,' Yadav tweeted.
यात्रियों पर सेनिटाइज़ेशन के लिए किए गए केमिकल छिड़काव से उठे कुछ सवाल:

- क्या इसके लिए विश्व स्वास्थ्य संगठन के निर्देश हैं?
- केमिकल से हो रही जलन का क्या इलाज है?
- भीगे लोगों के कपड़े बदलने की क्या व्यवस्था है?
- साथ में भीगे खाने के सामान की क्या वैकल्पिक व्यवस्था है? pic.twitter.com/Wgqh8Ntkky

— Akhilesh Yadav (@yadavakhilesh) March 30, 2020
The former Uttar Pradesh chief minister also tagged the news report with his tweet.
Admitting the mistake in a tweet, district magistrate Nitish Kumar attributed it to 'over-active' civic bodies personnel and said action is being taken erring officials.
'The affected persons are being treated under the supervision of Chief Medical Officer. Teams of Bareilly municipal corporation and fire brigade were asked to sanitise the bus but due to over-activeness they did that. Orders have been issued to take action against the concerned,' DM said in a tweet.
इस वीडियो की पड़ताल की गई, प्रभावित लोगों का सीएमओ के निर्देशन में उपचार किया जा रहा है। बरेली नगर निगम एवं फायर ब्रिगेड की टीम को बसों को सैनेटाइज़ करने के निर्देश थे, पर अति सक्रियता के चलते उन्होंने ऐसा कर दिया। सम्बंधित के विरुद्ध कार्रवाई के निर्देश दिए गए हैं। https://t.co/y8TmuCNyu5

— District Magistrate (@dmbareilly) March 30, 2020
Calling the incident an 'inhumane act,' apex child rights body National Commission for Protection of Child Rights (NCPCR) has demanded disciplinary and penal action against the officials responsible for the forceful sanitisation.
The NCPCR has asked the Bareilly district magistrate to submit a report on the matter within three days.

'NCPCR has expressed serious view on this inhumane act. In view of the above incident, you are requested to get the matter inquired into urgently and issue necessary directions for immediate action thereby; ensuring adequate arrangements of basic essentials to the family members viz. provision of food, shelter and safety and wellbeing of these children of migrant workers during the lockdown period,' the letter issued by the NCPCR read.
The child rights body has also demanded appropriate disciplinary and penal action against the officials who carried out the sanitising exercise.
There have been reports of a large number of migrant workers leaving their work places in different parts of the country and walking down to their native places, hundreds of kilometres away facing several hardships on the way.