Sikkim plans diagnostic service on the doorstep
According to the company website, LaBike comes with a framework to keep listed equipment with bio-waste management facility, power backup and GPRS tracker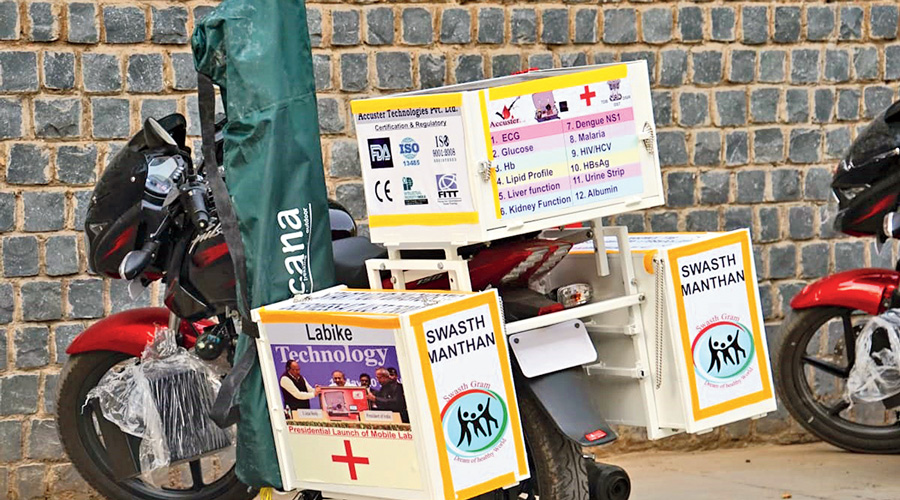 ---
|
Siliguri
|
Published 17.03.21, 01:50 AM
---
In sync with the Sikkim government's larger initiative to take the administration to the doorstep of the people, the health and family welfare department has embarked on a programme to provide door-to-door diagnostic service by introducing mobile laboratories throughout the state.
The department is close to inking a deal with the New Delhi-based Accuster Technologies Pvt Ltd to procure LaBike, the company-manufactured mobile diagnostic system that is retrofitted on a motorbike.
According to the company website, LaBike comes with a complete framework to keep listed equipment with bio-waste management facility, power backup and GPRS tracker.
K. Sreenivasulu, the principal secretary of health and family welfare department, said as part of the pilot project, the department intended to procure about 100 LaBikes and place them at primary health centres (PHCs) and primary health sub-centres in different parts of the state.
"The total proposal is 300 LaBikes. So, we can't do that in one stage. We will take around 100 bikes in the first instance, and we will select the places (to deploy). This is at a nascent stage," he told The Telegraph.
Sikkim has 24 PHCs and 147 health sub-centres spread across the four districts of the state.
Sreenivasulu said the total cost of the proposal was about Rs 72 crore which include the cost of the LaBikes, operational costs and capital expenditure.
"After completing all necessary formalities, I have moved the proposal for administrative approval. It should be approved in one or two days," he said, adding that the launch date of the pilot project would be decided by the higher-ups in the government.
Accuster Technologies said LaBike has been approved by the Indian Council of Medical Research (ICMR) and can conduct 76 different tests like glucose, Lipid profile, liver functioning test (LFT) and various hematology, serology and urine tests besides others. It also has an ultra-portable foldable tent house that can be pitched in just nine seconds and covers the entire laboratory workplace.
Sikkim chief minister P. S. Tamang (Golay), who met a team of Accuster officials in Gangtok on Sunday, endorsed LaBike as a scientific tool that would help in the treatment of common diseases and also aid the government in realising its vision of providing innovative health monitoring facilities in the rural areas.
"This will provide door-to-door health facilities across the state in a short time benefiting hundreds of people," he said.