Indefinite hunger strike of ad hoc school teachers enter sixth day
Six persons have been protesting under the banner of New Ad hoc Teachers Association of Sikkim (NATAS) where three showed signs of deterioration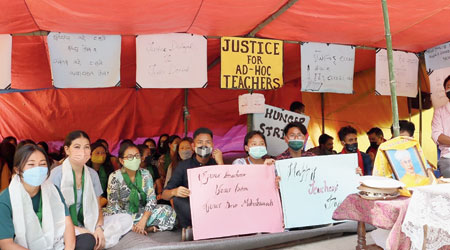 ---
Siliguri
|
Published 08.09.21, 12:54 AM
|
---
The indefinite hunger strike of ad hoc school teachers of Sikkim entered the sixth day on Tuesday even as the health of three on fast showed signs of deterioration.
Six persons, including the one who called off the strike in the afternoon because of personal reasons, have been protesting under the banner of New Ad hoc Teachers Association of Sikkim (NATAS).
Over 650 temporary teachers' contracts have not been renewed and they were instead asked to sit for interviews afresh.
According to a two-member medical team of the New STNM Hospital who checked on the protesters in Gangtok, the blood pressure of three of them has come down and they have been advised to seek medical intervention.
"Their low blood pressure is because of not taking food. We have asked them to add ORS (oral rehydration solutions) in the water, which they have been drinking," said a member of the team.
The protesters said they would continue with their hunger strike till their demand was met. Their demand is either extension of their contracts or holding of the fresh interview within this month, and not on dates announced by the government.
"We don't want assurance. What we want is that our demand should be met. As and when that happens, we will immediately call off our strike," said Rikzing Bhutia, one of the teachers on hunger strike.
The Sikkim education department authorities on Monday had, however, refused to heed either of the demands of the teachers and had instead appealed to them to call off the strike and start preparing for the interview that, they said, would be held in a phase-wise manner from October 3 onwards.
The teachers maintain that they were not averse to facing the interview again, given the promise that the services of those selected would automatically get regularised on completion of eight years, but their worry was the delay in holding the interview.
"We were initially told that the entire process would be completed by mid-July, and then by August 1. Now they are saying from October 3 onwards. This onward thing can go on and on," said an executive member of NATAS.