Young and Fast Guns of Bengal
Sayak Banerjee tracks the rise of Bengal's pace trinity who helped team reach Ranji final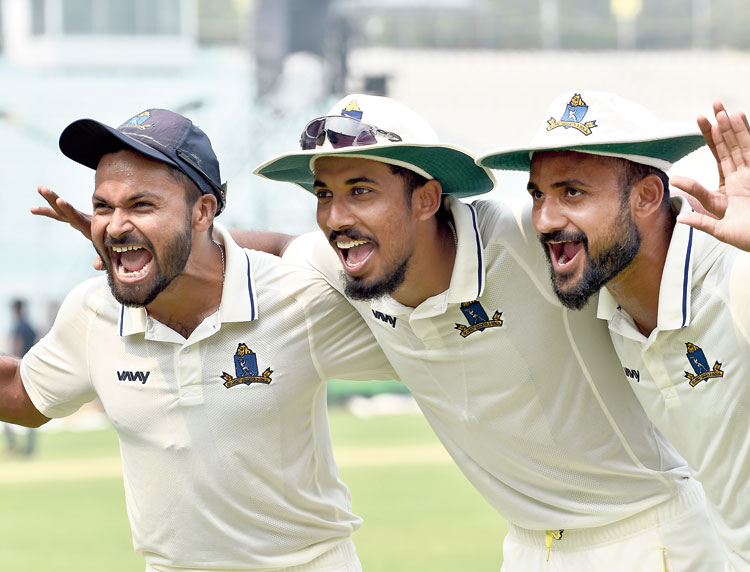 (From left) Bengal pacers Mukesh Kumar, Ishan Porel and Akash Deep celebrate Bengal's win at the Eden on Tuesday, March 3, 2020.
Picture by Santosh Ghosh
---
Calcutta
|
Published 23.03.20, 12:39 AM
|
---
From the likes of Shute Banerjee, Subrata Guha and Barun Burman to Ranadeb Bose, Shib Sankar Paul and Ashok Dinda of the modern generation, Bengal's rich tradition of fast bowling has always earned respect nationwide.
Paul and Ranadeb's retirement meant that the bulk of the workload fell on Dinda over the last six-seven years. However, this season, two determined individuals with roots in remote villages of Bihar, along with a self-assured Ishan Porel, rose to the occasion, playing a massive role in Bengal reaching the Ranji Trophy final for the first time in 13 years.
And they ensured the ageing Dinda wasn't missed much.
Mukesh Kumar, Akash Deep and 21-year-old Porel now form a pace trio which, especially in helpful conditions, can dismiss any batting line-up no matter how strong it is.
The Ranji semi-final at Eden Gardens versus a Karnataka side featuring India batsmen KL Rahul and Manish Pandey was testimony to it.
Porel's success for the India U-19 team and India A already made him an integral component of Team Bengal. But it's the performances of Mukesh, the senior most pacer of the three, and Akash that stood out this season, auguring well for Bengal going forward.
"The bonding between us is really good. I think you all saw that in the semis," 26-year-old Mukesh, who finished with 32 wickets from 10 Ranji matches, told The Telegraph during a short break from work at AG Bengal — with whom he's currently employed.
"Sometimes when we discuss strategies, Ishan says, 'Okay, main udaa dunga opponent ko agar tu nahi kar paya toh' (Okay, I'll blow away the opponent if you cannot) and vice versa. In other words, all three of us know how to handle the situation, however tough it may be."
Their marginal difference in ages too makes it easier, added Akash. "We are of the same age group, and that helps us gel even better.
"If there are senior guys around, the respect comes from within automatically. But in our case, we can talk openly about any topic.
"We are more or less of the same batch, so we don't need to become over-cautious about what we say to one other," the 23-year-old, now relaxing in his village Nishan Nagar Baddi in Rohtas, explained.
Mukesh's early days
Not finding a place initially at the Cricket Association of Bengal (CAB)'s Vision camp and then crippled by fitness issues after his first-class debut had darkened the path ahead of Mukesh.
He did not give up, though, and instead took up those impediments as a challenge to reach the next level.
"I won't say Waqar Younis (Vision's bowling consultant then) rejected me. Just that I wasn't selected (in early 2014)… But he did give me some tips like how to use the crease and so on," Mukesh said. Since 2003, Mukesh has been coming to Calcutta from Kankar Kund village near Patna, making his stay in the city permanent from 2011 onwards.
His ambition of becoming a fast bowler was always there, but he used to take interest in batting too during his formative years.
"… Felt nice to intimidate someone with pace bowling and with that, my interest in it grew. I also batted those days. But when I came here, I had problems with the kitbag (for batting). I wasn't at ease with it, so started concentrating totally on bowling," he recalled.
Beginning his club cricket journey first with Bani Niketan in the second division, Mukesh took just a year to move up to the first when he got an opportunity at Shibpur Club.
After his Shibpur stint, Mukesh got his chance at the Vision camp and there he met Ranadeb, who convinced Debabrata Das, now CAB joint secretary, to rope him in at Town Club. Then in 2015-16 came his much-awaited first-class debut.
Fracture 'a blessing'
It was in the 2016-17 season when Mukesh sustained a fracture in his right middle finger. The finger became crooked post recovery. "But it has been a blessing in disguise as it helps me swing the ball both ways. Reverse swing too has become easier. It helps me trick batsmen," Mukesh, who idolises Brett Lee, emphasised.
Akash's journey
Bengal's cricket operations manager Joydeep Mukherjee had been travelling by the Dalhousie Club ground one afternoon some three years back and saw Akash bowling. That was during a CAB first division league game. Akash had taken a five-for there.
Soon the then United Club player was called up at the Bengal U-23 nets. Nourished and egged on by Sourashish Lahiri, coach of the U-23 side, Akash strived to get better and stronger, eventually cementing his place in the Bengal senior team. He was also supposed to be a part of the Rest of India squad for the Irani Cup alongside Porel, Shahbaz Ahmed and Wriddhiman Saha had the tournament been held as per schedule.
His early days, though, weren't easy at all. "There were family issues, my father was unwell and I lost him in 2015. It was after a year that I settled in Calcutta," Akash, now doing his graduation from Veer Kunwar Singh University in Patna, recalled.
Initially, he wanted to establish himself as a batsman before diverting to fast bowling.
"When I played cricket those days, I used to play only as a batsman. But I found out I could bowl at a good pace too and my bowling improved. I focused more on bowling.
"In India, the problem is if you do well in bowling, log aapko batting se duur kar dete hai (people move you away from batting).
"I rarely got a chance to bat. But now under Arun Lal Sir, I am more confident as a batsman," Akash, who also idolises Lee, along with Sachin Tendulkar and Kagiso Rabada, stressed.
Future goals
Earning Team India berths is well and truly their future objective. But at present, the quicks aim to help Bengal scale bigger heights and become stronger.
"We want to take Bengal to such a level ke log soche iss team ko lekar soche aur un mein ek khauff sa paida ho jaay (people start thinking about this team and a fear creeps in)," roared Akash.