Will Chelsea make it to the top four?
The Telegraph previews the biggest questions ahead of the latest season of the UEFA Champions League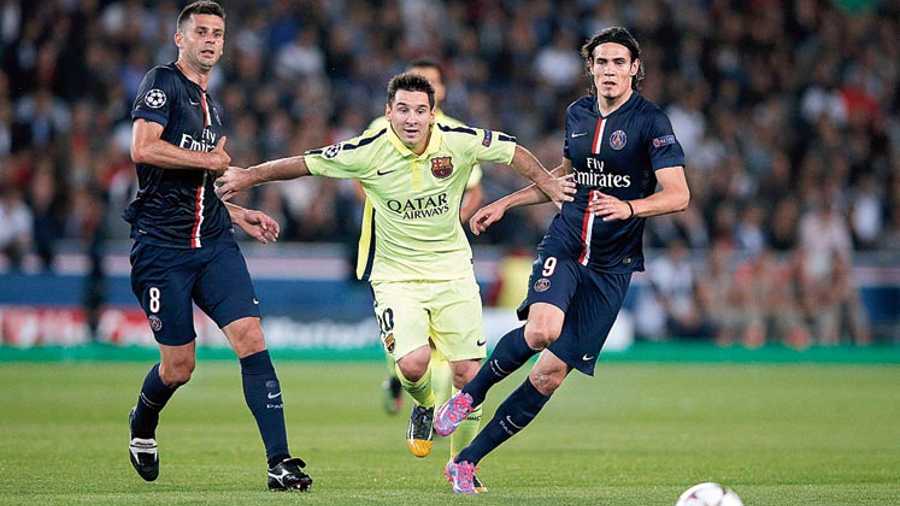 ---
Published 14.09.21, 02:44 AM
|
---
WILL CHELSEA STICK OR TWIST?
Last season's winners face the usual champions' dilemma ahead of 2021-22. Do they stick to the winning formula that coach Thomas Tuchel calibrated with such distinction last year? Or do they try something fresh, which in Chelsea's case would mean focusing more on possession and using summer signing Romelu Lukaku to play more intricate football? Considering Tuchel's adaptability, the second route could be likelier than the first. Chelsea have already shown this season that they have the attacking dynamism (against Arsenal) and the defensive rigour (against Liverpool) to contest key moments of games and come out on top. With the incredible squad depth they now possess, Tuchel's men should at least make it to the last four, which would make for a far better title defence than 2012-13 when first-time winners Chelsea crashed out in the group stages.
CAN GUARDIOLA KEEP THINGS SIMPLE?
It is no secret that geniuses do things differently. When they get it right, they are widely hailed. When they get it wrong, they are even more widely condemned. In the last half a decade of Champions League football, Pep Guardiola has usually got it wrong. In 2017, his caution-to-the-wind strategy exposed Manchester City to a comeback onslaught by AS Monaco. A year later, Liverpool ripped apart a City team set-up to lull the Reds in. In 2019 and 2020, City paid the price for being too watchful against Tottenham Hotspur and Lyon, respectively. Guardiola, it seemed, had developed a penchant for complicating matters just when it mattered most. Last season's final was another bitter dose of déjà vu for the Catalan as he started without defensive midfielder Fernandinho against a rampant Chelsea attack. There is little doubt that Man City will reach the business end of the UCL again this season. But there is far more doubt over whether their maverick genius can reprise his mantra from his Barcelona days — simple is smart.
WHICH GOAT WILL MAKE THE GREATER IMPACT?
For over a decade, two names have dominated the Champions League unlike any other — Cristiano Ronaldo and Lionel Messi, with a combined nine titles and an even more mind-boggling six top-scorer awards between them, are the benchmark for this competition. But in the last couple of years, neither superstar has set the European stage alight. Both Ronaldo and Messi have netted eight goals each over the past two campaigns and will look to reignite their prolific scoring touch with their new clubs, Manchester United and Paris Saint-Germain, respectively. For Ronaldo, returning to Old Trafford would mean trying to relive history, as the Portuguese was instrumental in guiding United to UCL glory back in 2008. For Messi, however, the challenge is different at PSG, who have only been losing finalists in the competition thus far. No matter the mandate, both GOATs are aware that they have entered the twilight of their UCL careers and will be desperate to lay their hands on the trophy with the big ears one last time. CAN ANCELOTTI TAKE REAL BACK TO THE SUMMIT?
The wily Carlo Ancelotti was the man who shepherded Real Madrid to the promised land of La Decima — 10 European Cups — in 2014, achieving something the likes of Fabio Capello and Jose Mourinho could not. A year after that, Real could only make it to the semis and Ancelotti was duly sacked. Expectations are no longer as meteoric in the Spanish capital, which means Ancelotti should have more time, but fewer resources, to mastermind the 14th championship for the competition's most decorated club. Intent on getting the best out of Eden Hazard and Gareth Bale, Ancelotti is also focused on streamlining wayward talents like Vinicius Junior. An ageing midfield coupled with an inexperienced central defence does not bode well for Real (more so if David Alaba plays at left back), but if there is anyone on the planet who can marshall a good squad into a great one, it is Ancelotti, who has already been European champion as manager on three separate occasions.
CAN A REVAMPED BARCELONA UPSET THE ODDS?
Messi, Samuel Eto'o, Thierry Henry. Messi, David Villa, Pedro Rodriguez. Messi, Luis Suárez, Neymar. These are the illustrious front threes that Barcelona have fielded in each of their last three victorious UCL campaigns. When this season's action gets underway for Ronald Koeman and Co, Barca's front three is likely to be Sevilla's ex-third choice striker Luuk de Jong, Martin Braithwaite, formerly of Middlesbrough, and Memphis Depay, who flopped the last time he played for a great European name at Manchester United. It is a sign of how far standards have fallen at the Camp Nou that the Blaugrana should be content to get anywhere close to the last eight this year. Miracles, UCL, and Barcelona have featured in the same sentence before, but the odds of that happening this year are depressingly high.
WILL INTER BREAK THEIR CONTINENTAL CURSE?
Back in 2010, when Inter Milan were crowned European champions in Madrid, few would have thought that the then most dominant team in all of Italy would not even make it to the last four of the UCL for another decade. Back as the best from Italy in the UCL, Inter have a lot to put right in terms of their dwindling European pedigree. Losing their two most valuable assets over the summer in the form of manager Antonio Conte and the free-scoring Lukaku has not done their chances any good, and nor has a virtual repeat of last season's grouping with Real Madrid and Shakhtar Donetsk. Yet, this Inter side are still stacked with talent, not least in attack, where the efficient Lautaro Martinez, the exhilarating Alexis Sánchez, and the electric Joaquin Correa will be the ones to watch out for. Expect Inter to at least break their group stage hoodoo if not shatter their continental curse altogether by conjuring another run for the ages.
CAN SHERIFF EXTEND THEIR FAIRY TALE?
A thrilling 3-0 win over Dinamo Zagreb in the play-offs ensured FC Sheriff Tiraspol made history as the first Moldovan club to enter the UCL's main draw. With a capacity of just under 13,000 at their home ground, Sheriff, by far the greatest underdogs in this season's competition, will entertain European royalty in the shape of Real Madrid and Inter Milan. But can they go one step further and make it to the knockouts? Should they require any inspiration, they can turn to APOEL Nicosia from 2011-12, a tiny team from Cyprus that progressed as far as the quarter-finals.
WHO WILL PERISH IN THE GROUP OF DEATH?
This year's UCL group stages have thrown up some intriguing combinations, but none more so than those in Group B whose participants have won a staggering 15 European Cups among themselves. While Liverpool and Atletico Madrid should progress on paper, only the naive will discount Porto, who stunned Juventus last term, and seven-time champions AC Milan, who are returning to Europe's top table after a seven-year hiatus. Apart from the impossibility of making clear-cut predictions for this group, there are also historic rivalries to consider. Liverpool's iconic tussles with Milan dating back to the 2005 and 2007 finals are still fresh in the minds of both sets of supporters. Atletico's invasion of Anfield in 2020 will not be forgotten anytime soon either. Given the intensity and the mutual hostility among the clubs, whoever misses out on the knockouts from the group of death should not miss out by much.
WHO WILL FINISH WITH THE GOLDEN BOOT?
Borussia Dortmund's Erling Haaland, last season's golden boot winner, will naturally be in contention to finish this season as the UCL's sharpest shooter once more. But the Norwegian should expect stiff competition from Bayern Munich's Robert Lewandowski, who may well have surpassed Haaland had he not missed out on crucial European ties due to injury in 2020-21. PSG's Kylian Mbappé, who netted a hat-trick at the Camp Nou and a brace at the Allianz Arena last season, should also be in the running, as should Chelsea's Lukaku and Real Madrid's veteran striker Karim Benzema. Liverpool's Mohamed Salah and any of Manchester City's free-scoring midfielders remain outside contenders alongside two players who have scored a combined 254 UCL career goals between them. No prizes for guessing who they may be.
WHICH DARK HORSE WILL RUN THE FARTHEST?
Every year the UCL acts as the launching pad for a club that few think of as favourites, but even fewer want to face. They are the dark horses that often become everyone's second team. This season the mantle seems to rest on a handful of sides that have been steadily improving in the last few years. The Europa League's unstoppable force Sevilla look primed to go deep in the UCL while the same holds true for the reigning Europa kings in Villareal. Ajax, the club that wooed every neutral en route to a magical campaign in 2018-19, are poised to impress again as are Atalanta and RB Leipzig, arguably the most exciting teams in Italy and Germany right now. UNMISSABLE UCL ENCOUNTERS
The Telegraph picks the mouth-watering clashes that are set to decorate the group stages of this season's European extravaganza.
BARCELONA VS BAYERN MUNICH
Where: Camp Nou, Barcelona
When: September 15, 12.30am IST (Match day 1)
The last time these two teams met, Barcelona endured the most humiliating defeat in the history of the club — an 8-2 hammering. Can Barca rally themselves to kick-start their Messi-less era in the UCL in style or will Bayern run riot again, just like they did in Lisbon 13 months ago?
MANCHESTER UNITED VS VILLARREAL
Where: Old Trafford, Manchester
When: September 30, 12.30am IST (Match day 2)
Revenge is best served cold when it comes to Manchester United. So, will the Red Devils, bolstered by Ronaldo, avenge their Europa League final defeat from earlier in the year, or can a valiant Villarreal side dig deep to stop United in their tracks?
AJAX VS BORUSSIA DORTMUND
Where: Amsterdam Arena, Amsterdam
When: October 20, 12.30am IST (Match day 3)
Two of the youngest and most enthralling sides in Europe go head-to-head for what should be a decisive game in Group C. Can Ajax dominate the ball and the score on home soil or will Haaland and his attacking entourage prove too good for the Dutch champions?
LIVERPOOL VS ATLETICO MADRID
Where: Anfield, Liverpool
When: November 4, 1.30am IST (Match day 4)
Diego Simeone leads his troops back to the site of one of his greatest triumphs in the UCL. Will Atletico repeat their dogged efforts from the spring of 2020 or can Liverpool, with an upbeat Kop, outmuscle their Spanish rivals in this battle of European heavyweights?
MANCHESTER CITY VS PARIS SAINT-GERMAIN
Where: Etihad Stadium, Manchester
When: November 25, 1.30am IST (Match day 5)
This could well be the night that the toppers of Group A are anointed in what is likely to be the most high-voltage face-off during the group stages. Will Messi return to Manchester to haunt his former mentor in Guardiola or will City's collective excellence find a way to trump PSG's individual brilliance?
THE NUMBERS THAT MATTER
The Telegraph recaps the most important records from the world's most prestigious club competition.
Most titles: Real Madrid (13)
Most consecutive titles: Real Madrid (5)
Most finals played in: Real Madrid (16)
Most second-place finishes: Juventus (7)
Most team goals scored in a single season: Liverpool (47 goals in 2017-18)
Most individual titles: Francisco Gento (6)
Most individual titles as captain: Franz Beckenbauer and Sergio Ramos (3 each)
Most individual finals lost: Patrice Evra (4)
Most individual appearances: Iker Casillas (177)
Most clubs represented: Zlatan Ibrahimovic (7)
Most individual goals: Cristiano Ronaldo (134)
Most individual group stage goals: Lionel Messi (71)
Most individual hat-tricks: Lionel Messi and Cristiano Ronaldo (8 each)
Most individual goals scored in a single season: Cristiano Ronaldo (17 goals in 2013/14)
Most seasons top-scored in by an individual: Cristiano Ronaldo (7)
Most individual assists: Cristiano Ronaldo (42)
Most individual clean sheets: Iker Casillas (57)