Who stole my football?
Jaydeep Basu rues a deal that he fears will adversely impact the game, and those who love playing it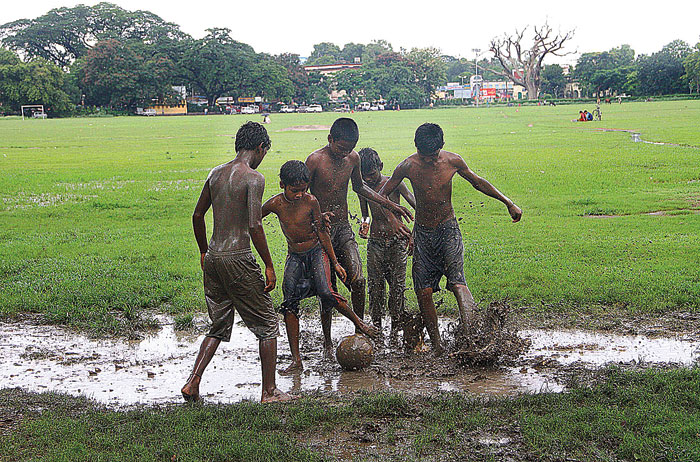 Leagues Apart: Once considered a people's game, football may soon become a monopoly of private parties
Chayan Majumdar
---
Published 27.07.19, 08:12 PM
|
---
The five-star facility near Barakhamba Road in New Delhi has hosted many conferences and seminars on sport in recent past. Nothing, however, could match the significance of the All India Football Federation's (AIFF) executive committee meeting on July 9.
On that fateful afternoon, AIFF, led by its politician-president Praful Patel, took a decision that will have far-reaching implications on Indian football. From a people's game, it has suddenly been reduced to a pocket monopoly of a privately-owned organisation.
Based on a Master Rights Agreement (MRA) signed by AIFF with its Mumbai-based marketing partners in 2010, Patel's men decided to promote the privately-run annual franchise-based league as the country's National League — its champion will now hold the sole rights of representing India in the Asian Champions League (ACL). Previously, the ACL slot was reserved for I-League winners.
The decision also effectively put the future of traditional I-League and its participating clubs, including Mohun Bagan and East Bengal, in complete jeopardy. While elevating the status of the franchise-based league, the federation has given no guarantee whatsoever on I-League's future calendar, its television coverage and its current standing on the Asian circuit.
One may equate it with an imaginary situation where the IPL receives the top tier recognition from the Indian cricket board leaving the Ranji Trophy or the Syed Mushtaq Ali Trophy in the lurch. In reality, the Indian football scenario is far worse.
Even a cursory glance at the MRA will reveal that Patel's AIFF has virtually sold its soul to its rich and all-powerful marketing partners in exchange of Rs 50 crore per year till 2025. It now holds no rights on its national league. It has no right in selecting clubs to play in the league, to finalise fixtures or frame regulations. It can't introduce a promotion-relegation system.
Let us quote a few lines from the MRA to understand how Patel's AIFF has practically given up all its rights to be called a public body and a government recognised national sports federation (NSF).
A clause in the "strictly confidential" MRA says: "AIFF hereby warrants that the company shall have the unfettered right and ability to establish the new league as the most senior and prestigious professional football league in India and that the existing I-League may, as a result of the introduction of the new league, be reconstituted, replaced, and/or discontinued (temporarily or permanently)…"
It doesn't stop here. It further says: "…company shall be entitled without any additional payment other than the fees and without AIFF infringing any third party rights or any kind whatsoever (whether of the clubs or otherwise), to decide upon the format, rules or structure of the league and the teams and players, which will compete in it." Well, one can go on quoting from the MRA that effectively reduces AIFF to a non-entity. It also leaves no one in doubt about who actually runs football in India.
Does an NSF have the rights to sign an agreement that would practically hand over the sport to a private party?
To please its marketing partners, AIFF has moved far beyond the MRA. The agreement never mentioned the ACL spot would go to the franchise-based league. AIFF relented immediately when it was allegedly threatened with non-payment of money.
The MRA has no specific clause on promotion-relegation system. Yet, AIFF readily agreed to a closed league for an unspecified number of seasons despite knowing it would be a huge injustice for rest of the clubs in the country.
The MRA did not demand a large number of people from the marketing committee should be included in important AIFF sub-committees. AIFF took them on board on their own!
To support its own stand, AIFF, on July 9, issued a press release. It said the ACL spot was awarded to the franchise-based league after having received a request from them. Curiously, no one has seen the letter. Not even league sub-committee members, who are supposed to deliberate on it.
In the same press release, AIFF praised the franchise-based league for its achievements in following club licencing criteria. It forgot to mention that at least three franchises failed in clearing all the licencing criteria last season. One franchise even refused to part with its annual financial report.
The question is, what was the hurry in recognising a league with too many conflicts? Why did no one enquire how the franchises were handpicked by its marketing partners without following the open bid process? Finally, what prompted Patel and his committee to sign such a one- sided contract in 2010?
There seems a definite plan to oust the non-franchise clubs from the scene, Mohun Bagan, East Bengal included. The process is easy — kill the I-League and even popular outfits like Aizawl FC or Real Kashmir FC will fizzle out. Only franchises with the right connections and ownerships would survive in Indian club football.
The I-League clubs are making noises about AIFF's step-motherly attitude. They are threatening to move court. It will not help. They are pitted against an extremely unfriendly parent body which basks in the glory of its highly influential marketing partners.
Moreover, I-League clubs neither have the resources nor the vision to engage in a long-drawn ideological battle. If AIFF is unrelenting, it is because they have already smelled the victory; even if it comes at the expense of Indian football.