Weekend blitz, like the good 'ol days
Football leads the way, refusing to be chained by the Octopus-like pandemic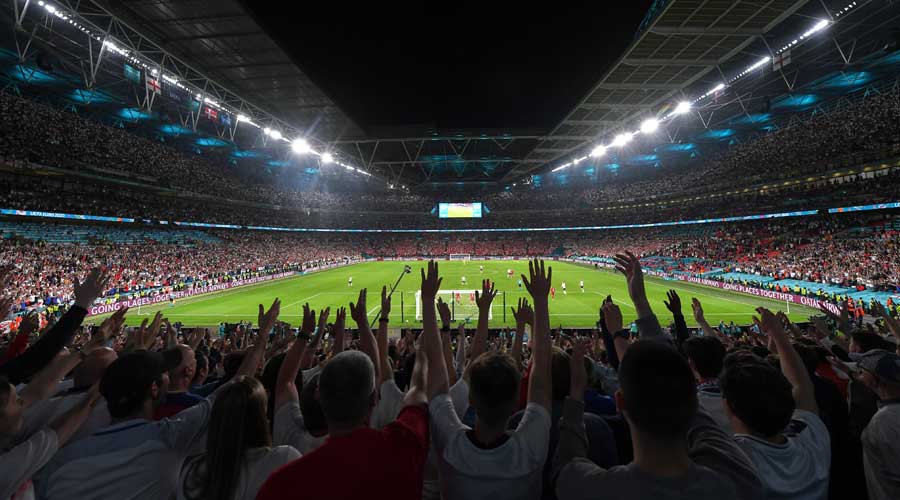 Fans at Wembley.
Twitter / @wembleystadium
---
Published 09.07.21, 02:55 AM
|
---
Suit up, in your favourite jerseys. Put on hold all those unfinished businesses which you had planned to mop up over the weekend. Instead, chalk out a plan to steal some sleep before adrenaline kicks in. For, if you belong to the sport-fanatic tribe, this Sunday is like no other.
For someone who takes interest in football and tennis, the day planner for Sunday, the 11th of July, in this part of the world could read something like this: Set the alarm for 5.30am — Argentina vs Brazil, Copa America final; Post match — sleep, sleep, sleep; Evening (around 6.30pm) — men's singles final, Wimbledon; 12.30am — England vs Italy Euro 2020 final.
There's also the Wimbledon women's singles final to relish on the preceding day, Saturday.
But haven't we seen such Super Sundays in the past too? Yes, definitely. But then most of those Sundays perhaps did not come after many days — rather almost a year-and-a-half — of a tiring fight against an unseen adversary that forced the world to count the dead like it had seldom done in recent history. The air we breathe is still not safe, the war against the killer virus wages on. But unlike dinosaurs, mankind so far has managed to fight off extinction. And the spirit that fuels such a fight is perhaps best reflected in sport.
Football leads the way, refusing to be chained by the Octopus-like pandemic.
Covid-19 forced football to a halt in the first quarter of 2020. While some countries cancelled their seasons, some others resumed action in May or June but in empty stadiums. Liverpool, the club that sings "You'll Never Walk Alone", won their first league title in 30 years in front of empty stands. The Champions League was dwarfed into a competition of just a couple of weeks in August. And the 2020 Ballon d'Or was cancelled.
Spectators were reduced to lifeless cut-outs and the infectious buzz at stadiums were replaced by eerie silence that seemed even eerier with artificial crowd noises.
The virus did not spare even the supermen among footballers. From Cristiano Ronaldo to Zlatan Ibrahimovic to Mohamed Salah, all were grounded. There were also paycuts, at times voluntary, at times not. The players were being played with.
But football, and sport in general, has always been about rising above the odds. Fans began returning to many stadiums across the world in the latter months of the year, though surging infections have at times forced renewal of restrictions. It's still difficult, but halfway into 2021, the love affair with the beautiful game lives on, despite the suffocation of bio-bubbles.
While Copa America, being hosted by Brazil, has been played with no crowd, Euro 2020 has courted spectators at some venues almost like pre-pandemic times. The Hungary-Portugal match at the Puskas Arena in Budapest saw 67,000 fans in attendance. It was reality soaked in surrealism and it prompted the authorities to okay bigger crowds at the Wembley for the semi-finals and final.
The Wimbledon, which was cancelled last year, too will see capacity crowd at the Centre Court for the finals.
Who would have thought that was possible around this time last year?
July 14, 2019, had gifted us a Super Sunday with the ODI World Cup final, the British Grand Prix and the Wimbledon men's singles final all happening on the same day. How was that day? Find out and be ready this Sunday.