Virat Kohli backs Ravi Shastri, says head coach not a yes-man
Kohli spoke on a range of issues during the squad's pre-departure media conference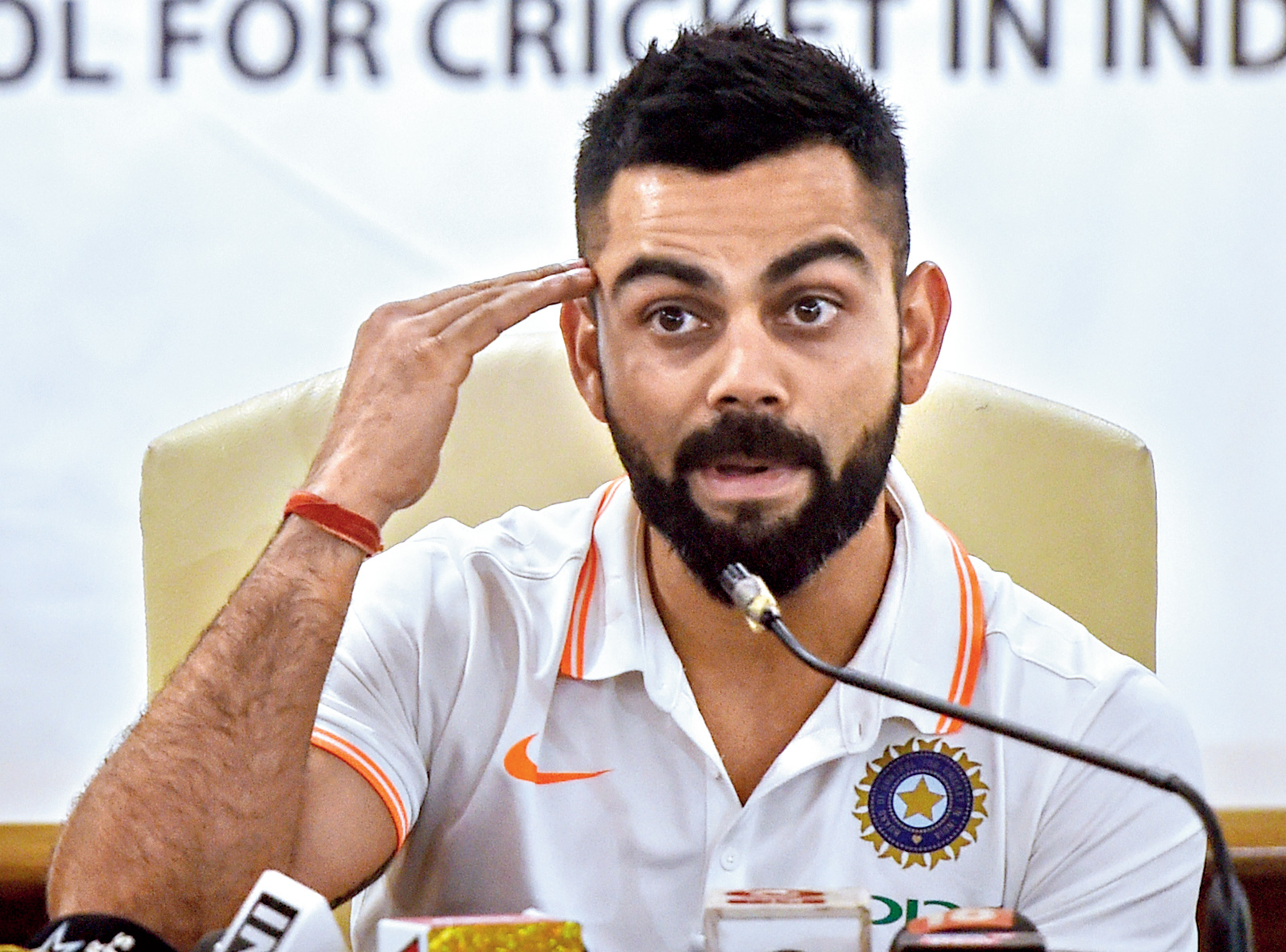 Virat Kohli during a media conference in Mumbai on Thursday.
PTI
---
Calcutta
|
Published 16.11.18, 09:24 AM
|
---
Virat Kohli has batted in support of coach Ravi Shastri, dismissing the opinion that head coach is a 'yes-man' to the India captain.
Kohli spoke on a range of issues during the squad's pre-departure media conference, in Mumbai on Thursday, ahead of the tour of Australia.
Speaking on Shastri, Kohli said: "That is the most bizarre thing ('yes-man') I have heard. In Indian cricket, I don't think there is anyone else who has said 'no' to me more than him honestly. He is one guy I can speak to and can get an honest opinion. I have made more changes to my game listening to him than anyone else in the past.
"These are very personal things that happen within in a team environment. Things that conveniently need to be put out there will be put out there. We are not going to put up a banner and say 'this is what happens in the Indian team'. As long as our heart is clear and intent is right, we want to keep moving forward."
The captain also insisted that not just him, the others in the team have also benefited from coach Shastri's advices.
"His contribution ever since we started building this team is making people believe that they belong there. We all went through a tough time in 2014 (the England tour) and for me to able to come out of that, and Shikhar (Dhawan) in the 2015 World Cup, he can vouch for that… He knows how to get the best out of the players.
"It is mostly about man-management at this level and Ravibhai has done that brilliantly. People are entitled to their opinion. We have to live our lives. We can't stop doing things which take place organically. Nothing is happening in a fake way.
"Everyone has a different personality and if someone's personality doesn't fall into someone else's comfort zone, that becomes a problem. So we are not out there wanting to judge anyone. He will finish one day, I will finish one day, but cricket is here to stay," Kohli said.
Pundits have claimed that this is India's best chance to win a Test series in Australia with the hosts missing the services of Steve Smith and David Warner, both banned because of their roles in a ball-tampering scandal. But Kohli is not looking too far ahead.
"There is a lot of room for improvement. That is something we realise as a team also. We understand what we need to work on, so it is up to the individuals to take ownership of that.
"There were lot of things we discussed after the England tour, on what went wrong. We felt there was not a lot that we did wrong, but whatever was not right went extreme. We played good cricket but the mistakes were also very extreme.
"How to control the game is something we need to work on. We have to find a solution in tough situations rather than feeling that it would appear from somewhere."
He, however, praised the bowling unit. "From the last time we went there (to Australia), fitness levels of the bowlers are surely up, which will be the most important factor in Australia. The pitches can get boring at times, the Kookaburra doesn't do much. So it is about maintaining the pace."