Umesh Yadav's mantra: You play some, miss some
Just a month remains for the much-awaited World Test Championship final where India's quicks are expected to play a crucial role against New Zealand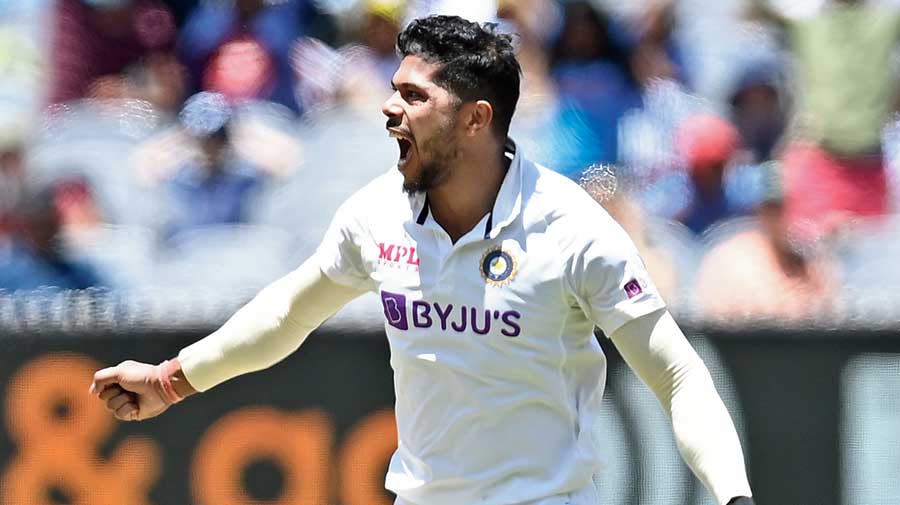 ---
Calcutta
|
Published 17.05.21, 12:19 AM
|
---
For speedster Umesh Yadav, injuries have been the speed-breakers in his career, but he deals sportingly with them. 
The latest instance was the Boxing Day Test last December, where Umesh had to leave the ground after bowling just 3.3 overs in the second innings due to a calf-muscle injury. In fact, that Test also happens to be Umesh's last competitive match.
Just a month remains for the much-awaited World Test Championship (WTC) final, where India's quicks are expected to play a crucial role against New Zealand at the Ageas Bowl in Southampton. But it will be difficult for Umesh to break into the playing XI with Ishant Sharma, Jasprit Bumrah and Mohammed Shami fit, and the young Mohammed Siraj making steady progress.
Umesh, however, doesn't want to clutter his mind thinking about all that, instead he prefers to focus on stuff within his control.
"Look, we can't have any control over injuries. But that kind of injury (calf muscle) happened to me for the first time in my 10 years at this level. It has never happened in the past that I had to leave the ground due to an injury," the 33-year-old told The Telegraph from New Delhi.
"Now, being in the XI or not being included is another part of the game. You play some, you miss some. But I have kept backing myself and also motivate myself during training so that my mind and body stay positive… That helps me feel strong.
"It's just about keeping yourself fit with a positive mindset, which is in your control."
India's pace attack growing in strength over the last few years also underlines the quicks' need to deliver consistently if they are to cement their places in the XI. Umesh, however, looks at this aspect differently.
"As I would say, conditions, situations and who's bowling well in matches as well as at the nets determine the final XI. Besides, that's the job of the team management and honestly, we are never really tense regarding our chances," he said.
Talking about the WTC final, Umesh believes the team that stays disciplined right through the Test should prevail.
"New Zealand are a strong side, they bat deep and their pacers are quite experienced and lethal. So it will be a tough game.
"English conditions are also a big challenge for us and so is playing against a team like New Zealand. But being Test players, we need to play with discipline and make sure we remain disciplined right throughout in all aspects of the game.
"The team that maintains such discipline in each and every session will prevail," Umesh emphasised.
Dismissing rival skipper Kane Williamson early also will brighten India's chances, Umesh acknowledged. "We do have a fair idea about Kane's game, though I don't think he has too many weaknesses.
"Of course, any quality batsman can fall to a good delivery, so as a fast bowler, you should look to stick to your strong points and bowl more of those balls which can fetch you wickets.
"And yeah, we need to get Kane out as early as possible as that'll surely benefit the team," he said.
This year's IPL getting indefinitely postponed also gave the India players some time off before embarking on a long tour of England. Asked for his views on the matter, Umesh said: "It's difficult to say whether the IPL getting suspended was good or bad because in any case, cricket has reduced due to the pandemic."