Track to range, a mother-son story
When your mother happens to be a double Asian Games gold medallist, expectations are naturally higher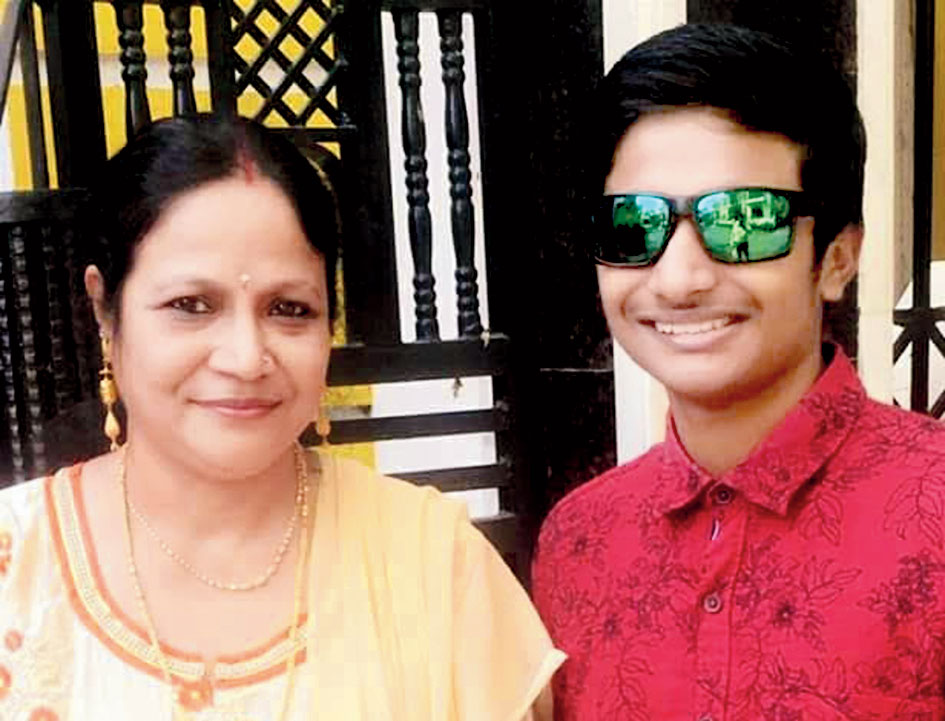 Jyotirmoyee Sikdar with son Avrojyoti
The Telegraph picture
---
Calcutta
|
Published 27.11.19, 08:50 PM
|
---
One blazed the tracks in her heydays, while the other is yearning to shoot to glory. That is the story of Jyotirmoyee Sikdar and her son Avrojyoti.
It is not easy to take up a sport in India, and when your mother happens to be a double Asian Games gold medallist, expectations are naturally higher.
But 17-year-old Avrojyoti Singh Basra has decided to carve his own path and while the mother remains an inspiration and a motivator, he has stayed away from the tracks to make the shooting range his home.
But why did he choose shooting? "I always loved shooting. Even when Olympics or Asian Games are telecast on TV I watch shooting. Just hitting the target — that's what I feel good about," he said.
It was natural for Avrojyoti to start with athletics. But for the young boy, it was difficult to find time. "I did put him in a training camp in SAI, but he found it difficult to balance school (Don Bosco, Park Circus) work and training," said Jyotirmoyee.
Does it hurt that her only son did not take to the tracks? "Yes, of course," she said. After all she won the 1500 and 800 gold medals at the Bangkok Asian Games in 1998 and is a recipient of the Rajiv Gandhi Khel Ratna, the Padma Shri and the Arjuna Award.
"When I was in class VI, I started shooting at North Calcutta Shooting Club, but even then I could not take it up seriously. It was only after I had finished my Class X exams that I started going to Joydeep (Karmakar) Sir's academy at New Town."
The 17-year-old has shown rapid improvement, and has already won the gold medal in air rifle in the All India KSS School Championship in October.
"My immediate goal is to do well in the nationals (he has qualified for the U-17, U-21 and Senior categories)," said the 17-year-old.
While he does not really have an idol in the sport, his mother is a constant source of inspiration.
"She motivates me daily. I know how many international medals she has and I want to do better," said a rather confident youngster.
"He wants to grow out of my shadow," laughed the former track queen. "I have told him that will be a tall task."
However, Jyotirmoyee said that it is Avtar Singh, her husband and former athlete, who takes care of their son's training. "Just like he did with me, he does the same with our son. He is a tough guide, who expects nothing but the best."
Asked whether he ever wanted to take up more popular sports like cricket or football, Avrojyoti said with a smile: "I did play football in school. But then I lost interest."
"After he passed his 10th, we started thinking we must put him in one sport. Athletics and football were not really viable options. When I was trying to be an athlete there was not so much pressure of academics. After all I went to a small village school, not like my son. Then I heard of Joydeep's academy. It was close to home also and he developed real interest," said Jyotrimoyee.
Aware of the pitfalls of international sport, she helps her son stay grounded. "Shooting is an expensive sport. We bought him his own equipment just four months back," she said.
"I have given Joydeep a free hand, After all he is the coach. Now I want my son to do well."
Karmakar, too, sees a bright future for his ward. "Initially he was a very shy lad. He hardly spoke. But slowly he opened up… Jyoti is a passionate athlete… she knows the business in and out. She even gave me the freedom to spank her boy if I see something is not right. It's surely a positive sign that parents are not interfering, but they know the nuances of international sport and trusts a professional who can take care," Karmakar said.
"It is Avtar who accompanies him most of the time. Whenever I have a chat with Jyoti, she just tells me clearly that she has entrusted Avrajyoti to me and I have a free hand about whatever needs to be done. Being an international star, she is not a daunting parent."
Karmakar feels that the youngster is getting the best of both worlds. "I think he is getting the best of both worlds being a son of legendary athlete and being trained by a veteran shooter. A lot of sportspersons are now putting their kids into shooting. Perhaps they have realized that this sport is arguably the best now in India to have a real global prospect. I think Jyoti has taken a good decision.
"He is evolving now. He has a long journey ahead. But he is showing real good signs to be a great athlete. My task is to keep him grounded."