Yusra Mardini speaks to The Telegraph on her odyssey
'Tough moments make us who we are'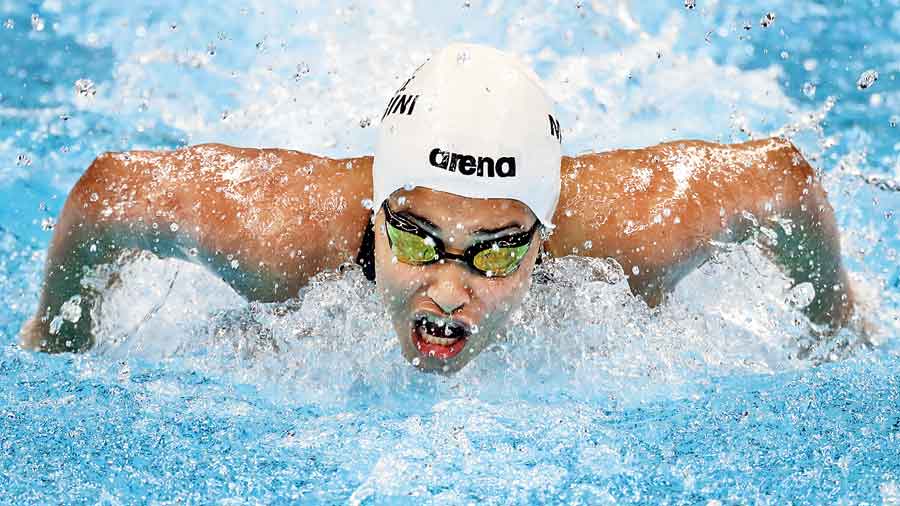 Yusra Mardini at the Rio Olympics in 2016.
Getty Images
---
Calcutta
|
Published 05.08.21, 01:02 AM
|
---
Yusra Mardini returned from Tokyo, her second Olympics after Rio, without a medal. The 23-year-old Syrian swimmer couldn't even qualify for the 100m butterfly semi-finals. Yet, she stands out.
Overcoming all the challenges that have been a fallout of the massive unrest and civil war in Syria since 2011, Yusra clinched consecutive Olympic berths, being a representative of the Refugee Olympic Team.
"Those days are a part of what I'm now. I'm human and I still go through struggles in life. But the period I struggled the most was while crossing to Germany, as I was almost losing my life then.
"After that, there was Covid-19 which also affected me. But those are the hard, tough moments in life without which we don't change and don't become who we are.
"I think every step of my way is a part of who I am and who I'm becoming," Yusra, having her life story chronicled in her book Butterfly,
told The Telegraph.
The feeble-hearted wouldn't dare imagine bearing what Yusra and her elder sister Sarah had to during their life-threatening journey (from Turkey to Greece and then Germany) six years ago. They were forced to leave behind an idyllic life back home at Darayya (a suburb of Damascus) because of the bloodshed in Syria, and look for survival and security in Europe.
Yusra, then only 17, and Sarah jumped into the sea despite the threat of the turning tide and swam for three-and-a-half hours, trying to ensure the overloaded dinghy (carrying them to Greek island Lesbos from Izmir in Turkey) stayed on course. Their journey to Germany thereafter was also no less an ordeal.
The story of the Mardini sisters is being made into a film called The Swimmers, set for release next summer, Yusra said. Lebanese actresses Manal and Nathalie Issa, also real-life sisters, will portray Yusra and Sarah.
Those scary days are still fresh in her mind though she's much better placed
now, residing in Hamburg alongside being the UNHCR (United Nations High Commissioner for Refugees) goodwill ambassador.
"The voice of refugees" now, Yusra is focused on "bringing more awareness about them all over the world and letting everyone know they too can make a change when it comes to life".
Yusra's heart beats and bleeds for war-ravaged Syria, though she is no less proud to have represented the team of refugee athletes twice so far in the Olympics. "Representing the Refugee Olympic Team means representing every nation, every continent in the world and it's a huge honour for me to have done that twice," she said.
"Obviously, I would be super proud to represent Syria, but I have no idea when I'm going to swim next for my country," Yusra, one of the flag-bearers of the refugees' team during the opening ceremony in Tokyo, emphasised.
At present, owing to the pandemic, she is unable to visit the refugee camps which is a part of her UNHCR role. "Currently, I'm not doing a lot, but if I can speak about the topic of refugees and so on, I do that."
Fan of Mary Kom
Yusra hasn't been to India yet but keeps track of the country, being a keen follower of MC Mary Kom and of course, Bollywood. "I've been invited (to India) to speak at TED talks, so hopefully, I'll be able to make it," she said, adding: "Mary Kom is one of my inspirations and I love her.
"Though I couldn't meet her in Tokyo, she's really inspiring. Whenever I see the movie (Priyanka Chopra-starrer Mary Kom), I cry out of joy...
"I love Bollywood, especially Priyanka Chopra and Deepika Padukone. We used to watch lots of Bollywood movies on Friday evenings when I was younger. I do love Indian culture," the braveheart said.