Tokyo Olympics: Self-belief drove Neeraj's journey to the top
Manisha Malhitra has been a guiding force, charting the athlete's path out of a career-threatening injury all the way to an Olympic gold medal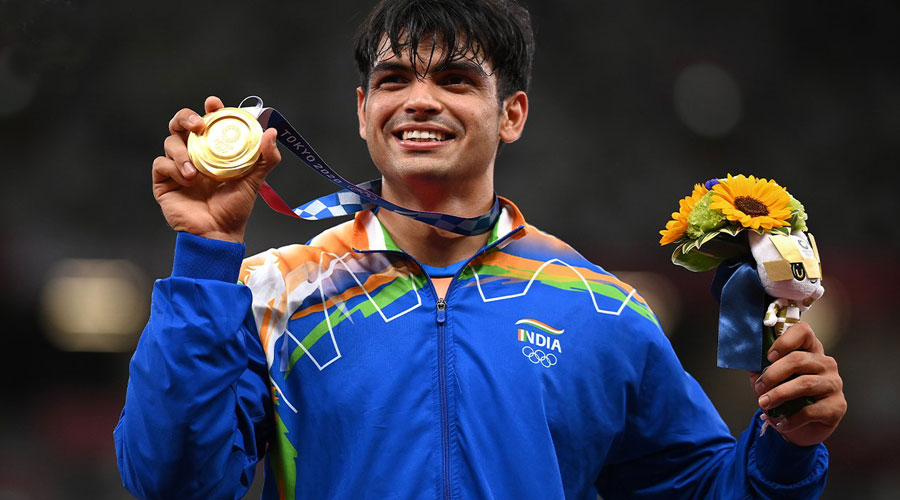 Neeraj chopra
File picture
---
Calcutta
|
Published 09.08.21, 02:02 AM
|
---
"Theek hai Madamji. Second throw me hi sambhal diya" — that was Neeraj Chopra's first comment over the phone from Tokyo on Sunday to his "Madamji," former India tennis star Manisha Malhotra, who is the head of Sports Excellence and Scouting with JSW Sports.
Neeraj has been under her mentorship ever since he came under the JSW umbrella and Manisha has been a guiding force, charting his path out of a career-threatening injury all the way to an Olympic gold medal.
The fact that she herself is an Olympian, having represented India at the 2000 Sydney Games, and an Asian Games silver medallist,  gives more credence to the advice that she gives to those under her care. She also played a key role in the shaping of India's only other individual Olympic gold medallist, Abhinav Bindra, while she was with the Mittal Champions Trust.
"But today, let's talk about Neeraj. His journey has not been easy. The injury he had was almost career-threatening. It was our job to see to it that he got the best possible care and had all the right people around him.
"The Covid-19 pandemic was perhaps the best thing to happen for Neeraj. He got the time to heal and improve. He was already competing with the best in the world and showing his class. Now, there can be no more doubts," she said.
Manisha, however, was quick to point out that if Germany's Johannes Vetter, who was the pre-tournament favourite, had a better outing on Saturday, then things might have been different.
Even his compatriot Julian Weber finished outside the medals, the Czech Republic duo of Jakub Vadlejch (86.67m) and Vitezslav Vesely (85.44m) taking the silver and bronze, respectively.
"What is amazing about Neeraj is his self-belief. He has confidence in his abilities. He enjoys the process. I had seen this in Bindra too. They enjoy their work schedule, the process that keeps them at the top of the game. You can be assured that if his coach gives him a schedule he will follow it to a T. There will never be any compromise made, no short cuts taken. That is the very basis of a champion.
"Neeraj will never tell you that he will throw this distance on a given day. He will only say if he can go through the mechanics of it flawlessly, he will do well. His first throw really set the tone. He told me he had thought the second throw (87.58, that earned him the gold) would go longer. That is how happy he was with the mechanics of it." He could feel he had done everything right. But then, his later throws were not really up to the mark and he knew it.
"He said he was getting a little tired, perhaps a bit of fatigue was creeping in. I was happy that his first two throws were so good that he never had to do any catching up," she added.
As the final unfolded, a tense Manisha was glued to the TV. "Once the top eight were fixed, we could see that he was not really under any threat. But in javelin one monstrous throw from anyone can change everything. It was good to see him keep such a level head. It's his personality, how grounded he really is that makes him a champion.
"Honestly, did I expect him to win a gold? Absolutely no. We did expect a medal, but he has made the country immensely proud. And the best thing is, at 23, he still has a long way to go."