Courage to accept burden of success
By stepping back and opening up, Biles joins Naomi Osaka, who had dropped out of the French Open, citing the need to prioritise her mental health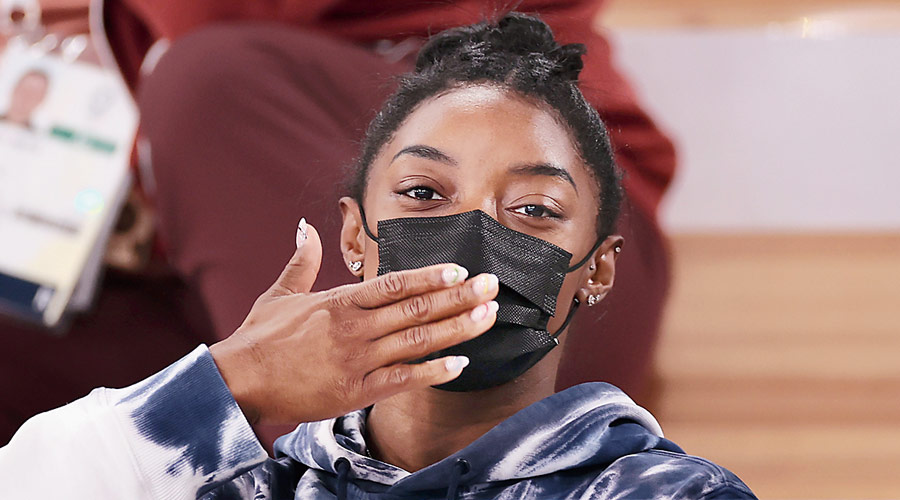 Simone Biles watches the men's all-around final at the Ariake Gymnastics Centre on Wednesday.
Getty Images
---
Calcutta
|
Published 29.07.21, 03:21 AM
|
---
Even a decade or so ago, an athlete of Simone Biles' stature might have been reluctant to admit that she was battling demons of success. 
Though sports psychologists say a stigma persists about athletes and mental health, and Biles was surely disappointed not to have lived up to enormous Olympic expectations, she was also widely embraced as the latest elite athlete who had the courage to acknowledge her vulnerability.
"For Biles to come out and acknowledge her mental problem without giving a lame excuse is hugely courageous. And for that, in my book, she deserves a gold medal," psychiatrist Dr Jai Ranjan Ram told The Telegraph on Wednesday.
"Gymnasts, in particular, begin to train very young. And from that young age their physical attributes are monitored to a level which can be called pathological," Dr Ram continued. 
"So, if it is drilled into them that they have to constantly perform like a BMW car, the expectations, at some point of time, naturally become overwhelming.
"Athletes like these gymnasts don't lead a 'normal' life like you and I do and instead of recognising — and lauding — their silent sacrifices, we often become harsh and judgmental."
Which is probably why we had Biles saying: "It just sucks when you are fighting with your own head. You want to do it for yourself but you're just too worried about what everybody else is going to say, think the Internet". 
The Internet is a major culprit in adding to stress, agreed meditation mentor Nandini Chowdhury.
"Trolling and faceless people in the virtual world is pushing stress to another level," said Chowdhury.
"We often say, by way of conversation 'Come on, take this matter seriously, this is not a game.' But how unfortunate it is that today we have made sports such a serious business that we are pushing athletes over the edge.
"It is no longer a question of 'me and my performance'. It is also a matter of game politics. Financial, political, brands and sponsorships, a lot of factors come into play. From childhood a potential athlete is groomed to become a robot." 
By stepping back and opening up, Biles joins Japanese tennis star Naomi Osaka, who had earlier this year dropped out of the French Open, citing the need to prioritise her mental health over taking part in mandatory news conferences after she was fined for not appearing.
Osaka lost in tennis earlier on Tuesday and said she too had felt the weight of expectations. 
According to Dr Ram, for an athlete, like with a creative artiste, the connect between the object of pursuit and the person's psyche is a solitary one.
"Human drama we understand but not always do we comprehend the deeper connect. Hence for Biles it is not merely a matter of six gold medals, but something far deeper than that," he said.