Time to cut back on time
Tokyo Olympics has been postponed and Dutee Chand is a bit relieved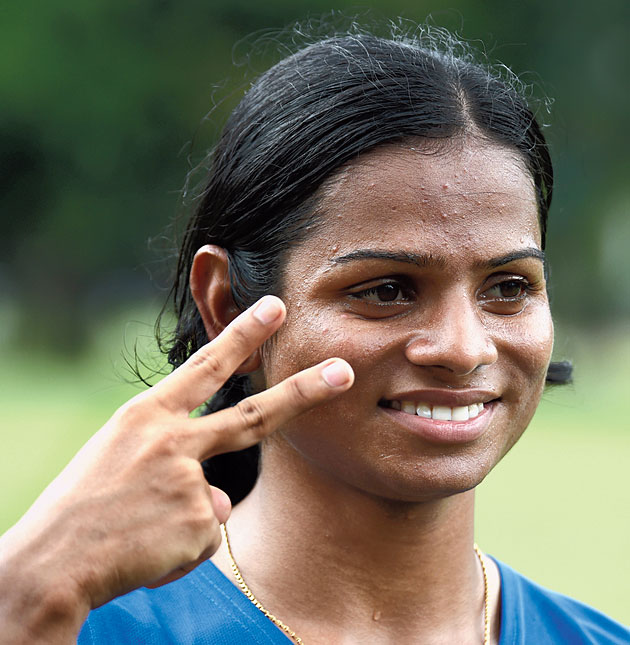 Dutee Chand
Telegraph picture
---
Calcutta
|
Published 25.03.20, 08:31 PM
|
---
With one eye on Olympic qualification and another on the alarming coronavirus pandemic, India's sprint queen Dutee Chand had been spending restless days at her residence in Bhubaneswar, unable to continue with her strict training regimen.
Then came the news that the Tokyo Olympics has been postponed and the Odisha girl is a bit relieved.
"Yes, I must say I am a little relieved. Earlier also I was rather confident that I would qualify, but I had not yet made it. Now, with the Olympics pushed back to next year, I will have 12 to 15 months to train and compete and achieve the necessary timing to book a berth for Tokyo," Dutee told The Telegraph.
"I had kept a schedule of three months of training and competition in various European countries ahead of the Games. But due to the coronavirus all that had to be cancelled. I was rather tense that since I had still not qualified how would I make it if the Olympics were held on time? Right now, there is no chance of any competition — neither domestic nor international."
But Dutee is also painfully aware of the fear that the pandemic is causing worldwide. "It is in no one's hand. No one knows when the situation will be under control or when the virus will stop being such a menace.
"I am trying to continue my training. But with my state under lockdown, I have not been able to train since last Saturday. I can't do my regular training.
"Initially I had requested the authorities here if I could continue to train, but they told me my health is much more important than training. I too realised it. I need to be alive to run, right?"
With all visas cancelled and no clarity on when things will get normal enough for the world to again have sports meets, Dutee really doesn't know what will be her next competitive meet where she can aim for Olympic qualification.
"Right now, I am following all government regulations regarding the lockdown. I am at home with my sisters and my friend. I am doing housework, am cleaning dishes. I am also cooking," she laughed.
"Once the lockdown is lifted and the government allows us to train, only then will I go out and be back on the track. Till then I am doing core exercises at home. Also, we have a small open ground right in front of the house where we have a badminton court. I am playing every day."
The whole nation is under lockdown till April 14 to contain the spread of the deadly virus.
At the 59th National Open Athletics Championships, Dutee broke her own national record with a time of 11.22 seconds in the 100m category. With the women's 100m cut-off time for the Tokyo Olympics being 11.15 seconds, the 23-year-old will have to shave at least 0.07 seconds off her best in qualifying events.
The 24-year-old had qualified for the 2016 Rio Olympics in 100m. She also won the 100m gold at 30th Summer Universiade 2019 in Naples clocking 11.32s, becoming the first Indian woman track-and-field athlete to clinch a gold at that level.
"I am a little relieved that I am getting more time to qualify. But for all athletes all over the world, even just training will involve a huge risk. So we just have to wait and watch," said Dutee.