The impossible has happened
Lionel Messi has left FC Barcelona to start a fresh life at Paris Saint-Germain. Priyam Marik writes how it transpired and what it means for football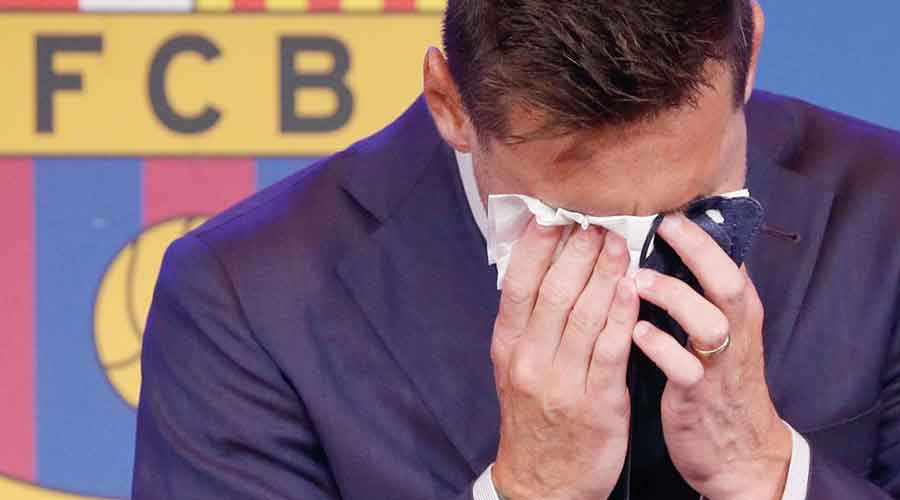 ---
Published 22.08.21, 05:16 AM
|
---
It ended in tears. And a customary smile for the cameras. As Lionel Messi, no longer a Barcelona player, exited the Camp Nou on August 8, the halcyon romance that has always underlined his greatness at the club suffered its severest jolt. From the napkin on which he had signed his first contract in December 2000 to the napkin that Messi's wife Antonela offered him to wipe his face as he addressed his soon-to-be former teammates, the Argentine completed a journey that ranks among the most special in sports. He did incredible things at Barcelona and incredible things happened to him at Barcelona.
Incredible things which, in the light of recent events, will never be the same.
A fairy tale ends in a farce
Every Barcelona fan, including myself, was anxiously awaiting news of Messi's renewal at Barcelona on August 5. After an excruciating few hours, there was, at last, an update from Barcelona's social media accounts. But not the one anybody expected. Instead of continuing at the club he had graced for 21 years, Messi was set to leave. He had to leave.
Barcelona's woeful finances had made it infeasible for the club to register Messi ahead of the new season. Barca president Joan Laporta, quietly confident for months of re-signing his priceless asset, had officially pulled the plug on Messi's time in Catalonia, realising that there was no way the planet's most valuable football club could keep the planet's greatest footballer.
As a Barca supporter, this was the final nail in the coffin. There could not be a deeper nadir, a more emotionally damaging blow than this. Watching Messi helplessly sob on stage during his farewell press conference was the stuff of my nightmares. A fairy tale story that saw an Argentine kid suffering from growth-hormone deficiency evolve into a sublime footballer had ended in the farce of accounting, financial incompetence, and the fatal flaws of unbridled capitalism. Barcelona's mismanagement had reached such epic proportions that Harvard University ought to cite the club in a case study of what not to do with money.
As for the millions of Cules around the globe, The Beatles without John Lennon, Wresltemania without The Undertaker, DC without Batman, even pizza without cheese, would have been imaginable at some point. Realisable, too. But Barcelona without Messi? Messi without Barcelona? Unimaginable. Impossible.
It was not just because Messi had broken every conceivable record with Barcelona or won every prize, individual and collective, he had competed for. It was because seeing Messi strut around the Camp Nou on a weekly basis, wrapped in his own little bubble of excellence, convinced fans of the beauty of believing in something greater than themselves. Something that represented the purity of loyalty, the generosity of genius, the transcendence of athletic and artistic supremacy when packed inside one diminutive human being.
If Antoni Gaudi had designed Barcelona's heart, Messi had embellished and elevated its soul. He had been more than a footballer, the city's foremost tourist attraction, an eighth wonder of the world housed in the Catalan capital. But not anymore.
The prince of Paris
On August 11, Paris Saint-Germain officially unveiled Lionel Messi. Paris went wild to greet its newest prince, the man PSG had been after ever since their Qatari owners came to the helm a decade ago. Flares, police, chants, banners, and more police covered every corner of Paris for a welcome that sent social media into overdrive.
Messi, for his part, seemed delighted. Relieved of the burden of carrying a decadent Barcelona, he could now play out his last years on the European stage for the most ambitious team on the continent.
The Parc des Princes, where Barcelona's erstwhile yet eternal number 10 had unleashed a thunderous piledriver in March, reserved its loudest roar for Messi as he was paraded in front of the PSG supporters. The PSG kit bearing Messi's name and the number 30 (which is usually reserved for goalkeepers in French football but was given to Messi because he wanted it) produced the longest early morning queues along the Champs-Élysées that anyone can remember since Covid-19 restrictions were relaxed. In the UK, PSG's Messi shirts went on sale at 10pm local time. According to whichever report you choose to trust, those shirts were sold out inside 10, five, and zero minutes, respectively.
Notwithstanding the hysteria around Messi at PSG, it still felt odd, even wrong, to see him in a different set of colours. The PSG badge emblazoned on his chest punctured all those images of him kissing the Barcelona crest, all those memories of a one-club man doing one-of-a-kind things.
It will continue to feel odd and wrong. There is no other way. Messi to PSG was not meant to happen, but like so much in life, it did. Now that it has occured, football has its own version of the Avengers- an-all-star team that will be used as much to pursue the holy grail of the UEFA Champions League as to make PSG into sport's unmissable content creator. Where else, after all, can one hope to see Messi link up with the two players supposed to succeed him — Neymar and Kylian Mbappé? Where else can one hope to see Messi and Sergio Ramos standing shoulder to shoulder, Superman and his kryptonite serving the same masters?
Paris, understandably, will be in delirium for a while. But Barcelona will be in crisis for longer still. Both cities and their footballing cultures have been changed forever by the manifestation of the impossible. Changed forever by the transfer of Messi.
Leo's legacy
There is a school of thought around how Messi will soon run out of challenges in Paris. For PSG, winning Ligue 1 without Messi would probably have been a cakewalk, with him it is a foregone conclusion. PSG's glorious purpose of being crowned European champions also seems to have assumed an air of inevitability now that they have the most spellbinding player in the history of the competition among their ranks.
Had he somehow found a way to continue at Barcelona, Messi would have won fewer trophies, but far greater sympathy. With the odds firmly stacked against him, Messi could have championed the most remarkable chapter of his saga with the club — taking them to the pinnacle after starting out as underdogs. The issue of Messi's legacy, though, is not merely about what may or may not have happened on the pitch. With the 2022 FIFA World Cup set to be hosted in Qatar, Messi's presence as the poster boy of Qatar-owned PSG equals commercial manna dew for a tournament that has already rubbed many the wrong way.
In the larger scheme of things, the Messi factor in sportswashing Qatar's abysmal human rights record cannot be underplayed either. For those worried about civil rights being crushed on a daily basis in Qatar, PSG president Nasser Al-Khelaifi and his cohort now have a simple solution. Just watch Messi play every Saturday and forget all about it. But do remember how the state of Qatar made it possible for you to witness Messi inflate 4-0 score lines in favour of PSG into pick-your-number victory margins.
All this raises an obvious question. Should Messi be concerned about his role as a pawn in Qatar's public relations campaign? Is he even aware of it to the extent he should be? Nobody knows because nobody will (or be allowed to) ask. After being the messiah of the most political and politicised sporting entity in Spain, Messi's legacy will now live on in Qatar via Paris and the nuanced networks of soft power.
But what of Messi's fans, or rather, his diehard devotees? How should they feel about all this? Speaking for myself, I do not think I will feel any less thrill the next time Messi nutmegs a defender or any less awe at another mazy goal. Not much will change when Messi is in full flow, when the ball and his feet conspire to create magic. But a lot will change before and after. The warm-ups, the sizing up of opponents, the celebrations, even the Instagram posts will feel different.
What felt like hallowed acts of heroism at Barcelona will feel like hollow acts of privilege at PSG. The privilege of the purse and all the strings it can pull.
The ultimate Messi and Barcelona quiz
It's time to find out exactly how you obsessed you have been about Messi and Barcelona over all these years with t2oS's latest edition of the ultimate quiz
01I assisted Messi's first official goal for Barcelona, scored against Albacete at the Camp Nou in May 2005. Who am I? (Hint: I was named as FIFA's World Player of the Year for 2005 but publicly claimed that the then teenager Messi was better than me.)
02Messi has scored a joint-record eight hat-tricks in the UEFA Champions League. Against which team did Messi score his first UCL hat-trick away from home? (Hint: This treble came during the group stages of the 2011-12 campaign.)
03Which team managed to get Messi sent off for the first and only red card of his Barcelona career? (Hint: This team went on to win the Spanish Super Cup of 2021 after Messi was forced to make an early exit.)
04In his record-breaking season of 2011-12, Messi scored a staggering 50 goals in La Liga, the highest ever. How many did he get in all competitions that season? (Hint: Messi bagged exactly 13 more goals than fellow superstar Cristiano Ronaldo that season.)
05 Many have drawn comparisons between Messi and the late great Diego Maradona. But this individual claimed Messi to be the better of the two with his famous comment that "Messi is Maradona every day". Identify this individual. (Hint: He is a former Argentine international and former general manager of Real Madrid.)
06 Only one manager at Barcelona has spent a trophyless tenure with Messi in the team. Name him. (Hint: He has also managed other Spanish top division sides like Real Betis and Las Palmas.)
07 With 778 appearances to his name, Messi is Barcelona's most experienced player ever. Who did he overtake to achieve this feat? (Hint: With 767 appearances, this Barcelona legend has shared the Ballon d'Or podium many a times with Messi.)
08Only once in his Barcelona career did Messi score a hat-trick and not take home the match ball. This barely believable incident happened during a cup game against Valencia during the 2015-16 season when Messi was outscored by a teammate, who netted 4 goals in the same game. Who was this teammate? (Hint: This player also finished with more goals than Messi in 2015-16, the only time Messi has been in second place on Barcelona's scoring charts since 2007-08.)
09Messi has tormented just about every Spanish side he has faced in the Blaugrana shirt. But which team have been his favourite victims? (Hint: Messi has scored a jaw-dropping 38 goals in all competitions against this particular team.)
10In December 2020, Messi surpassed Brazil's Pele to become the highest ever goalscorer for a single club, with 644 strikes to his name. Which youngster provided the assist for Messi's monumental goal? (Hint: He played more football than any other player in the top five leagues during the 2020-21 season)
The end of an era
With a series of firsts unfolding for Messi in the French capital, t2oS refreshes your memories about Messi's lasts for Barca The last game — MAY 16, 2021: A shock 2-1 home defeat to Celta Vigo at the Camp Nou, played out in front of empty stands, a result that mathematically ended Barcelona's chances of winning La Liga in 2020-21. The last win — MAY 3, 2021: A pulsating 3-2 away victory at Valencia, where Messi, as usual, was the match winner. After missing his penalty kick, Messi forced home the rebound, before slotting in a gorgeous free kick to give Barca all three points.The last trophy — APRIL 18, 2021: A Messi-inspired Barcelona cruised past Athletic Bilbao
in the Copa Del Rey final to give their captain the 35th trophy of his Barcelona career. At the end of the game, the Barca players took turns to have their pictures clicked. Not with the trophy, but with Messi. The last trophy — APRIL 18, 2021: A Messi-inspired Barcelona cruised past Athletic Bilbao
in the Copa Del Rey final to give their captain the 35th trophy of his Barcelona career. At the end of the game, the Barca players took turns to have their pictures clicked. Not with the trophy, but with Messi. The last hat-trick — FEBRUARY 22, 2020: Notched up in a pre-Covid world, this was an unstoppable four-goal show from Messi against minnows Eibar. The Argentine registered his 36th hat-trick in La Liga and his 48th for Barcelona.