Thanks to Virat Kohli, BCCI breathes easy
His decision to step down from T20 captaincy may have saved the Board of Control for Cricket in India from making some unsavoury selections after the World Cup in UAE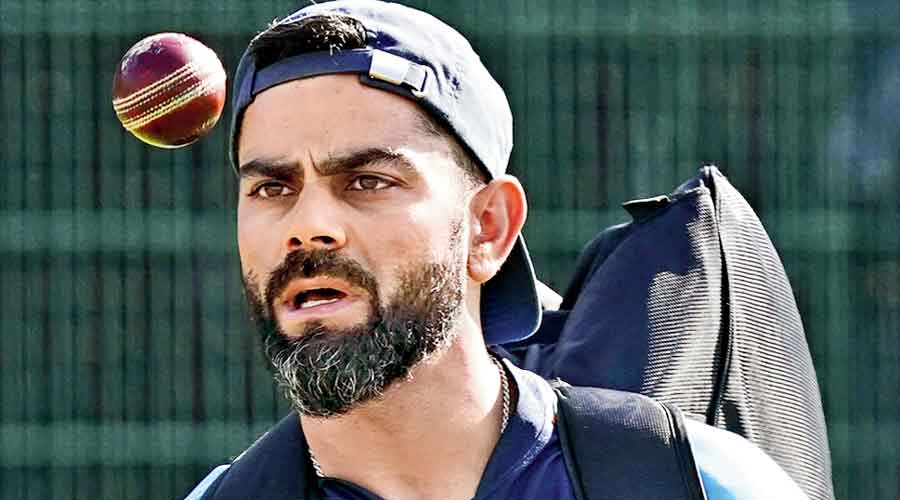 India skipper Virat Kohli.
File photo
---
Calcutta
|
Published 18.09.21, 01:06 AM
|
---
Virat Kohli's decision to step down from T20 captaincy may have saved the Board of Control for Cricket in India (BCCI) from making some unsavoury selections after the World Cup in the UAE.
A change of guard at the top was being contemplated given Kohli's indifferent form for almost two years. The 32-year-old has now gone 53 innings without an International hundred, across formats.
The BCCI is learnt to have got a whiff of the goings-on inside the dressing room, which hasn't enhanced Kohli's position one bit. His flailing form has affected his decision-making, which is taking a toll on his relationship with the players.
Sources have confirmed to The Telegraph that at least one senior cricketer had spoken to secretary Jay Shah complaining about insecurity after the India captain had been critical of his "lack of intent" following the World Test Championship final in Southampton. The loss did open a lot of old wounds and Shah is learnt to have stepped in to defuse the situation.
"Kohli is losing control. He has lost respect and some of the players are not liking his attitude. He is no more an inspirational leader and he doesn't earn the players' respect. Some of them have reached their limits when it comes to dealing with him," the source remarked.
"That Kohli failed to play a big innings has also complicated the issue. Recently, one of the coaches offered some suggestions at nets but the captain shot back saying 'don't confuse me'. He's just failed to handle it and it's showing in his aggressive behaviour."
The BCCI had been thinking of reducing the weight on his shoulders to let him focus on his batting for some time now. Regardless of the outcome in the UAE, the first step would have been handing over the limited-overs captaincy to Rohit Sharma after the T20 World Cup.
What is intriguing is neither president Sourav Ganguly nor secretary Jay Shah mentioned anything about the ODI and Test captaincy in their statements on Thursday.
Not surprising that given the circumstances, the BCCI decided to bring in Mahendra Singh Dhoni as a consultant to restore some sanity. Dhoni's presence is expected to have a calming influence in the dugout and Kohli can concentrate on his batting while leaving the game plan bit to the others.
"Rohit, who should be made captain, is always cool, much like Ajinkya Rahane who brought in a breath of fresh air in Australia. Rohit is like an elder brother and the youngsters trust him," the source said.
With an impending change in the support staff looming, Kohli's authority is sure to be curtailed. "Virat understands that he no more calls the shots. His powers are on the wane and every move of his will be questionedThere's no doubt that he is one of the best batsmen in world cricket. But you cannot let leadership burden your batting."
But by quitting T20 captaincy but retaining ODI leadership, Kohli has put the BCCI in a quandary. Will it have a separate captain only for T20Is or make Rohit the limited-overs captain?
There is no clear roadmap in sight for the BCCI. If India fail to clinch an ICC trophy, their first after 2013, the pressure to make Rohit the limited-overs captain is bound to grow manifold.
A similar situation may again arise if the Rohit-led India win the T20 World Cup in Australia next year. The BCCI may then be forced to hand over the ODI leadership as well to Rohit, keeping in mind the 2023 World Cup, which is scheduled to take place in India.
Virat is believed to be keen to remain at the helm during the quadrangular showpiece event at home. But if his leadership skills are found to fall short of desired levels when it comes to team selection and strategy, he may have to give up his seat of power.
Murmurs that Kohli wanted to keep at least one limited-overs format under him for fear of losing his brand valuehave been shot down by market experts. "Sachin Tendulkar's endorsements never went down even when he gave up captaincy. The same applies for Virat Kohli. If he gives up ODI captaincy too, it might make a small dent but nothing dramatic," said Navroze D Dhondy, founder and managing director of Creatigies Communications.
How Rohit adjusts to his fresh role will decide a lot of things. His first assignment will be the T20Is against New Zealand at home in November-December.