Target gold, countdown to Paris begins now: Lovlina Borgohain
The 23-year-old pugilist from Assam is determined to set that record straight, at the Paris Olympics, three years from now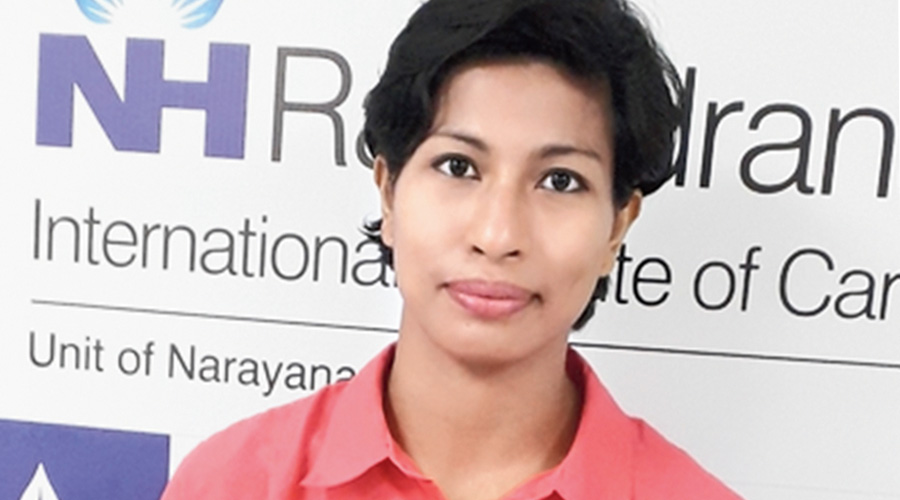 Lovlina Borgohain in Calcutta.
Picture by Madhumita Ganguly
---
Published 26.08.21, 04:16 AM
|
---
Boxer Lovlina Borgohain is an icon today, thanks to the bronze medal she won at the Tokyo Olympics. While enjoying her success, she is also bothered by a nagging sense of discontentment. She had set her bar higher — she had aimed for gold. The 23-year-old pugilist from Assam is determined to set that record straight, at the Paris Olympics, three years from now.
In Calcutta for the first time since her Tokyo success — for her mother's medical check-up at the Rabindranath Tagore International Institute of Cardiac Sciences, the boxer spoke at length with The Telegraph about her life, dreams and her targets ahead.
Excerpts: 
The Telegraph: What would you mark as your 'memorable' moments in Tokyo?
Lovlina: Two incidents will remain in mind. The first is personal. When I defeated former world champion Nien-Chin Chen of Taiwan and assured myself of the bronze in the 69kg category, what made the taste of victory sweeter was the fact that I had, finally, settled a long-pending score. I had lost to the Taiwanese four times earlier and this time, I had a point to prove to myself. The revenge was exacted. I was at peace. 
The second was a standout Olympic moment when Qatar's Mutaz Essa Barshim and his rival and friend, Italy's Gianmarco Tamberi, decided to share the high jump gold, instead of going for the jump-off offered to them. This spirit is what the Olympic movement is all about, proving that sport is the greatest unifier.
How do you intend to prepare for Paris? 
I missed the gold medal in Tokyo and learnt a lot. I learnt which areas I need to work on, identified my drawbacks and weaknesses. I have to plan out well and start my training from the beginning. I have decided that I will train so that I leave myself no scope for any excuse. I will not allow myself to say that in Paris I had such-and-such problems as a result of which I missed the gold. 
What are the areas that you feel you need to improve on?
Primarily, my strength. I felt that I didn't have as much strength as my semi-final opponent (Turkey's Busenaz Surmeneli) had in Tokyo. I have to work on that. There is nothing much amiss in my technique. But my strength definitely needs to improve.
Did Covid hamper your preparations?
Not really. I tested positive in October so thankfully I had time to recover. Initially there were problems. I didn't know how to resume practice as my body was refusing to cooperate with my mind. I took small steps towards training and gradually my body started to respond. Over time, I was back at my normal.
Post-Tokyo, has your life changed? Is the celebrity status a distraction for you now?
No, my life has not changed as such. Yes today I am recognised, people appreciate what I have achieved, many want to meet me, some even want to touch me… this is a new feeling. But I am 
not letting it go to my head. People may be happy, but I am not because the gold gave me the slip.
As for the distraction, well, yes, to a certain extent. My training has come to a stop for a while now and my body is already telling me to return to training. Can't say no to all who are coming to meet me but the time has come to put a stop to it and return to what is now my main target…a Paris gold. And before Paris we have the Asian Games and Commonwealth Games, too, next year. I have to be ready for those as well.
Didn't you say you intend to go on a long vacation after the Games?
I did have that plan but since my return, I have been swept by visitors and well-wishers, and 15 days seemed to have passed in the twinkling of an eye. So the vacation plans go on the back-burner again (laughs). I return to training from September 5. 
On a lighter note, how does a boxer like you maintain such long and painted nails?
(Laughs loudly) Inside the gloves, the nails are protected. And when we box, the strength is generated from the arm, not the wrist. So my nails are safe and secure.
The Paralympic Games are underway. A message for our Paralympians… 
The Paralympians are much stronger than us. We get worked up over little problems and obstacles in our way and look what they have overcome to reach where they are. I don't have words to inspire them, rather they are the ones who have motivated us. My best wishes are with them and may they return with medals galore.