Simone Biles withdraws from all-around final at 2021 Tokyo Olympics
The 24-year-old had qualified for all four event finals and was expected to win gold in at least three of those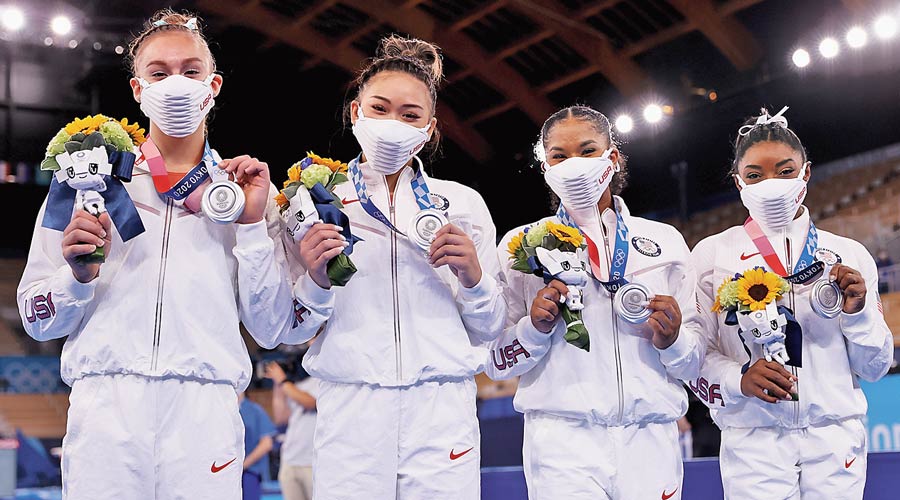 Team USA celebrate their silver medal in the women's team final on Tuesday.
Getty Images
---
Published 29.07.21, 03:25 AM
|
---
Simone Biles, the four-time Olympic gold medallist, will not compete in Thursday's individual all-around competition after withdrawing from the team finals because of a mental health issue, according to an emailed statement from USA Gymnastics.
Biles will be evaluated daily to see if she will participate in the event finals next week.
"We wholeheartedly support Simone's decision and applaud her bravery in prioritizing her well-being," the statement said. "Her courage shows, yet again, while she is a role model for so many."
Biles, 24, had qualified for all four event finals and was expected to win gold in at least three of those. In the all-around, she was hoping to repeat her title from the 2016 Rio de Janeiro Games to become the first woman to win back-to-back titles in the category in 53 years.
Biles hasn't lost an all-around competition since 2013 when she was 16 and still wore braces. The contest tests individual athletes on all four disciplines: vault, uneven bars, balance beam and floor competition, to determine the most complete gymnast.
On Tuesday, as Biles stepped forward to talk about demons and fears and the attack of the shakes that hit her before the final, she did so with remarkable presence. 
Her outward calm seemed almost incongruous with the magnitude of what she had done — but, then, this 4ft 8in athlete has faced up to far greater traumas than walking away in the middle of a competition.
In early 2018, Biles revealed that she was one of the gymnasts who had been sexually abused by Dr Larry Nassar, the former team doctor for USA Gymnastics, who was jailed for a horrific number of crimes against hundreds of girls. "I am not afraid to tell my story anymore," she had said at the time.
On Tuesday night, Biles told her story again in a way that was startling, admirable and terribly sad. She carries such hopes and expectations. How has it come to the point that they felt intolerable? She kept referencing how the fun had gone out of her sport. She talked about not trusting herself to perform. "I don't know if it's age and I'm a little bit more nervous when I do gymnastics," she said.
Biles also talked of struggling to perform for her own pleasure, and the pressures from the Internet and social media (she has an Instagram following of 4.9 million). She has had a highly fractious relationship with USA Gymnastics. "It hurts my heart that doing what I love has been kind of taken away from me to please other people," she said.
In the end, the pressure was just too heavy for her to bear, she said after withdrawing from the team final on Thursday.
Watch: pic.twitter.com/4bICujUcwF

— Olympics (@Olympics) July 28, 2021
During her vault, the first event of the team final, Biles got lost in the air and didn't know where her body was in relation to the ground. She ended up performing a much simpler vault than her usual daring ones. On the landing, she bounded forward, trying to stay on her feet.
Biles told her coach and a team doctor that she was not in the right "head space" to continue because she was afraid of injuring herself, and also because she didn't want to jeopardise the team's chances at winning a medal.
"I'm still struggling with some things," Biles said after the event. "It just sucks when you are fighting with your own head."
The US team had dominated the sport for more than a decade before the Russians won the gold medal on Tuesday. The US team, with Sunisa Lee, Jordan Chiles and
Grace McCallum, finished the competition while Biles cheered them on. They won the silver medal.
Jade Carey, who had the ninth highest score in qualifications, will take Biles's place in the all-around final.
Written with inputs from New York Times News Service