Simone Biles: Should've quit gymnastics before Tokyo
She dropped out of the opening event at the Summer Games after just one vault and later said she was struggling with the 'twisties'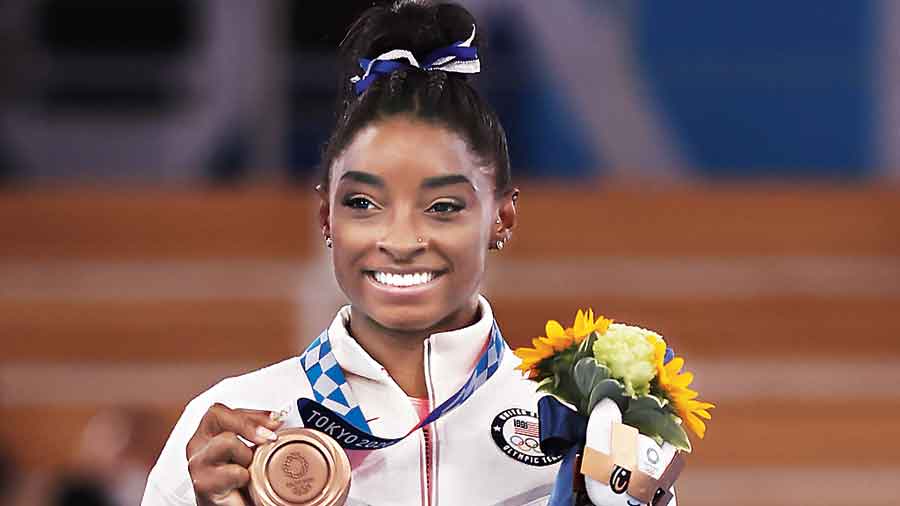 Simone Biles poses with her bronze medal in Tokyo in August.
Getty Images
---
Published 29.09.21, 03:54 AM
|
---
Four-time Olympic gold medallist Simone Biles said in an interview to the New York Magazine that she should have quit gymnastics "way before Tokyo", where she suffered from a case of "twisties" that derailed her attempt at a record haul of six gold medals.
The 24-year-old American dropped out of the opening event at the Summer Games, the team competition in July, after just one vault and later said she was struggling with the "twisties," a serious mental block in which gymnasts lose their sense of orientation.
"My perspective has never changed so quickly from wanting to be on a podium to wanting to be able to go home, by myself, without any crutches," Biles said in an interview released on Monday.
"If you looked at everything I've gone through for the past seven years, I should have never made another Olympic team," said Biles, citing the time former Team USA doctor Larry Nassar spent in the media before he was given two prison sentences of 40 to 125 years and 40 to 175 years for molesting gymnasts. "I should have quit way before Tokyo."
The 19-time world championship title-holder told lawmakers earlier this month how the FBI and US gymnastic and Olympic officials failed to stop the sexual abuse that she and hundreds of other athletes suffered from Nassar.
Biles knows she is the greatest. She has had four gymnastics elements named after her — one on beam, one on vault, two on floor. With a combined total of 32 Olympic and World Championships medals, she is the most decorated gymnast of all time.
 "It's kind of unheard of to win as many things as I have," Biles says. "I don't physically understand how I do it."
"No," she concluded. "It was a God-given talent."
Biles stepped onto the flight to Tokyo with confidence. But there were variables she didn't anticipate this time: Covid testing, breakthrough cases.
"There was no crowd, no parents," she said. Once she arrived, anxiety set in.
The trouble started after the qualifiers. She fumbled event after event. Biles and her coaches moved frantically to find fixes. Nothing worked. "I was not physically capable," she says. "Every avenue we tried, my body was like, Simone, chill. Sit down. We're not doing it. And I've never experienced that."
By the time of her vault performance at the women's team final, Biles knew something bigger was off. She went for a 2.5 flip and only completed a 1.5. It wasn't just a technical error. She had the "twisties," which is when an athlete's mind and body lose connection and muscle memory fails to kick in.
"It's so dangerous," Biles explains. "It's basically life or death. It's a miracle I landed on my feet. If that was any other person, they would have gone out on a stretcher. As soon as I landed that vault, I went and told my coach: 'I cannot continue.'
"Say up until you're 30 years old, you have your complete eyesight," Biles says. "One morning, you wake up, you can't see s**t, but people tell you to go on and do your daily job as if you still have your eyesight. You'd be lost, wouldn't you? That's the only thing I can relate it to. I have been doing gymnastics for 18 years. I woke up — lost it. How am I supposed to go on with my day?"
It has been nearly seven weeks since Biles returned home to Houston from Tokyo. Logically, she knows she made the right call. Some days, she feels certain of that; other days, she's just heartbroken. "It's like I jumped out of a moving train," she said.
 "I just want a doctor to tell me when I'll be over this," said Biles.
When she has dealt with physical injuries, it typically required six-to-eight weeks of recovery. Maybe three months. "You get surgery, it's fixed. Why can't someone just tell me in six months it'll be over?" she wonders. "Like, hello, where are the double-A batteries? Can we just stick them back in? Can we go?"
She's back in therapy; she knows she can't set a timeline for healing anymore. "This will probably be something I work through for 20 years," she says.
"No matter how much I try to forget. It's a work in progress."
She's getting ready to tour with Team USA members, but she's no longer training; winning is on the back burner.
Mostly, she is spending time with her boyfriend, the football player Jonathan Owens; her family; and her closest friends. She's going on vacation, learning how to see herself and her own needs and desires more clearly.