Should play to our strengths: Gurpreet Singh Sandhu
Defender Sandesh Jhingan is out with injury, but Gurpreet feels India will not suffer for that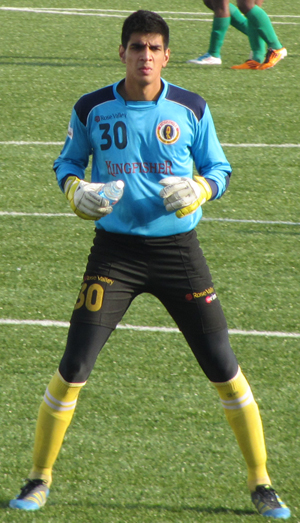 Gurpreet Singh Sandhu
Wikimedia Commons
---
Calcutta
|
Published 13.10.19, 10:09 PM
|
---
India goalkeeper Gurpreet Singh Sandhu wants his team to make as few mistakes as possible in order to get the desired result in Tuesday's Fifa 2022 World Cup Qualifier against Bangladesh at the Salt Lake Stadium.
"No team can be taken lightly. Bangladesh are a strong side. They play with a lot of heart and confidence. We need to make sure we play to our strengths and make less mistakes… Need to play as a team and try to get the desired result," Gurpreet said on the sidelines of India's practice session on Sunday.
Experienced defender Sandesh Jhingan is out with injury, but Gurpreet feels India will not suffer for that.
"I hope there are other players to take up the responsibility. Sandesh is of course a very important player and I hope he recovers soon.
"I think coach Igor Stimac has been very smart from the beginning and gave young players chances. The coaching staff is working on it and as I said, we have players to take up that role in Jhingan's absence," Gurpreet said.
Asked if he particularly has to shoulder more responsibility in Jhingan's absence, Gurpreet said: "I hope there are other people as well to take up the responsibility."
In their previous match, India played a goalless draw against Asian champions Qatar. Asked about that game, Gurpreet said: "I expected us to win. I don't think it was a dream show. I just did my job.
"I've played tougher games, but they never came to limelight maybe because we lost those matches… Not that it was a game we never played before... It was just that we played against a good opposition. But it's time to move on and replicate that in future."
The goalkeeper became nostalgic when asked about his India journey and chances he has had over the years.
"I started in 2010, and it was a different time and a different generation of players. There were legends in that team, while I was the youngest.
"Now football has changed… More technique now and players have become faster... The players take care of themselves that wasn't there before. That's the major difference I have noticed," he said.
Gurpreet also thinks the Indian team now has more self-belief having done well overseas.
"We felt this difference from the games we played against Kyrgyzstan, Laos, Cambodia and Myanmar.Those results made us believe we can do well outside India too," he said.