Rahane salutes Ashwin, Hanuma Vihari's at third SCG Test
For the stand-in captain , the result was "as good as a win" for Team India, who had been under pressure from the very first day of the Test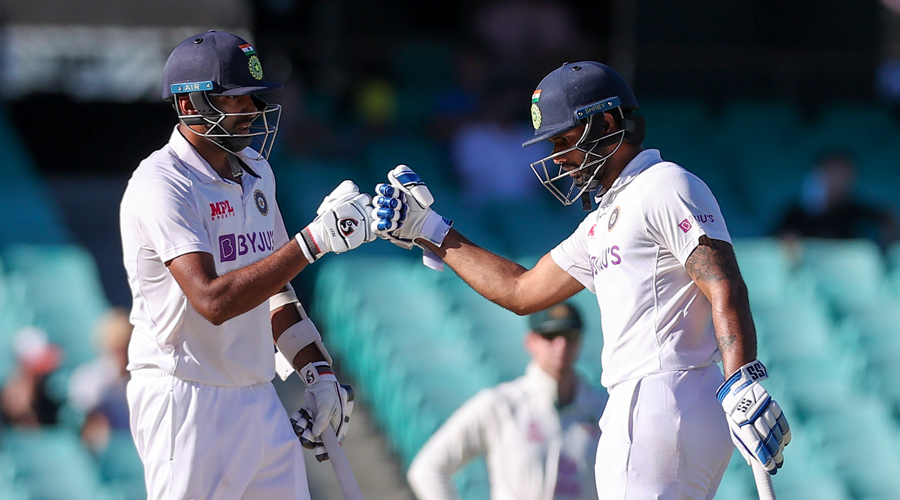 "Perhaps we cannot gauge the magnitude of today's achievement right away. But possibly, after the series, we'll realise it." - Ajinkya Rahane
Twitter / @ICC
---
Published 12.01.21, 04:03 AM
|
---
Stand-in captain Ajinkya Rahane doffed his hat to the stoic and dogged resistance of Ravichandran Ashwin and Hanuma Vihari that helped India force a respectable draw in the third Test at the SCG and keep alive their chances of winning the series.
For Rahane, the result was "as good as a win" for Team India, who had been under pressure from the very first day of the Test. No wonder it turned out to be "a special day" for him as a captain.
"I'm very proud of the way we played and I think the whole nation would be proud of us with the way we have played after Adelaide. In Melbourne, we made a good comeback with a win, but I think today would end up being one of the most memorable days in Indian cricket," Rahane said at the post-match virtual conference on Monday.
"Perhaps we cannot gauge the magnitude of today's achievement right away. But possibly, after the series, we'll realise it.
"It was a special day for me as a captain. I believe that we cannot really control the result, but it's imperative to fight till the end. That's the main thing I've learnt in cricket.
"That's why the result is as good as a win for us. When we play overseas and save such a match, it's a special feeling."
Talking about Vihari, who defied the rival bowlers with a hamstring injury, Rahane said that the latter's unbeaten 161-ball 23 was as special as his only Test century, against West Indies in Kingston in 2019.
"We all saw a special knock from him. More special than the hundred he got," Rahane emphasised.
"The way Vihari batted after getting injured, to show that motivation, hunger, and to hang in there for the team was really good and that's what we want from each and every individual. Showing that character on the field is what matters.
"There was pressure, yes, but the way he managed his batting and his injury was really special to see."
"As for Ashwin, I think we all knew his abilities as a batsman," Rahane added.
Rishabh Pant, after a shaky start, threw caution to the winds and his brisk 97 did give India a glimmer of hope for a victory. Lauding Pant's approach, Rahane stated: "We had discussed Rishabh's batting position and wanted a left-hand right-hand combination in the middle. That strategy paid off, but credit to him for delivering.
"The way he counter-attacked and how he actually managed his innings was really good to see. About his character, we know that he can win games for us from any situation.
"He's improving day by day as a cricketer, which is a very good sign."