Rewinding the decade at the grass courts
Like many other sporting events, we're missing Wimbledon this year!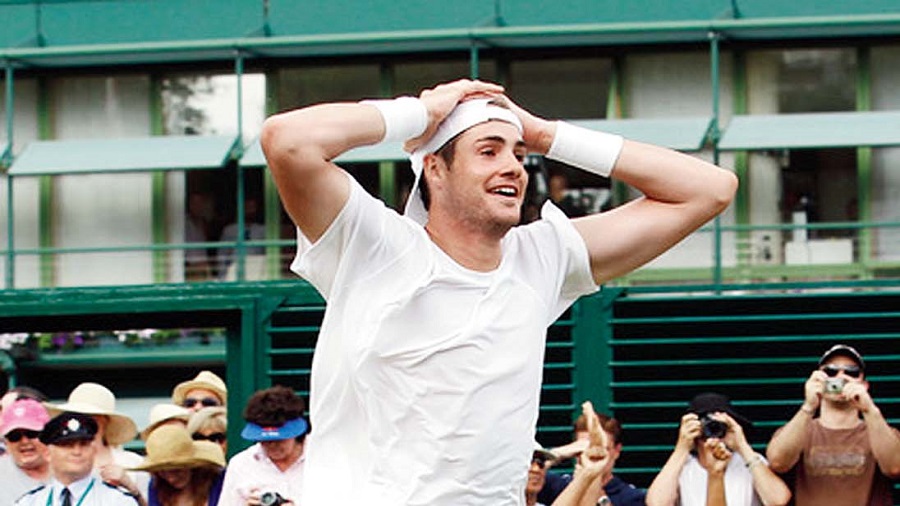 ---
---
1. John Isner v Nicolas Mahut in 2010 = The longest tennis match in history
It was a first-round match between French qualifier Nicolas Mahut who ranked #148, and the American giant John Isner, who was seeded 23 that year. The match, playing out at an obscure court, was on nobody's radar, until it reached 12-12 in the fifth set and Isner became the new record-holder for the most number of aces in a Wimbledon match. Five teams of ball kids and a change of lines judges later, the match was still on at 4-6, 6-3, 7-6(7) 6-7(3), 59-59 after 10 hours. The proceedings finally came to an end after 11 hours and five minutes, played over a span of three days, with Isner wrapping things up at 70-68.

2. Roger Federer vs Andy Murray in 2012 = A match of records
Apart from this match being the first final ever to play out under a closed state-of-the-art centre court roof at Wimbledon, this match also had Andy Murray as the first British man to compete in the historic tournament's singles final since 1938. With Federer's victory, the Swiss clinched his 17th Grand Slam, becoming #1 at the age of 30 and also equalling Pete Sampras and William Renshaw in winning a seventh singles Wimbledon title.

3. Andy Murray becomes first Brit in 77 Years to win Wimbledon in 2013
With every year, Andy Murray came closer to the coveted title but it was finally in 2013 that he managed to clinch the deal as he beat Novak Djokovic 6-4, 7-5, 6-4. Centre court and all of Britain erupted in joy as after 77 long years one of their countrymen finally laid his hands on the historic Wimbledon trophy.

4. Novak Djokovic denies Roger Federer his record eighth title in 2014
The Serbian tennis player got a chance to repeat his feat of eating a blade of grass from the centre court after beating Roger Federer 6-7(7), 6-4, 7-6(4), 5-7, 6-4 in a four-hour thriller. This match made it to the history books simply because it finally made the rivalry between Djokovic and Federer official as the defeat meant that Federer could not achieve the record of winning the most number of Wimbledon singles titles just yet.

5. A second "Serena Slam" in 2015
Twelve years after managing the feat first, Serena Williams once again held on to four Grand Slams (US Open 2014, Australian Open 2015, French Open 2015 and Wimbledon 2015) at the same time and termed it as the "Serena Slam".

6. Serena Williams equals Steffi Graf's 22 in 2016
With a win over Angelique Kerber, Serena Williams did not just avenge her defeat in the hands of the same person earlier that year in Australia, but also equalled Steffi Graf's record of winning 22 Grand Slam titles as Williams famously held up two fingers to make the 22 sign after her victory this year. Sweeter was the victory still when she went on to lift her sixth doubles title at Wimbledon that year with sister Venus Williams.

7. The return of Federer in 2017
After laying off the second half of the season in 2016 due to a knee injury and many pundits becoming sceptical about his return, a resurgent Roger Federer finally managed to get his name etched onto the Wimbledon Roll of Honour for a record eighth time. After winning in Melbourne that year, the Swiss champ won Wimbledon without dropping a single set to claim his first Wimbledon title since 2012. "I think the younger twins think this is a nice view and a nice playground — hopefully one day they'll understand," said an emotional Federer with his wife Mirka and four children in the stands.

8. Rafa Nadal in 2018
Though the Spaniard hasn't managed to win a title at Wimbledon since 2010, he has always put on a good show, especially in 2018 when he beat Juan Martin Del Potro in a five-setter. Though he went on to lose to Novak Djokovic in the next match, which went on to become the second-longest semi-final ever played at Wimbledon, no tennis story can ever be complete without mentioning Rafa.

9. The heartbreaker: Novak Djokovic vs Roger Federer in 2019
Though the game was a show of brilliant tennis between two stellar sportsmen, I still call it the heartbreaker because after his defeat in arguably one of the greatest tennis matches of all times, Federer had famously said in an interview — "I was half broken from Wimbledon and everything." The five-setter match was a thriller that saw the almost-40 Federer dropping two championship points to let go of what would have become a historic win for someone of his age. However, Djokovic persevered and managed to win the trophy.

10. Champions in white
The all-white rule (with allowance for very limited colour) at Wimbledon is revered by most but hated by some. Historically, the Wimbledon officials are known for being unduly strict about enforcing the rule and its references have even crept into pop culture. However, players over the years have still pushed the fashion envelope consistently. Amongst the women, Serena Williams has been adventurous enough to try out different things such as a short white trench coat and a purple headband. Maria Sharapova's tuxedo-style top and shorts in 2008 and Venus Williams's Tina Turner-inspired dress in 2010, and a short jumpsuit with a peak-a-boo golden pair of shorts below in 2011 are all memorable outings at Wimbledon. But it has also had its over-the-top moments. Take for instance when American tennis player Bethanie Mattek-Sands played at Wimbledon with war paint on her face and a jacket designed by Lady Gaga's designer with spray-painted white tennis balls chopped in half! Among the men, leave it to Roger Federer to script history at Wimbledon, both with his tennis and his fashion statements — be it in a vintage Nike cardigan or a dinner jacket and eight singles titled to boot!