Ravichandran Ashwin hits back at critics
He retorted when queried about the 'quality' of the pitch for the penultimate Test at the Motera stadium that got over inside two days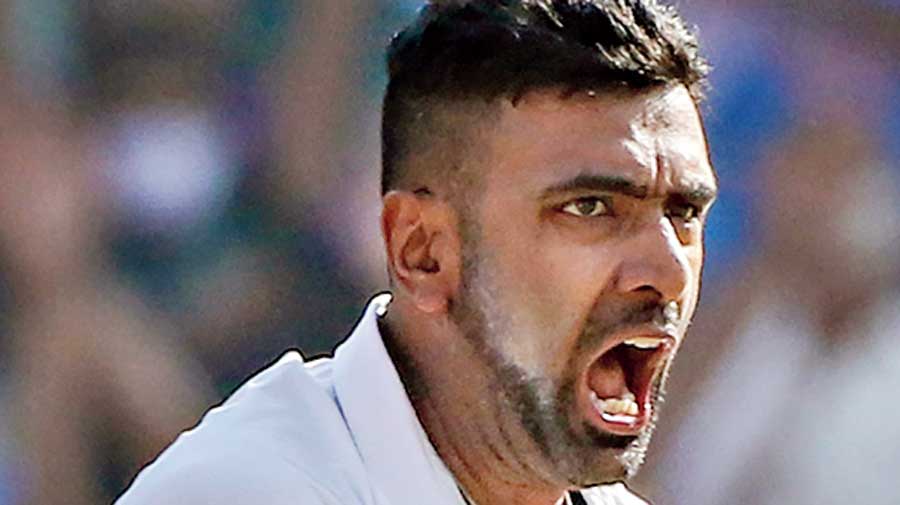 Ravichandran Ashwin at the Motera on Wednesday.
PTI
---
Calcutta
|
Published 28.02.21, 12:52 AM
|
---
"What is a good surface? Who defines what a good surface is?" Ravichandran Ashwin shot back when queried about the "quality" of the pitch for the penultimate Test at the Motera stadium that got over inside two days.
The senior India off-spinner, who also reached the 400-wicket landmark in the previous Test, asked everyone to "wake up to" those "agenda-driven" people who are focusing more on the Motera pitch rather than on India's 10-wicket win that has put them just a step away from the World Test Championship final berth.
"Bowlers were in the game on that pitch and batsmen need to bat well to score runs. Seam on the first day, batsmen do well in the next couple of days and then spin on the last two days... Come on, who makes these rules?
"We need to get over it and not talk about whatever picture we want to paint. If you're asking whether the pitch in the third Test was a good surface, I do not see any England players coming out and having an issue with the surface. They want to improve and they look like they want to have a contest.
"Is it the players and the people who are reporting back that want their players to not compete and complain about the pitches? Because we have never done that in any of the tours," a furious Ashwin said during Saturday's virtual conference.
He further went on to say: "With thoughts being put across and planted to people, I find it extremely hilarious and heinous to a point where you have a thought process and want everybody to follow that.
"Because with thoughts, what happens is you condition people to believe in a certain way. You don't want people to say, 'India's not winning the game, it's the pitch that's winning the game'.
"I know that's anyway going to come up and this  is a kind of conditioning happening for a long, long time. When are we even going to wake up to it?"
The surface for the fourth and final Test, also at the Motera stadium, is unlikely to be anything different.
"You should be hoping for a good match, not think about the surface," said Ashwin.
He's, however, not disturbed about the Motera pitch taking the focus away from his and Axar Patel's feats. "There have been some people messaging me and saying that the match got over in two days, but what about all the pink-ball Tests we have played in? Everything ended within three days' time.
"I don't know what to say because when somebody just throws an opinion out there about a surface not having played with the pink ball unfortunately, they don't understand this facet of the game. My angst against the whole thing is so many other people are watching the same picture, but aren't able to paint a different one compared to somebody driving and selling a certain case to us. This needs to stop."