Rameshbabu Praggnanandhaa topples chess king Magnus Carlsen
The 16-year-old Grandmaster from Chennai is only the third Indian to beat the Norwegian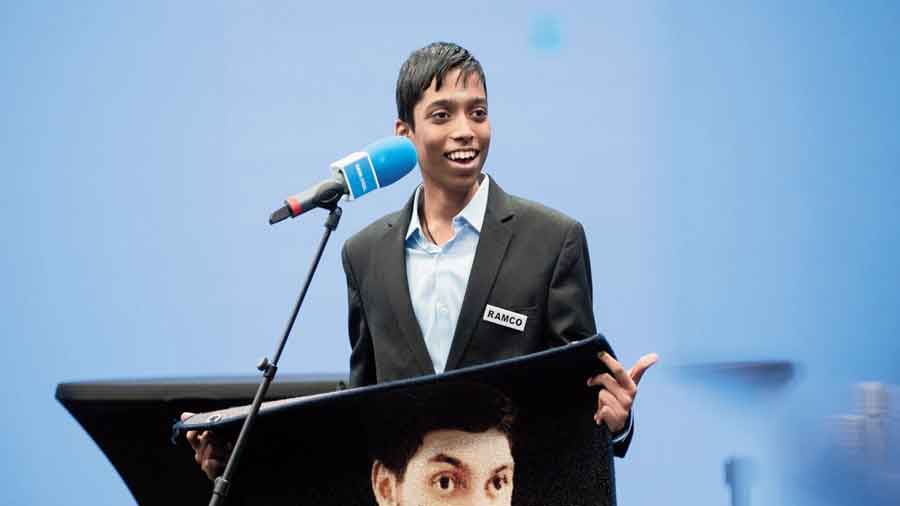 Rameshbabu Praggnanandhaa
File Photo
---
Calcutta
|
Published 22.02.22, 03:04 AM
|
---
Rameshbabu Praggnanandhaa created a flutter early on Monday when he defeated world No. 1 and the reigning five-time world champion Magnus Carlsen of Norway in the eighth round of the Airthings Masters online rapid chess tournament.
Praggnanandhaa won with black pieces in 39 moves in a Tarrasch variation to halt Carlsen's run of three straight wins.
The 16-year-old Grandmaster from Chennai is only the third Indian to beat the Norwegian after Viswanathan Anand and Pentala Harikrishna. But as luck would have it, his coach Grandmaster RB Ramesh missed the match.
"After Praggyu's (as Praggnanandhaa is fondly called in the chess circuit) match against Anish Giri, I went to bed since I had online chess classes from 5.30am. When I woke up, I saw his WhatsApp message and was pleasantly surprised. I congratulated him and then at noon we spoke via Zoom," Ramesh told The Telegraph from Chennai.
"He goes to bed at 4am after the day's action and wakes up around 11. After taking a bath and having breakfast, he comes on Zoom and we discuss the strategies for that day's opponents. Because of the different time zones, he has had to change his schedule."
Praggnanandhaa is playing from his Padi residence in Chennai while Ramesh is watching his ward's performance from his T. Nagar home. Praggnanandhaa is under the tutelage of Ramesh from the age of seven-and-a-half.
Praggnanandhaa said he was happy to beat Carlsen.
"I am delighted. It will give me a lot of confidence for the rest of the tournament and future," he said. "I have to now stay focused."
It was a double bonanza for the Chennai lad as he defeated Armenian-American Grandmaster Levon Aronian in the first game. In the second game, he lost to Shakhriyar Mamedyarov of Azerbaijan, drew Giri of the Netherlands in the third and then had that memorable win.
"Carlsen made a blunder in the queen and minor piece endgame and Praggyu took advantage of it brilliantly," Shahid Ahmed of Chessbase India analysed.
According to Ramesh, Monday's win should give Praggnanandhaa's confidence a huge boost. "It's a big boost to his confidence at least while playing big names online. Over the board, he has to wait for some headline-grabbing performances, but he has all the material to become a world-class player. The pandemic has changed the dynamics of chess across the world and India players are making the most of it. Online chess is in vogue and that allows young Grandmasters of India to play against the big names," was Ramesh's take.
The Indian GM lies in joint 12th spot after eight rounds with eight points.
From a very young age, Praggnanandhaa showed his calibre. "He became the youngest International Master in history — at 10 years, 10 months and 19 days. Two years later, in 2018, he became the then second-youngest GM (after Sergey Karjakin) at 12 years, 10 months, 13 days. Now at the young age of 16, Praggnanandhaa, along with a bunch of teens, are making the world sit up and take notice of India's enormous chess talent.
India currently has 73 Grandmasters with 14-year-old Bharath Subramaniyam, (another from Ramesh's famed Chess Gurukul), being the latest to join the list.
As usual, Praggnanandhaa's exploits created a buzz on social media. Anand and Sachin Tendulkar hailed his triumph.
"Always proud of our talents," tweeted Anand. "What a wonderful feeling it must be for Pragg. All of 16, and to have beaten the experienced & decorated Magnus Carlsen, and that too while playing black, is magical! Best wishes on a long & successful chess career ahead. You've made India proud!" Sachin tweeted.