Pink ball skid more off the pitch: Axar Patel
Putting India on top in the third Test with figures of 6 for 38, the left-arm spinner focused on his arm ball and keeping it faster through the air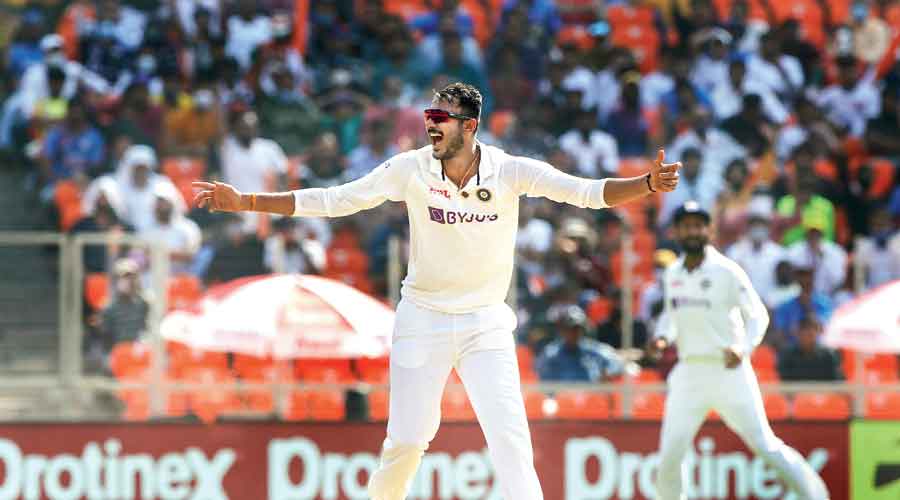 ---
Calcutta
|
Published 25.02.21, 01:03 AM
|
---
Starting from where he had finished off at the Chepauk, Axar Patel certainly couldn't have asked for anything better in his maiden Test match at home ground.
Putting India on top in this third Test with excellent figures of six for 38, all that the left-arm spinner focused on was his arm ball and keeping it faster through the air, to which the erring English batsmen had no answer.
"I learnt it (arm ball) while playing. After that when I went to the NCA, I worked on this aspect with Venkat Sir (V. Venkatram) and that helped.
"Besides, I used to do fast bowling earlier, so that helps me bowl quicker. I converted myself into a spinner only because of knee problems, but what I used to do in my early days helps me bowl those arm balls quicker," Axar said during a virtual conference after stumps on Day I.
Introduced as early as in the seventh over of the game, Axar struck off his very first ball when he removed Jonny Bairstow and was at his relentless best, sending down 21.4 overs at a stretch from one end.
Elaborating on his experience with the pink SG ball, Axar said that the extra lacquer made it skid further and helped him trap batsmen lbw. "When pacers were bowling, there was a bit of a problem in the delivery stride which affected their lengths.
"But when I came in, I felt that the extra lacquer could help the ball skid further and that's exactly what happened. That was the difference between the red ball and the pink ball as the latter skid more off the pitch," he said.
"But to be honest, I didn't expect getting a six-for on the first day itself as there was no guarantee that we would be bowling first. However, the confidence was always there after I took five wickets in the previous Test and was bowling well too.
"I knew I had the variations to pose problems for batsmen with the pink ball as well."
Tricky 50-50 calls
For England, their poor batting aside, almost all the umpire's calls went in India's favour on Wednesday, which does leave the visiting camp frustrated.
"First of all, it's never easy against the spinners in these conditions, but we should have got more as even 200 could've been a good score here. That said, it's very frustrating to see those 50-50 calls not going our way," said England's top-scorer Zak Crawley.
"Those are not in our control, yes. But it also doesn't help our cause if these decisions keep going against us."