Pink ball fine, but World Test Championship is not: Dilip
Dilip Vengsarkar is not a fan of ICC's latest initiative to reboot Test cricket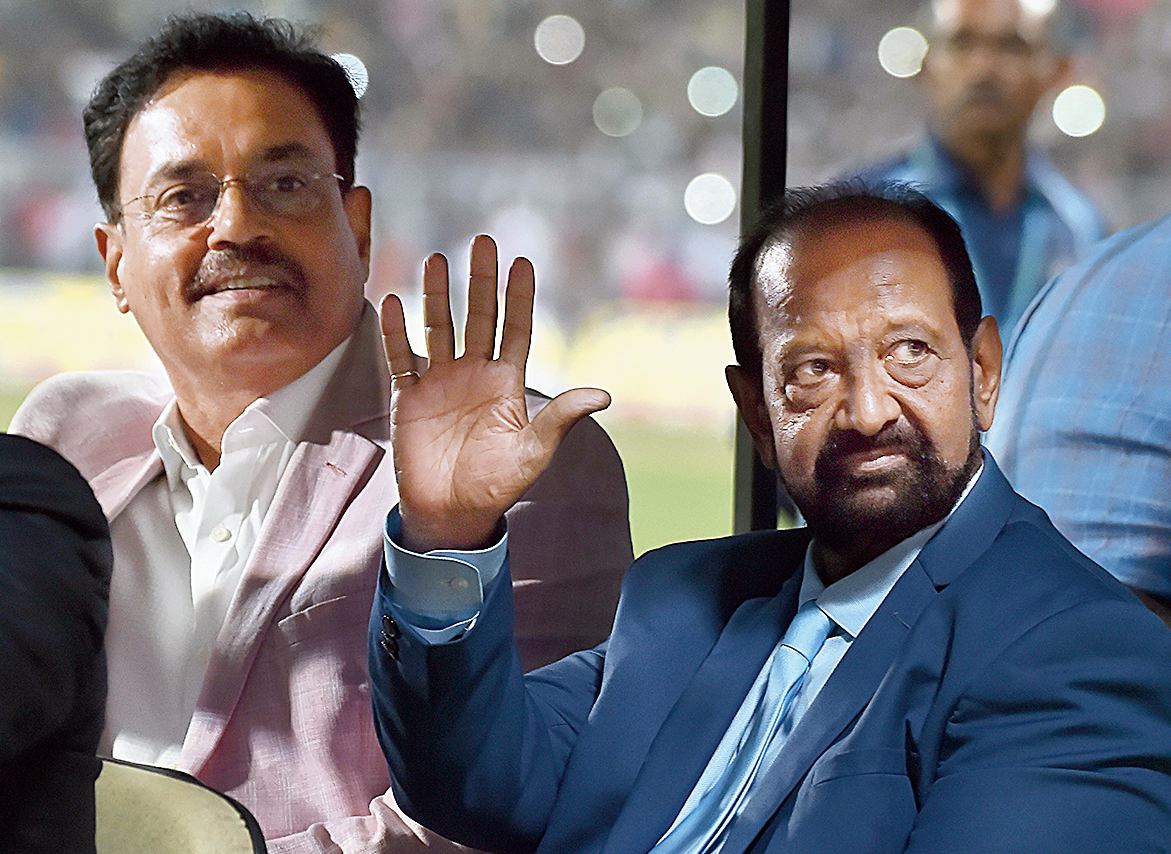 ---
|
Calcutta
|
Published 22.11.19, 08:54 PM
---
All the euphoria that the pinkish Eden sported on Friday couldn't really drown the fact that the contest between India and Bangladesh, the second of the Test series, was very much headed towards a complete annihilation of the latter. Barring a miracle, of course.
Bangladesh were 106 all out and India were 174 for three. The first day score seemed to be a prelude to an Indian victory. That in turn will lead to India pulling further away from all competition at the top of the World Test Championship (WTC) points table. India have 300 points from six matches. Following Virat Kohli's team are New Zealand and Sri Lanka with 60 points each.
The WTC or its weird points system has been criticised by many. Dilip Vengsarkar too is not a fan of ICC's latest initiative to reboot Test cricket.
"I am always for changes which can bring people back to liking Test cricket. People get excited about new things, so they will obviously get excited with pink-ball cricket. When the pink-ball Test was played in Australia, it was a success. But I'm not really convinced with the World Test Championship," the former India captain, who was present at Eden Gardens on Friday, told The Telegraph.
Vengsarkar reasoned that more than playing for points, Test cricket should be about overcoming daunting obstacles. "I believe that beating Australia in Australia or England in England will always be a much bigger achievement in Test cricket than winning points or going on to play a final, as has been fixed for the Test Championship. Tests pose a different sort of challenge and therein lies its essence.
"When you play overseas, you try even more to get the better of the home team. But with the points system being there, it will always be at the back of your mind and I don't like that," he said.
Vengsarkar, fondly called 'Colonel' by cricket aficionados, went on to add: "Test cricket is always between two countries. Getting the better of Australia in Australia is bigger than winning the World Test Championship. I'm sure if you ask the Indian team, even they would agree that a Test series win Down Under is a bigger high than the Test Championship."
The 63-year-old, owner of over 10,000 international runs, however thinks that the players shouldn't have too much problem with adjusting to the tricks of pink-ball cricket. "In 2007, when India won the World T20, we had hardly played too many 20-over matches. This is also something new, but such changes can be easily adjusted to by professional players."
Would he support the idea of four-day Test matches to further enhance the appeal of the longest format? "Well, why not? In the olden days, they used to have three day Test matches… Then they made it to four days and five days. So now, if required, I don't see why we can't have shorter Tests."
Asked if he would suggest any other changes that might help Test cricket, Vengsarkar said: "Well, Day-Night Test is one of those things which may aid revival of the longest format. But the most important thing for Test cricket preparing quality wickets. If wickets are good, it promotes good cricket. It should be a good all-round pitch and not a one-sided one. It should help fast-bowlers, spinners and the batsmen as well."
He has also liked how the Indian pitches have fared of late. "We have had good wickets in India in the last series against South Africa. Even the first Test against Bangladesh of this series was played on a good, sporting wicket in Indore. So yes, there has been a change in the nature of Indian wickets of late."
Vengsarkar, however, isn't sure if the Eden Test would last more than three days. "I don't know, I hope it does," he smiled and said.