French Open: Paris remains Naomi Osaka's bane
Amanda Anisimova knocks the Japanese out of another grand slam tournament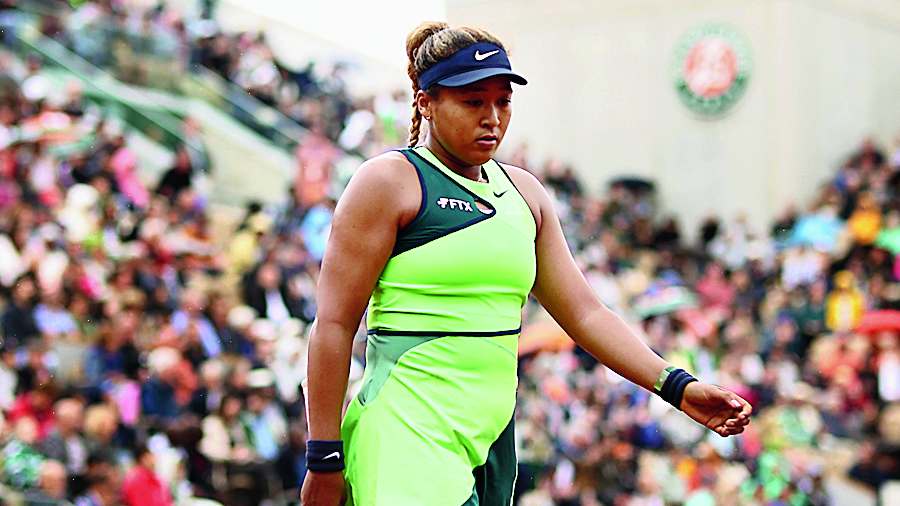 Naomi Osaka after losing to Amanda Anisimova at Roland Garros on Monday.
(Getty Images)
---
Paris
|
Published 24.05.22, 02:21 AM
|
---
Amanda Anisimova knocked Naomi Osaka out of another grand slam tournament on Monday, defeating her, 7-5, 6-4, in the first round of the French Open.
Anisimova, a 20-year-old American with a power game that bears quite a resemblance to Osaka's, had to save two match points before defeating Osaka in a three-set thriller in the third round of this year's Australian Open.
But Anisimova was much more efficient on Monday, cracking occasionally under Osaka's weight of shot and the weight of the moment but ultimately navigating the critical phases of the match with aplomb. She served out the first set at love, striking three winners, and then served out the match, finishing off Osaka on her third match point with a cocksure backhand winner down the line that Osaka had no chance to reach.
"When you see Naomi Osaka in the first round, you don't think it's going to be easy," Anisimova said. "A very tough match, and going out there I knew I had to play good tennis, and the conditions weren't easy."
Viewed objectively, this was no upset. Osaka, a former No. 1 from Japan, is one of the biggest stars in sports and the highest paid female athlete in the world by a large margin. But she has not been a dominant force on tour for well over a year now and has never been a dominant force on the French Open's clay-court surface.
All four of Osaka's Grand Slam singles titles were won on hardcourts: two at the Australian Open and two at the US Open. She has never reached even the final of a clay-court event on tour and has never been past the third round of the French Open.
Last year, struggling on and off court, she withdrew before the second round because of a standoff with French Open officials over her refusal to appear at mandatory post-match news conferences. She cited her mental health as the reason for skipping them for as long as she was in the tournament but did not engage with tournament officials directly before announcing her decision or in the aftermath when they sought further explanation.
Faced with a lack of background, they fined her $15,000 for missing her first-round news conference and made it clear that she risked being defaulted from the tournament and future Grand Slam tournaments if she continued to refuse to comply with the media requirements. It was a surprisingly hard line, and Osaka chose to withdraw rather than escalate the situation, explaining only as she announced her withdrawal via social media that she had experienced long bouts of depression since winning her first major title at the 2018 US Open.
L'Affaire Osaka at Roland Garros sparked a wide debate on mental-health issues in sports and has led to the women's tour providing even more mental-health resources for its players on and off site.
Osaka has said that she would like to have handled the situation in Paris differently. The French Open has changed some of its leadership, with long-time tournament director Guy Forget being replaced this year by Amélie Mauresmo, a former No. 1 player on the women's tour who has made players' mental health a priority.
Osaka arrived unseeded and having played just two singles matches on clay all year after withdrawing from the Italian Open earlier this month because of a left Achilles' tendon injury.
Wimbledon in doubt
Osaka's participation at Wimbledon was in doubt after the Japanese player said the decision by the sport's authorities to strip the tournament of ranking points had reduced her motivation to play.
"I would say the decision is kind of affecting, like, my mentality going into grass, like I'm not 100 per cent sure if I'm going to go there," Osaka said.
 (New York Times News Service & PTI)