'Need to get crowds back, Virat can't play to empty galleries', Sourav Ganguly
He has his plans in place and is keen to implement them to enable Indian cricket reach fresh highs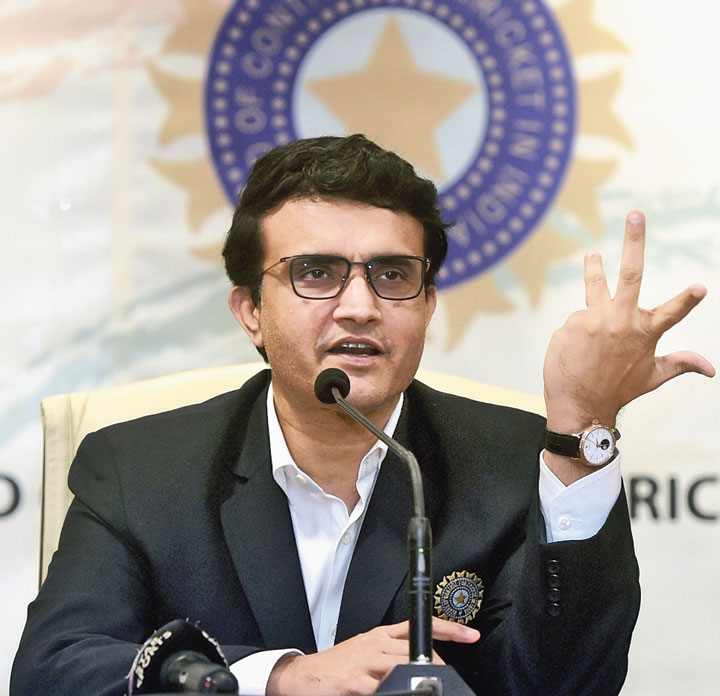 ---
|
Mumbai
|
Published 23.10.19, 08:34 PM
---
Sourav Ganguly wants to hit the ground running in his new role as president of the Board of Control for Cricket in India (BCCI). He has his plans in place and is keen to implement them to enable Indian cricket reach fresh highs.
The new BCCI president spoke to The Telegraph at the Trident, Nariman Point, late on Wednesday evening on a range of issues.
Excerpts:
The Telegraph: Can the task of having to perform as BCCI president match that of being the India captain?
Sourav Ganguly: No problem at all being the president... The pressure of playing for India is different. That is a one-ball game and that can't match anything. (Laughs) One mistake and you are gone. Here you've got a lot of chances to correct yourself. No pressure can replicate that.
Can you highlight your plans for the National Cricket Academy?
There will be a new NCA in place. We have got 40 acres of land near Bangalore. NCA chief Rahul Dravid wanted to speak to me today on this aspect but I couldn't... I was so tied up. I will have to discuss the issue with him. But let the structure be in place first.
Can't we involve other greats of Indian cricket with the NCA?
Unless the conflict of interest rule changes, you cannot involve people like say Virender Sehwag, VVS Laxman, Zaheer Khan or even Sachin Tendulkar. They won't do any honorary job like me. I have given up everything… IPL, TV commentary, writing columns. All lucrative assignments...
Your thoughts on Day-Night Test matches?
Yes personally I am very interested in Day-Night Tests but I have to speak to Virat Kohli and the others. We will address that. I'm a huge supporter of Day-Night Test matches. Let's see... There has to be a solution. How can you continue with empty stands… I hope the Day-Night Tests are a solution to bringing the crowds back to the stadium. You don't know till you try. No one expected T20 cricket to be so big. When it started no one expected it to be so big…
Virat wants five permanent Test centres. What are your views?
India is different when compared to other Test playing countries. We are a vast country and there are a lot of venues. We have to sit with him (Virat) and see what he wants and then take it forward. But Test cricket has to be looked at. You can't have a Virat Kohli playing in front of empty galleries.
You have faced such situations in your playing career… If a player gets a bad deal from the selectors, will you intervene?
We will see… it's too early to comment. First we have to see the mindset of the selectors. How they have gone about things all these years... What is their policy, and more importantly, what is Virat's policy. Ultimately he is the leader and you have to give him what he wants.
What about the selectors' continuing in office?
M.S.K. Prasad's term has expired. So has Gagan Khoda's. Devang (Gandhi) and the others (Sharandeep Singh and Jatin Paranjpe) have one year each left. We have to fill their vacancies and see who all are available. The zone-wise selection policy doesn't exist anymore but it has to be a five-member panel. They have to retire five years earlier to qualify as a selector.
As of now, you are president till July (2020)… Do you think it is enough time to bring about changes in the BCCI?
Let's see… Give me some time.
Any positives from the nearly three-year tenure of the CoA?
The CoA was just implementing what the Supreme Court ordered. Don't think there were any positives. Nothing, absolutely nothing.
Do you expect any political interference in the functioning of the BCCI? If there's any, how will you deal with it?
We will deal with it… You can't stop them. Let's see how it goes.
There are allegations about commentators facing diktats from the BCCI. Would you look into that issue?
When I was a commentator, nobody called me up and said 'you can't say this and you can't say that'. So, I don't have that experience, but I have heard about it. I have never been asked to do that during my tenure as a commentator. I have not been commentating a lot because of the time it takes. So, from that point of view, I don't see it as an issue.
Would you consider taking up the role of the Team India head coach in the future after reaching the top in BCCI administration?
(Laughs) Let this innings end first. Let's finish this and then think about other things. One at a time please!