Naresh Kumar on his Dronacharya Award
The ever gracious Kumar who has a record number of 101 matches at Wimbledon as an amateur, was India's Davis Cup captain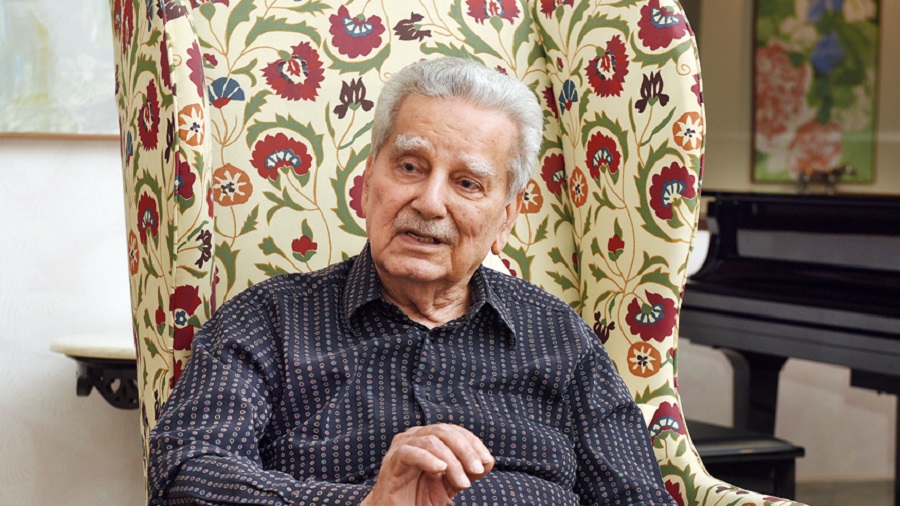 Naresh Kumar at his Middleton Street residence during an earlier chat with The Telegraph
Naresh Kumar and Rashbehari Das
---
Published 04.09.20, 09:50 PM
|
---
Every time we have stepped out of 9/1 Middleton Street after a chat with Naresh Kumar, he has set the bar high for the standards for men in our lives. Impeccable manners and immense warmth, a combination so rare. We missed meeting the 91-year-old young man this time though after his Dronacharya Award — 2020 (Tennis-Lifetime) nomination, struck by the pandemic as we are. The ever gracious Kumar who has a record number of 101 matches at Wimbledon as an amateur, was India's Davis Cup captain and a tennis brain that many pick, answered some of our questions on email. Thank you, Sir!

Many congratulations for the Dronacharya award. How did you react to the nomination?
I was full of joy at my nomination. It is a great honour to be selected for this award.

Who called you first after the nominations were announced?
Leander (Paes) was the first person to phone me after the announcement.

It is a remarkable feat considering no tennis coach had got a Dronacharya before this. What will be the celebrations like?
During these Covid times we will celebrate with the family at home.

You have been a great mentor. Who have been your gurus in life and tennis?
My guru in tennis and life was S.J. Mathews, my coach, who imposed spartan discipline on all his pupils. I recall his words when I was leaving to play Wimbledon: 'If you get a bad call on your tour abroad, I don't want you to even look at the umpire but to just keep playing'. This paid me rich dividends.

In hindsight, what was more satisfying for you ... winning a title or seeing a ward win one?
Both were equally satisfying and joyous.

What have you told all your students throughout these years... what should they give to tennis and what should their approach be?
I feel that discipline is the most important part of the game.

Who has been your favourite student?
Leander.

What makes him such a keen student of the game?
His attitude towards tennis and life.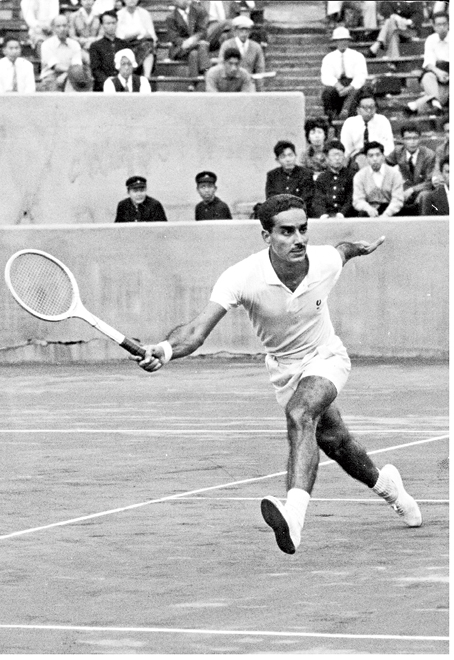 Leander Paes to t2 earlier
I have said it many a times that I wouldn't be what I am without Uncle Naresh. Not only was he my Davis Cup captain, not only is he one of my closest confidants, but also a guiding star. One of the best things about him is that he leads by example. As a tennis player, one of my favourite pictures of his was on the Centre Court of Wimbledon when he was playing Rod Laver. That was the year Rod Laver won the full Grand Slam. It was 5-0 and 15-0 in Uncle Naresh's favour in the first set. I'll never forget that picture because every athlete dreams to be at the Centre Court of Wimbledon and to play Rod Laver there and be on that court…. He has done the most amazing things in tennis, he has done the most amazing things in business, but the character of the man epitomises what a human being should be. The 360 degrees of any human being's life, we all strive for excellence and Uncle Naresh has achieved that. He is a perfect gentleman, on and off the court. He is a perfectionist, on and off the court…. You can see the respect he gives is the respect he gets. What's amazing about him is that he is not judgemental. Never judge a man until you walk a mile in their shoes, and Uncle Naresh is that. He reads people very, very well and that's what I love. Another thing Uncle Naresh has instilled in me… happiness. Through tough times, put a smile on your face and find solutions, and through great times also be humble and keep achieving. The way he has led his life is an example.... All of us try to emulate him. I know I fall humbly short, but we all have heroes and idols who should have capes on their backs.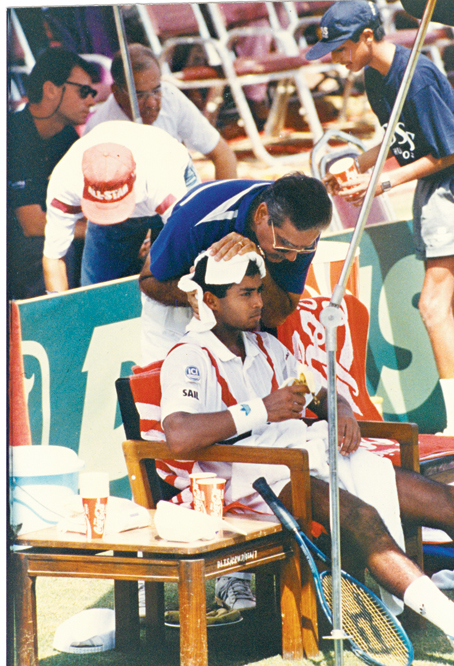 Leander Paes on Instagram four days back
"The best teachers teach from the heart and not from the book" — Sir Naresh Kumar was my first Davis Cup captain and his wisdom has been the beacon of light in my journey. A guru, a mentor and a confidante, he gave me the wings to fly and stoked my passion to play for our country. I have come a long way in 30 years yet what my Guru, Naresh Kumar taught me has stayed with me through my journey. I am fortunate to witness him getting the Lifetime Dronacharya Award for his contribution to India. #Blessed
#NationalSportsDay #NationalSportsAward