ICC Cricket World Cup 2019: What are the bookmakers saying?
Ravi Shastri and Kohli also managed a close look at the wicket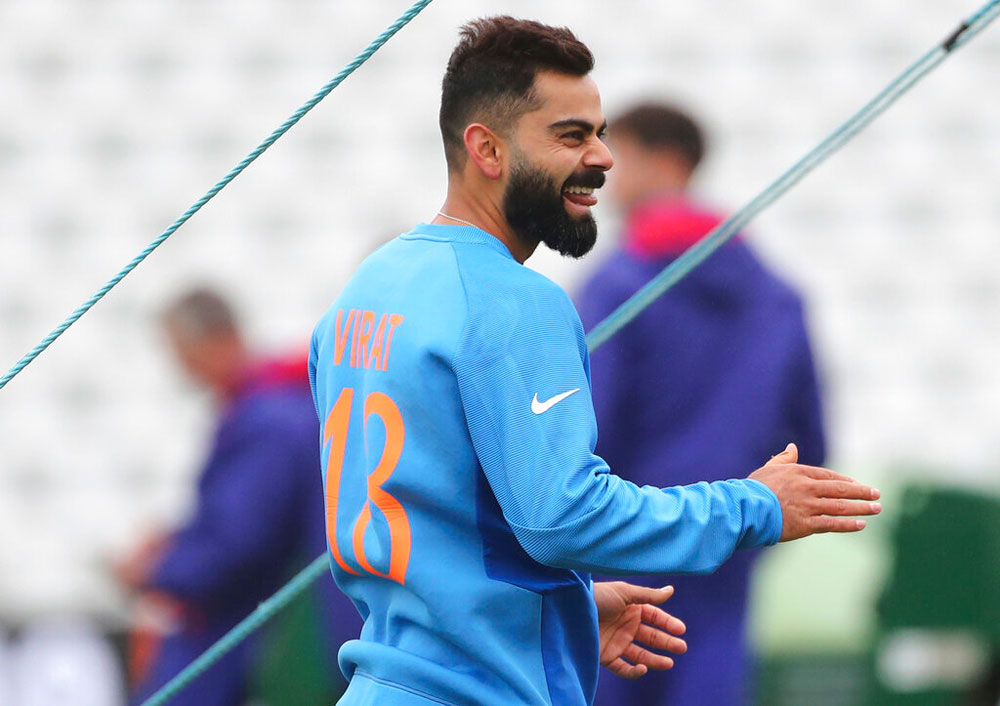 ---
---
Gambling is a beautiful game as well as big business in this part of the world. Bets are placed not just on the outcome, but also on various other weird aspects.
A mystery punter has bet a record £57,000 on Boris Johnson to be the next Prime Minister of the UK.
Major bookmakers, including Ladbrokes and William Hill, are believed to be taking bets on whether Sky Sports will make the World Cup final free to air should England reach the Lord's showpiece on July 14. There already have been grumblings about the lack of coverage of the tournament on terrestrial television.
Similar bets are also being placed on this being the wettest June in the history of this country. In the last few days, it has experienced more than twice the average monthly rainfall for this month, which is usually the third driest in the UK.
There, however, was some respite and good news on Wednesday morning. Incessant rain gave way to light drizzle, and by the time the Indians arrived at Trent Bridge, the covers had been taken off the practice wickets.
There was opportunity for the likes of Vijay Shankar and Dinesh Karthik, besides regulars Virat Kohli, Rohit Sharma and Kedar Jadhav, to have an extended knock on the eve of the match versus New Zealand.
Ravi Shastri and Kohli also managed a close look at the wicket. Only a few days back, Oshane Thomas and Jason Holder had bounced out Pakistan for 105 here and the conditions could force a change in India's game plan.
It won't come as a surprise if the Indians include a third pacer in Mohammed Shami at the expense of Kuldeep Yadav.
The Indians have some memorable memories of this ground from their last tour when they beat England in a Test. Besides Kohli's 97 and 103, it was Jasprit Bumrah and Hardik Pandya's bowling that had sealed it for the visitors.
But it is Shikhar Dhawan's absence at the top of the order that could prove to be an obstacle in their voyage. The left-right opening combination has often made the bowlers' task difficult and any early breakthrough could provide an opportunity for the opposition.
It is certain that Lokesh Rahul will open with Rohit with Vijay coming in at No.4.
"It's always an advantage if you have a left-right combination right at the top of the order… But we have quality players… Shikhar will definitely be missed in the next three to four games, but we have a great back-up for each position. So with that, we should be able to make it up," said batting coach Sanjay Bangar.
That fact was acknowledged by Ross Taylor. "Obviously Shikhar is a big loss to India. The presence… He plays very well at ICC tournaments and has a very good record over here," said the New Zealand batsman.
"He and Rohit have a very good partnership, and I think they complement each other well because they're right and left-handed."
The Black Caps, however, didn't enjoy much luck because by afternoon the drizzle had turned into steady rain forcing them indoors.
Like India, Kane Williamson's men have a no-loss record in their matches so far. Their victory over India in the warm-ups will serve as a confidence booster but Thursday's match will have different implications considering the probability of a shortened affair.
"I guess we can't look too far ahead, but there are obviously different permutations, different balance of squad if the weather does play a part, whether it's a reduced game or a 50-over game," Taylor said.
The probability of a truncated game will sit heavy on the captains' mind when they go out for the toss on Thursday. Bets are sure to be placed on that aspect too!