Mohun Bagan merge with Goenka's ATK
The new entity will be called ATK-Mohun Bagan and will come into existence from June 1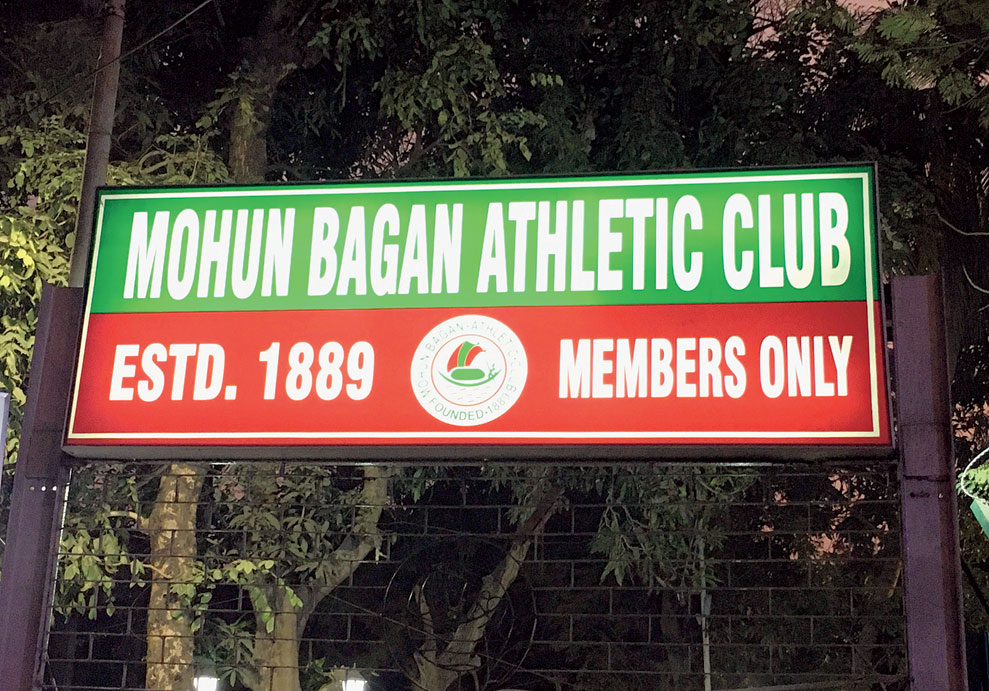 ---
|
Calcutta
|
Published 16.01.20, 09:47 PM
---
Indian Super League side ATK and Mohun Bagan Football Club (India) Private Limited have decided to merge and form a new club that would play as one team from the 2020-21 season.
The new entity will be called ATK-Mohun Bagan and will come into existence from June 1.
The ISL franchise, owned by industrialist Sanjiv Goenka's RPSG Group, will have 80 per cent stake in the merged entity while the remaining 20 per cent would be with Mohun Bagan Football Club (India) Private Limited, whose directors are Swapan Sadhan Bose, Srinjoy Bose, Debashis Dutta and Sohini Mitra Chaubey.
ATK-Mohun Bagan will play in ISL VII and other important competitions of the All India Football Federation (AIFF), according to a media statement released jointly by ATK and Mohun Bagan.
This means that 2019-20 will be Mohun Bagan's last season in the I-League and pressure will now be on East Bengal to join the ISL bandwagon. Apart from ISL and Super Cup, ATK-Mohun Bagan will also play in the Calcutta Football League.
Speaking to The Telegraph, ATK principal owner Sanjiv Goenka explained the structure of the deal, which he said was "perpetual".
"The company which controls the footballing activity of Mohun Bagan will be merged with ATK. In lieu of that transfer, Mohun Bagan will get 20 per cent share of the combined entity, ATK-Mohun Bagan. There will be no cash consideration involved in the transaction," Goenka said.
In business parlance, the arrangement can be termed as an all-stock deal where a buyer pays the seller by offering a stake of a company instead of cash. The valuation of 20 per cent of the merged entity will be deemed as the value ATK is paying to acquire the footballing rights of the 130-year-old club.
Last year, the parent company of English giants Manchester City bought a majority 65 per cent stake in ISL franchise Mumbai City FC.
Asked whether the new football team would continue to wear the famous green and maroon shirt or don ATK's red and white, Goenka told this newspaper: "It's not yet decided. Sometimes sentiments play a huge role and there are a lot of sentiments on both the sides. Mohun Bagan are now part of my family. I have a team and if they tell me to go with green and maroon, then so be it. It's the same with the Bagan logo. Did we change the CESC logo after we took it over? No, we didn't."
Goenka said the development was "very emotional". "Emotional because we welcome a legacy into the family. It's not like you are taking over a normal company or something. It's very different. Because here you take over sentiments and aspirations," he said.
ATK had also spoken to East Bengal about an agreement, but that didn't materialise.
"It was very distressing to find that legacy clubs (like Mohun Bagan and East Bengal) were finding it difficult to find finance to gain entry into ISL. My father (RP Goenka) was an ardent Mohun Bagan fan. This club is part of the footballing history of the country and can you let this name go? At the same time I would say it's not just about me choosing Mohun Bagan. It's also about Bagan choosing me."
ATK's current coach Antonio Lopez Habas has one more season left in his contract and it's likely that he would stay at the helm when ATK-Mohun Bagan take the field. "Habas will stay and so will Sanjay Sen (assistant coach)," Goenka said. That puts a question mark on the future of Kibu Vicuna, even if he wins the I-League for Bagan.
What about the team-building process? "Decisions will be professional and they will be the board's call. I am not ready to compromise there," Goenka said.
Goenka also said that if given the green light, he would revamp the Mohun Bagan stadium, located in the heart of the city. "Nothing will give me greater pleasure than turning the Mohun Bagan ground into a world class stadium. But that decision is not mine. I have got the right to use the ground, nothing more. I will propose a revamp (to Bagan bosses), if they allow me to do it then I will, if they do not then I will not," he said.