Mohammad Shami chargesheeted in torture case
Sections on Rape and attempt to murder dropped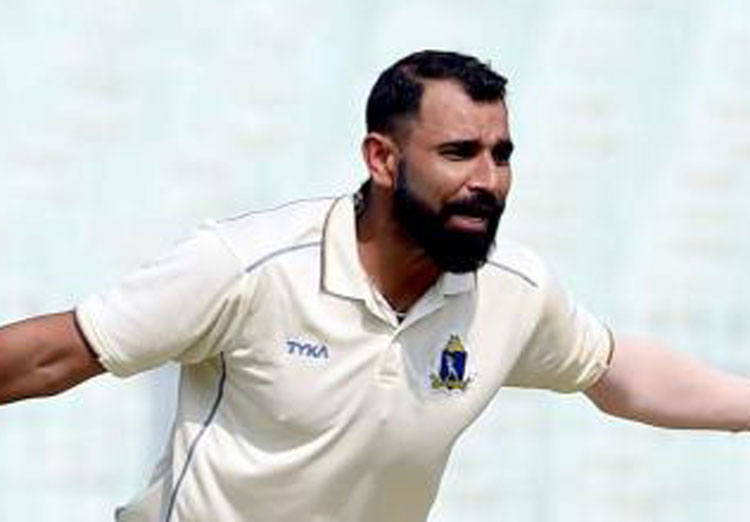 ---
|
Calcutta
|
Published 15.03.19, 07:45 AM
---
Police have submitted a chargesheet against cricketer Mohammad Shami, slapping him with section 498A of the Indian Penal Code that deals with physical and mental torture by husband or his relatives.
If convicted, the medium pacer and member of the national cricket squad can be jailed for up to three years.
Shami's brother Hasib Ahmed has also been accused of mental and physical torture and
sexual harassment, based on a complaint by the cricketer's wife, Hasin Jahan.
The charges of rape, attempt to murder, grievous hurt, criminal intimidation, poisoning and common intention, which were slapped on the accused, have been dropped for lack of evidence, police said. The chargesheet was filed in the additional chief judicial magistrate's court in Alipore on Thursday.
Hasin had accused her husband, mother-in-law, brother-in-law and two sisters-in-law of cruelty, rape, attempt to murder, grievous hurt, criminal intimidation and common intention. Jahan had also alleged that Shami had multiple relationships.
Shami's mother and sister and Hasib's wife have been let off for want of evidence against them, the police said.
The chargesheet contains the statements of 27 witnesses.
Hasin's lawyer Jakir Hossain expressed disappointment over the police's decision to drop certain charges, including rape and attempt to murder, and not include the names of the three women in the chargesheet.
"Statements of next-door neighbours have established the complicity of the in-laws. There was evidence to substantiate all the grave charges but unfortunately those have been dropped. It is difficult to fight a legal battle with influential people," Hossain said.
Hasin, he said, might challenge the chargesheet. "There is a legal provision that allows an aggrieved party to challenge the decision of the investigating officer," Hossain said.
Shami's lawyer Sk. Salim Rahman, however, said: "It has been proved today that the allegations were false."
Shami and his brother had been summoned to the city police headquarters at Lalbazar multiple times for questioning since Hasin lodged the complaint with Jadavpur police station in March last year.
The court has to frame the charges against the accused before the trial begins. During the framing of charges, the magistrate may add or drop some sections.