Middle matters: Trio's dip in form takes shine off Indian batting
England have not lost a home series of five Tests for more than 20 years, and aren't willing to renounce this enviable record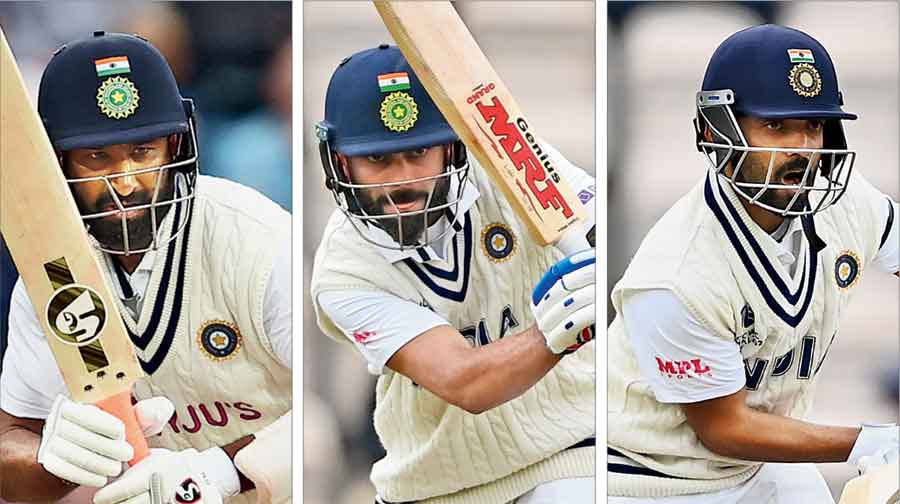 From left: Cheteshwar Pujara, Virat Kohli, Ajinkya Rahane
Getty Images
---
Calcutta
|
Published 30.08.21, 01:12 AM
|
---
The post-mortem on India's innings defeat in the Leeds Test is bound to open up a can of worms. From hereon, if it pushes the players to perform beyond their comfort zone, it could herald a new chapter in Indian cricket, or else, have huge ramifications.
England have not lost a home series of five Tests for more than 20 years, and aren't willing to renounce this enviable record. The Indians' tepid performance at Headingley has changed the tenor of the series from the highs of Lord's.
The collapses have lost their rarity and losing eight wickets for 63 runs on a rather benign fourth day wicket didn't suggest anything great about this side. The teams are level at 1-1 but the edge will be with England now.
For most of the 10 sessions of the third Test, India looked resigned to their fate. They seemed too reliant on their openers since the middle order has lacked the self-belief to bail them out of a crisis. This non-productive middle-order has remained India's biggest bane in their quest for success. Except for Ajinkya Rahane's 112 in Melbourne, India's numbers 3, 4 and 5 have failed to get a hundred since the day-night Test at Eden Gardens. The downhill has been well documented in their career statistics since January 2020.
While Kohli has an average of 24.68, Pujara and Rahane have 27.56 and 26.25, respectively, during the same period. The 193 in Sydney in January 2019 remains Pujara's last century and the 91 in Leeds his highest since.
The credit for India's stupendous success in Tests should mostly go to the bowlers,be it at home or in overseas conditions. Perhaps it would be asking for too much from them to deliver every time they walk out in the middle. On the rare occasions when they failed, the batting stood exposed.
As was with Sachin Tendulkar, it is never easy being Virat Kohli. He's without a hundred for nearly two years and 50 International innings now.
The pressure is bound to keep growing as will the scrutiny on his technique. There's already talk that the burden of captaincy is taking its toll on one of the world's best batsmen.
He hasn't looked convincing on this tour. Five times out of five he has been caught in the cordon, prodding at deliveries outside the off stump, and is averaging below 25.
The technical frailties, which haunted him during the 2014 series, are being portrayed as the cause of his failure. Kohli's best had been 39 in 10 innings during his first tour of England in 2014.
Four years later, he found ways to tackle his nemesis, James Anderson, scoring 149 and 103, besides another 97, for a total of 593 runs from five Tests.
Former England captain Nasser Hussain feels Kohli has gone back to doing what he did in 2014.
"He made subtle changes in 2018 which got him that success," Hussain said recently.
"Look at him on the last tour, that back foot is virtually parallel to the popping crease. Roll it forward to this series and (you can see) he turns that back foot. Everything he said... that he shouldn't be doing, he's gone back to doing."
Kohli's tactics in English conditions in the face of a humiliating loss are also increasingly being laid bare.
Was it complacency or obstinacy that led to India playing two spinners on a green top during the World Test Championship final in Southampton?
The team management's contention that they wanted to keep the pitch out of the equation hardly held much ground then.
His dependence on an off-colour Ishant Sharma at Headingley or to keep Ravichandran Ashwin out of the XI didn't win the team management many friends. The decision to bat first under overcast conditions with four pacers also didn't send out positive vibes.
Such tactical blunders will always show up if the middle order struggles in pursuit of runs or success remains an issue.
If Kohli can't chart a way out of his run drought, it will be tough for his team to continue the journey in search of greatness.