Marnus Labuschagne could be the X factor for Australia
'My role at No.3 is to keep scoring runs like others have in the past'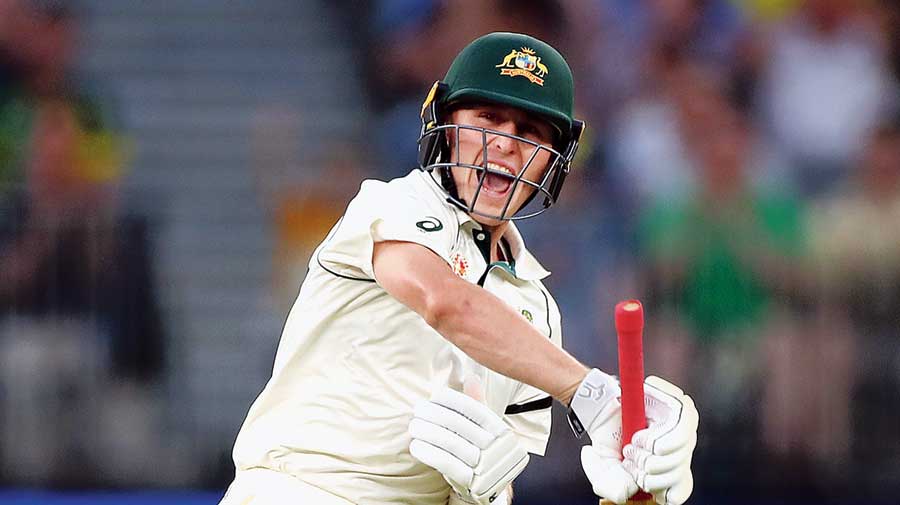 Marnus Labuschagne
Sourced by The Telegraph
---
Calcutta
|
Published 24.11.20, 01:48 AM
|
---
Marnus Labuschagne could be the X factor for Australia in the upcoming series against India despite the presence of Steve Smith and David Warner. At least, Allan Border firmly believes so.
Labuschagne ended 2019 by becoming the highest run-getter in Tests with 1,104 runs at an average of 64.94.
The effervescent 26-year-old, born in South Africa but raised from the age of 10 in Queensland, Australia, spoke to The Telegraph on the four-Test series scheduled to begin on December 17.
Excerpts...
The Telegraph: Sachin Tendulkar has said that you most remind him of himself. He has also called you a special talent with impeccable footwork. Did that take time to sink in or didn't you wish to read much into it?
Labuschagne: It's exceptionally exciting, and a privilege, when you have any player of Sachin Tendulkar's calibre talking about you in that fashion. But at the end of the day, it's easy to stay grounded because there's only one measure of me as a cricketer and that's not about my footwork or talent... it's about my performances. So for me, it's just about making sure that I keep on scoring runs and perform as well as I can. Hopefully, that supports the compliments but at the end of the day, it's all about how I perform. I'll take runs and wins over style any day.
You played one Test in the last home series against India and made 38. Having evolved as a batsman since, what are your thoughts ahead of the India series?
I'm a very different player to the one I was 18 months ago. I understand my game far better, I understand how I play and when I play in a certain way... I've improved my processes and there are a number of aspects of my game that I've improved on since playing India last time. But at the end of the day you can only judge and test yourself by performing against the best and that's why this is going to be such a big series for me personally and for the team.
How do you view the Indian attack, especially Jasprit Bumrah and Ravichandran Ashwin?
I'm always thinking about how other teams are playing... Who's bowling, how they are bowling... how they approach their bowling and field placements for each type of batsman. It's no different with this Indian team. We talk about playing Bumrah, Shami and Ishant. They are all exceptional bowlers and formed one of the most successful Test bowling attacks in 2019 and so, for us, it's just about coming up with the best plans and processes to play them successfully. The same applies with Ashwin as well and the other Indian spinners. While bowling spin in Australia has been tough over the years for spinners coming here, Ashwin is a proven performer. They all are. But for me, the focus has to be on understanding my game, understanding how I will play them in any given circumstance and then take it from there.
Do you reckon the series will be more about the two teams' pace attacks?
Not necessarily. Both teams have great pace bowling attacks but they both rely on their batsmen doing their job in a number of ways... so I think the team that will win this series will be the one that bats and bowls more consistently. It's going to be exciting to see both bowling attacks and batting line-ups going head to head.
You have sealed the No.3 spot in the batting order. Does this stability give you more confidence or is it more about starting from scratch in each innings?
 It's always about starting from scratch in every innings. I don't necessarily think that  I've sealed anything and I never look that far ahead. My focus is always on the next game and the next ball and breaking down each game to whatever I need to do. You never really have a spot in the batting order that's sealed up or even a place in the team that's sealed up... So for me, it's just making sure I get my processes right, that I keep on performing and that I keep on contributing to the team in any way I can — batting, bowling, fielding, on the field, off the field and the rest will take care of itself.
In terms of batting at No.3, I love batting there and I think it's a real privilege to do it for Australia. I appreciate the responsibility of batting there and what that position means for Australia, now and in the past. It means you need to take responsibility, score runs and do it consistently, because every other player who has batted there for Australia in the last 20 years for an extended period has been a big run scorer. That said, it's like every other batting position... you need to score runs and you can't ever get comfortable.
My job is to be consistent and score as many runs as I can and put Australia in a position from where we can win games. That's my role at No. 3 and I love batting there. It's my favourite position to bat and I've got to make sure I keep scoring runs.
Virat Kohli will be missing three Tests. Do you see that as an opportunity for Australians to cash in? Will Virat's absence have an impact?
Losing any player, especially one of Virat Kohli's calibre, is always going to be a big hole to fill. It's no different to losing any of the great players in our current team. It can certainly affect your team's performance and morale. But just like Australia being capable of winning against anyone, even when we have injuries to our best players, I think India have got so many terrific batters who, while not necessarily being able to replace him, can certainly fill that gap. If you look at their last series in Australia, Pujara was their top scorer, so it would be dangerous to assume Kohli not being there will have an impact on their performances. There's not one Indian batsman who isn't capable of performing brilliantly throughout the season, so for us, it's just about making sure his absence isn't a distraction. We need to just stay focused on playing great cricket in every game against every player.
Day-Night Tests are always slightly tricky. Do you think Australia will enjoy an advantage playing in Adelaide?
Day-Night Tests are quite exciting and quite tricky at times, especially with the variations during the night session and the way the finer intricacies of the game works. The benefit for us is that we have played a few Day-Night games at Adelaide, but then good cricketers play good cricket in any condition. But either way, it's exciting and the atmosphere will be good to watch.
How do you compare the world's two best batsmen — Steve Smith and Virat?
These are two tough players to be compared with each other. Obviously, I know Steve very well and his calibre as a player. What he did in the Ashes last year in extremely tough batting conditions was unbelievable. Phenomenal. It blows my mind to think how long he's been making runs for and how consistently he's done it. He's exceptional and one of the best ever. And like Steve, Virat has dominated all three formats for many years now. Virat's a brilliant player and I'm told an inspirational leader. They are both exceptional players — once-in-a-generation players — and like everyone I'm excited to see the battle between two of the best ever. Obviously, I hope Steve scores more runs than Virat. A lot more. Like 500 runs more…
You finished 2019 as the top scorer in Tests. What has the experience taught you? Do you think you are a better batsman now?
I think I'm a much better player than I was two years ago. But while it feels nice to be the leading run scorer in Tests, it's honestly not my focus… my focus is to make sure I win games for Australia and in whatever capacity I can do it. So I just hope I continue to do the right things and while all the other personal achievements are a positive, they're just a bonus to winning games and contributing to winning games. If it means that we continue to be No. 1 in the world then obviously that's exactly how I want it to be. Like I said, for me, it's more about the team. If we're winning and I'm focusing on the process, then everything else will take care of itself.
You have played ODIs in limited overs cricket. Are you keen on T20s as well, thereby becoming an all-format player and playing the IPL?
Absolutely. I love playing all three formats of the game and would love to play more T20 cricket. I only played a handful of games before last season but my selection for Australia in Test cricket came off the back of my limited overs performances for Queensland and Australia A... for the first time in last year's BBL, I had a proper opportunity to bat for the Heat, and I think I performed the role I was asked to play. Of course I want to play the IPL... it's the best T20 competition in the world and I'm confident I can make the jump. But right now, I'm just focusing on the series coming up… But I definitely want to play the T20 format for Australia and in the IPL at some point.