Manju Rani 2024 Olympics on boxer's radar but she is not rushing matters
Mary Kom's encouragement drives Manju Rani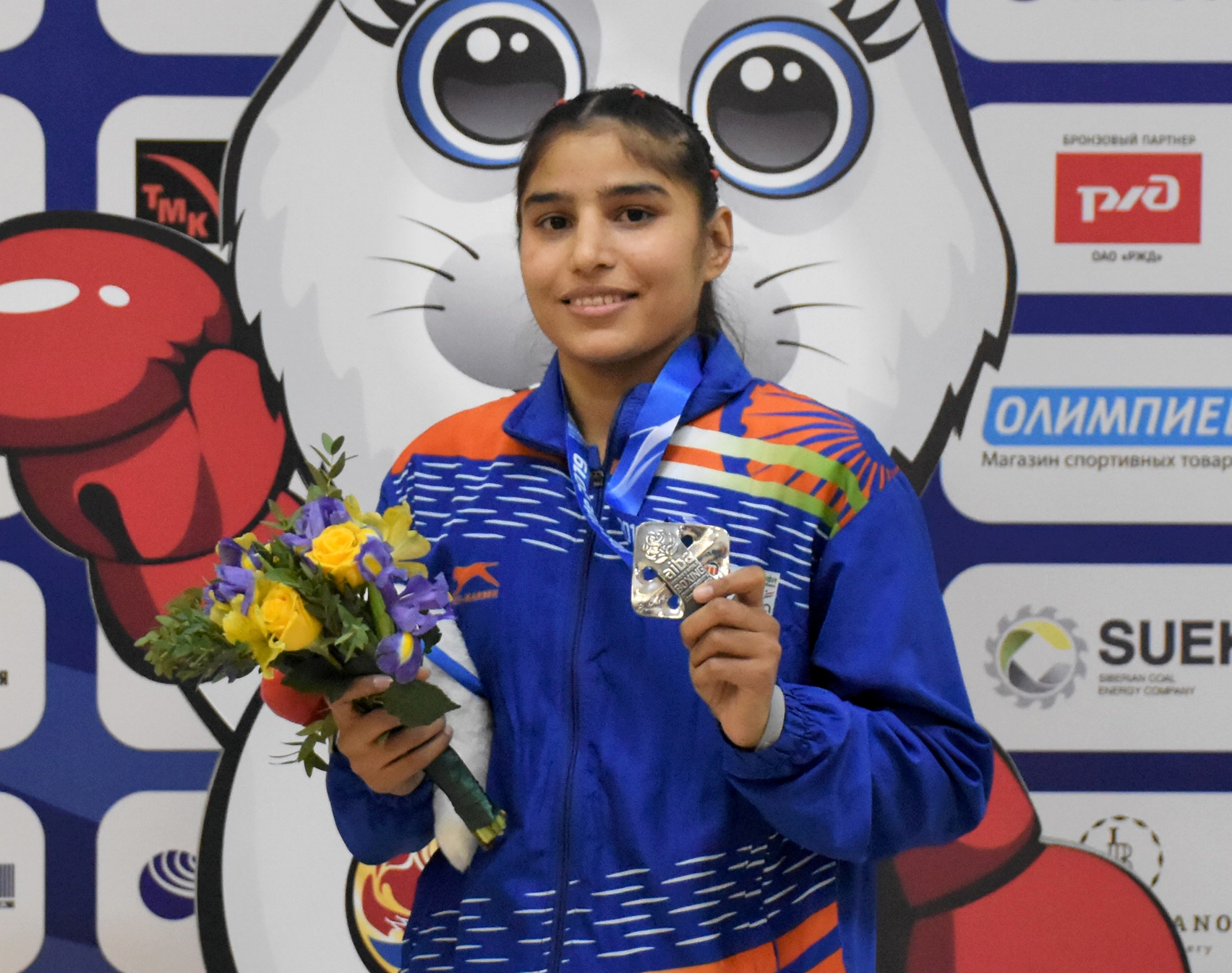 Manju Rani (48 kg) poses with her silver medal at the 2019 edition of the AIBA World Boxing Championships, in Ulan-Ude, Russia, October 13, 2019
PTI
---
Calcutta
|
Published 17.10.19, 10:27 PM
|
---
Boxer Manju Rani is only 19. And this was her maiden appearance at the Women's World Boxing Championships, at Ulan-Ude in Russia. But not for a moment did her confidence waiver as she moved up, round by round, to the final — the only Indian to reach the title round in this edition of the tournament.
In the light-flyweight (48 kg) summit clash, the sixth-seeded Indian went down 1-4 to the second-seeded local favourite, Russia's Ekaterina Paltceva.
So how did Manju feel as she stood on tbe podium, the silver medal around her neck?
"It was a mixed feeling," Manju told The Telegraph. "While on the one hand I was delighted to have made it this far, to have won the silver, on the other there was disappointment at having missed the gold.
"I had practised a lot, had put in a lot of effort. And as the national champion, I was confident. But Ekaterina had come well prepared too and that day was hers.Never mind," she continued. "Next time gold bhi aa jayega (next time I will get the gold)."
In the semi-final, Manju had thrashed Chuthamat Raksat of Thailand 4-1 to become the first Indian in 18 years to enter the final.
"The quarter-final bout against Hyang Mi Kim of North Korea was tougher and I had difficulty tackling her," she added.
Manju's mother Ishwanti Devi has been the force behind her success. Manju, who hails from the Rithal village in the Rohtak district of Haryana, was only 10 when she lost her father who served as a havaldar in the Border Security Force to cancer.
The pension from her father's salary was not enough to make ends meet for the family and keep her boxing ambitions alive. Ishwanti then opened a cosmetics shop in the locality and her only advice to her daughter was
to shut out the world and pursue her dreams. In 2012, her mother handed over her boxing responsibilities to Saheb Singh Narwal ('uncle' to Manju) and thence started Manju's journey.
The youngster's idol is Mary Kom, who won an unprecedented eighth medal at the World Championships, to add to her previous haul of six gold and one silver. "Mary didi is my inspiration and she has always helped me with tips and advice.
"In Ulan-Ude too, she came to meet me ahead of my bouts and offered words of encouragement. She told me ahead of the final that I will go far. 'Tum mere se bhi aage jayoge' (you will do even better than me in life) Mary didi told me that day. With her words ringing in my ears, I stepped into the ring," Manju reminisced.
Like all athletes, Manju too has the Olympics on her radar but she is not rushing matters.
For now, she intends to settle in her weight category (48 kg) before changing her weight to 51 kg to fit into the Olympic weight.
The 2024 Paris Olympics is what she has set her sights on. Till then, it is practice and more practice for this new star in the boxing sky.