Ole blasts fixture order, says team lacks of 'common sense'
United face Everton at Old Trafford in the lunchtime kick-off slot on Saturday after hosting Villarreal on Wednesday in European competition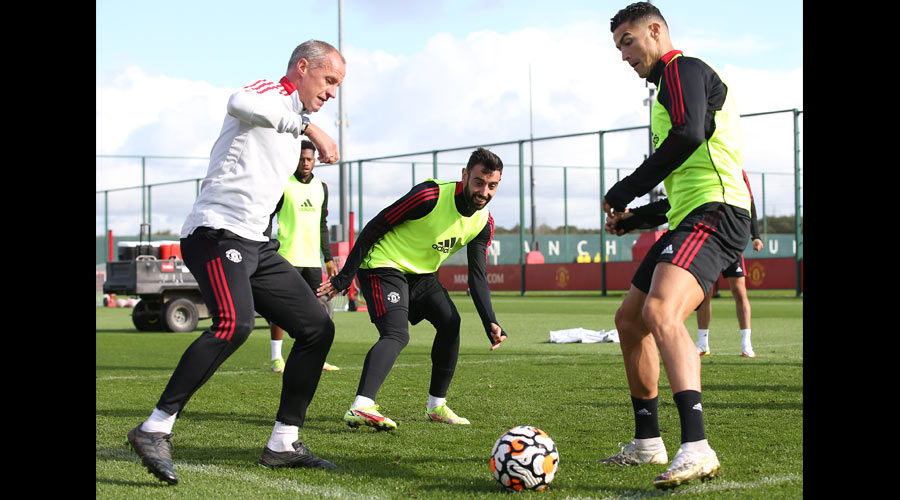 Cristiano Ronaldo trains with Manchester United teammates
Twitter / @ManUtd
---
Manchester
|
Published 02.10.21, 12:58 AM
|
---
Manchester United manager Ole Gunnar Solskjaer says there is "no common sense" in his team being forced to play the earliest fixture of the weekend after being involved in Wednesday's Champions League.
United face Everton at Old Trafford in the lunchtime kick-off slot (5pm IST) on Saturday after hosting Villarreal on Wednesday in European competition.
Rivals Liverpool and Manchester City played on Tuesday but have the last fixture slot of the weekend, meeting late Sunday afternoon (9pm IST) at Anfield.
The United manager said he has not received any reasoning for the fixture order, but blamed television companies. "Absolutely no explanation. Well, it is TV," he said in his news conference on Friday.
Solskjaer noted a similar situation had occurred last season when United had a trip to Turkey in midweek to face Istanbul Basaksehir and then faced Everton at Goodison Park on Saturday lunchtime which he described as being "set up to fail".
"Absolutely no common sense at all, we had the same scenario last year when we played in Turkey and came back and played Everton," he said.
"The crowd are going to have to help, that is important and I know they will."
"Us and Chelsea played Wednesday night, we could have easily played on Sunday and the Liverpool vs City game should have been the Saturday one. Common sense might not be so common unfortunately," he said.
'Fit for water polo'
Chelsea wing back Reece James will not play for England in the upcoming international break as he is still not fully fit, manager Thomas Tuchel said, quipping that he could probably play water polo as he is training in the pool.
James was named in the England squad by Gareth Southgate on Thursday ahead of their World Cup qualifiers against Andorra and Hungary but Tuchel said James' inclusion was due to a misunderstanding between the national team and the club.
"I thought maybe Reece can go for the England water polo team because he's training in the pool. I was a bit surprised but I understood he was selected for the football team," Tuchel told reporters ahead of Saturday's game against Southampton.
"This will not happen. My last information is he will not go, it can only be a misunderstanding and nothing else... It's normal, it can happen. (Chelsea's technical advisor) Petr Cech sorted these things out."
Injured midfielder Mason Mount is also in the England squad and Tuchel said they had to exercise caution, with Chelsea missing his midfield presence in their last two losses against Manchester City and Juventus.